Madhyamik champs smash hurdles
The Telegraph speaks to some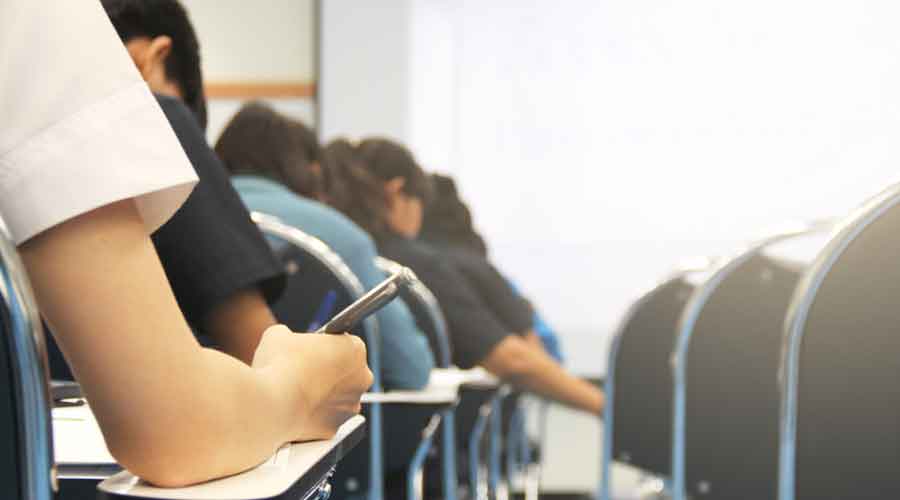 "My future seems so uncertain at times... I hope I am able to continue my studies," says Anjana Das, who fears marks may not ease her woes
Shutterstock
---
Published 16.07.20, 02:16 AM
|
---
Many of the 10 lakh-odd students who wrote Madhyamik 2020 gave a stellar performance in their first public exam.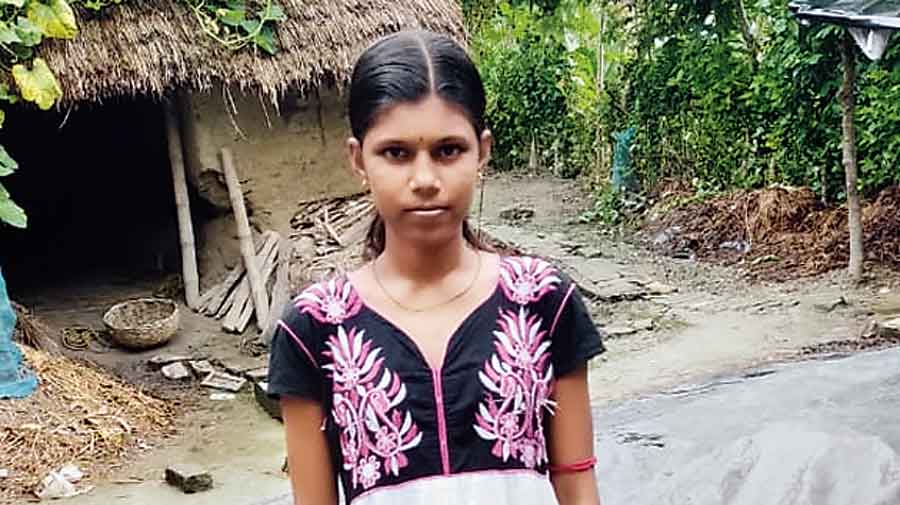 Anjana Das sits with her mother to roll bidis and help her earn a little more, helps neighbourhood children solve math problems and has managed to secure a 75.4 per cent in Madhyamik.
The "didi", as little children around her call her, has scored 97 in math, 85 in Bengali, 60 each in English and history, 75 in physical science, 71 in life science and 80 in geography.
But the 16-year-old resident of Kanaknagar in Hingalganj fears the marks might not ease her woes. Her mother is bringing up Anjana and her brother by rolling bidis but is sceptical of how long she will be able to continue like this.
"Higher education means more money and rolling 100 bidis fetches me Rs 17.50. We usually try to do 700 a day, but that is hardly enough," said mother Namita Das, who had to give up studies after Madhyamik.
"My son is in Class X and it is not easy to bring up two children on my own," the mother said.
Anjana wants to be a teacher. "I want to teach children whose parents cannot send them to school or afford a private tutor…. But my future seems so uncertain at times... I hope I am able to continue my studies," she said.
Cyclone Amphan had made life more difficult than it was, blowing away a portion of their house. A tarpaulin shade saves them from rain and sun.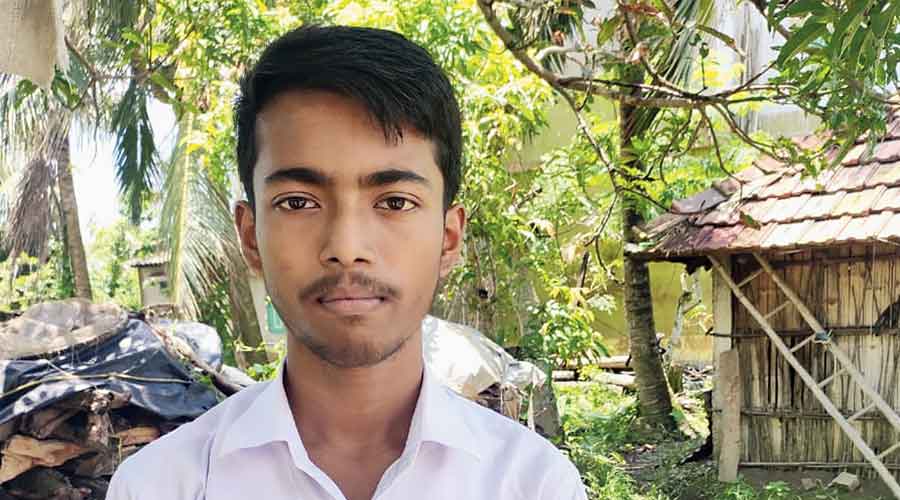 His father is a labourer who builds pandals and even on a good day his daily earnings seldom exceed Rs 60. The meagre income has reduced further because of the pandemic.
Pratyush Mondal was crisscrossing the streets of Calcutta in search of work when he learnt that his younger son Soumen had scored 95.8 per cent in Madhyamik.
The news "calmed all my pain", said the proud father. "I could not hold my tears back."
Soumen has scored 670 out of 700 and stood second at Namkhana Union High School. He has scored above 90 in all seven subjects - 100 in math.
Soumen could not afford a private tutor. His school came to his rescue by coaching him beyond class.
"My father earned just Rs 6,000 a month. My elder brother is in college. One cannot afford a private tutor with such meagre resources," said Soumen, a resident of Shibnagar Abad, Namkhana. Mother Nandini is a homemaker.
Soumen wants to study science and become a doctor but the M.S. Dhoni fan knows the odds he is up against. Like his hero, the teenager is determined to fight it out.
"Our headmaster (Alok Kumar Maity) and other teachers helped me out in Madhyamik. I am looking up to them," said Soumen.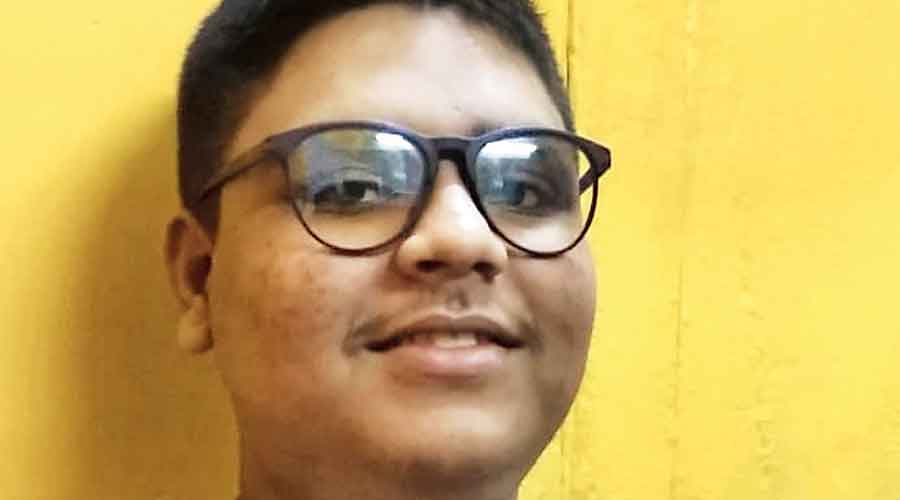 The son of a tailor at a hosiery unit, Nilavo Roy has secured 96 per cent and came first in his school, Shyambazar AV School. It has not been an easy road for the teenager, who knows he has to keep most of his longings in check because of their family's poor finances.
"I know the key to a better life is education and I have to concentrate on that," he said.
Nilavo's gift to his parents on his 16th birthday was 95 each in English and Bengali, 100 in math, 97 in physical science, 96 in life science, 91 in history and 98 in geography.
"But this is only the first step and the first exam in life," said the boy who wants to be a professor.
Nilavo's mother offers tuition so she can buy books for her son and pay for his education. His father's earnings, around Rs 5,000 a month, are mostly spent on sustaining the family. The family's income has dropped drastically because of the pandemic.
Mother Bandana said her only son had never demanded any gadget, unlike other students.
"I know the kind of hard work my parents put in for me. I need the necessities now, luxury can wait," the boy said.
The headmaster of his school, Manoranjan Raptan, said Nilavo was a "very sincere boy".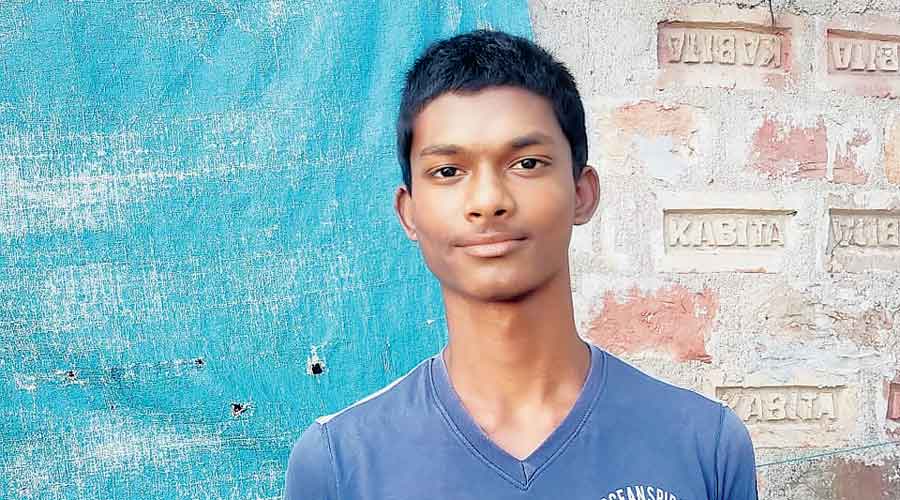 When Lionel Messi fan Samaresh Biswas was waiting for the results on Wednesday afternoon, his father Manoranjan was out enquiring when he could venture out into the high seas to catch fish.
Earning a livelihood has become more challenging because the pandemic often keeps the local wholesale fish markets closed. An already impoverished family has been pushed further into crisis.
As Manoranjan reached home late in the afternoon, he had only his next voyage on his mind.
Samaresh, a student of Kakdwip Sishu Shikshayatan High School, has notched up 86.18 per cent in Madhyamik. "What more could I expect? We could hardly provide him any support. Forget tuition, we could not even buy him a suggestion book," said Manoranjan, who barely earns Rs 50 a day.
"I want to study. That is the only way I can support my father, said Samaresh.
Manoranjan is banking on support from his son's school. "They helped him with free tuition and books at the secondary level. Now that my condition has further worsened, I am looking forward to support from the school," he said.
Earlier, when he would stay home, Manoranjan would earn by stitching fishing nets for others. "My earning has come down to almost zero."