Lapses in Covid care in Calcutta
Health team finds defective oxygen mask on patient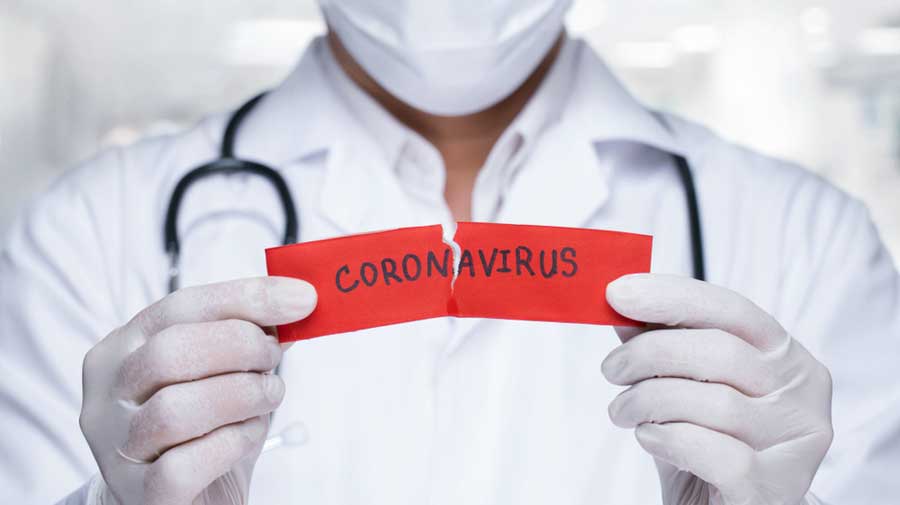 ---
|
Calcutta
|
Published 06.11.20, 02:54 AM
---
A number of doctors and health-care workers, including nurses, were not properly monitoring the condition of Covid-19 patients in hospitals in Barrackpore, Khardah, Barasat, Naihati and Ashoknagar in North 24-Parganas, a team sent by Sasthya Bhavan has found.
Members of the team said that at some hospitals, patients with low oxygen saturation levels were lying unattended. At others, no one was found regularly checking on patients and regulating the flow of oxygen even when the saturation level was satisfactory.
In several hospitals, doctors were not scrutinising X-ray reports of patients with chest infection. As a result, the turn-around time of patients in these hospitals was getting longer.
Between Wednesday and Thursday, the team of experts visited at least six Covid-19 hospitals in North 24-Parganas, including a few private ones the state government has acquired to treat people suffering from the coronavirus disease, to check the condition of patients.
The district has been recording the highest number of positive cases after Calcutta for some time now.
At several of these hospitals, the team was shocked to find a laid-back attitude among doctors and health-care workers engaged in monitoring Covid-19 patients, most of whom were admitted with mild symptoms.
"At a private hospital in Barrackpore, we found a patient lying with 33 per cent oxygen saturation and no one had noticed it. On inquiry, it turned out that the mask was defective and it was replaced," said G.K. Dhali, the head of the department of gastroenterology at SSKM Hospital, who was leading the team.
"At some hospitals, patients were not being monitored. We told them what to do."
The pipe that supplies oxygen at high flow to patients with low saturation level was found lying outside the nostrils at a number of hospitals and there was no one to check it.
In some ICUs, the team came across patients who were being given 20 litres, 25 litres and 30 litres of oxygen every day even though their oxygen saturation level was 98 or 99 per cent. "This shows that doctors and nurses had not bothered to check on the patients," a team member said.
Junior doctors at some hospitals were found not interpreting ECG and X-ray reports properly, resulting in a delay in assessing the health of patients.
"There were 11 patients in the ITU of a hospital in Barasat. When we went there, we found that some didn't have their masks on. In some, the probe — a slender medical instrument used for investigation by attaching it to a tube —was lying disconnected," the team member said.
"There aren't any shortages of doctors. But there is a lack of round-the-clock monitoring."
The experts told the doctors and health-care workers at these hospitals that the government had provided all necessary equipment and all they would have to do was regularly visit the patients and monitor their health.
"We visited the hospitals not to criticise the doctors and health-care workers but to help them perform their duty better," the member said.