Students of a city school travelled nearly 30km carrying with them exercise books and sanitary napkins for adolescent girls and teenagers of a school at Piyali in South 24-Parganas, many of whose parents' livelihood has been hit by the pandemic.
The idea is not just to give but also to expose urban students to the lives of teenagers of their age and initiate them into "philanthropy", the seeds of which have to be sown while they are still young, said the head of an NGO that conducted the programme.
The students of The BSS School, in association with Pukaar, an NGO that works in rural areas, primarily with women and girls, reached out to 70-odd girls between 10 and 20.
While the students provided sanitary pads for six months, Pukaar provided exercise books, stationery and basic hygiene items like toothbrush and toothpaste.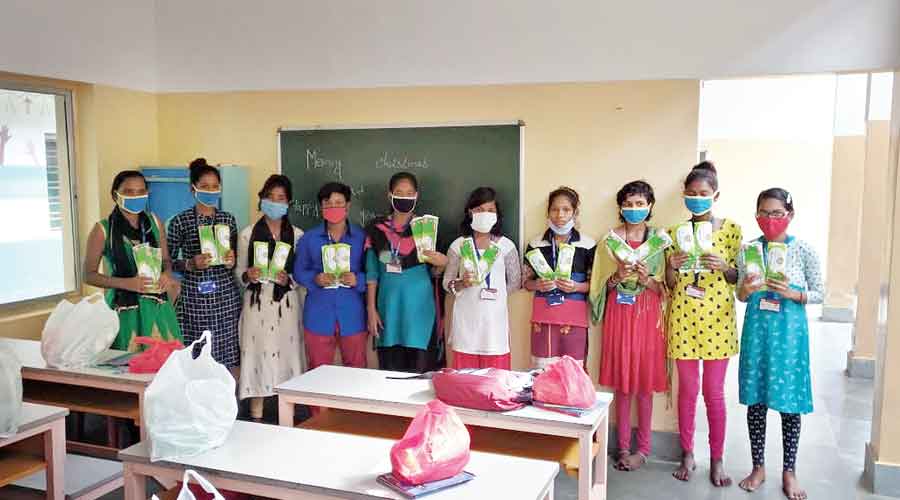 The students of Piali Ashar Alo
Three girls from The BSS School and a few of their teachers and the principal spent some hours at Piali Ashar Alo, a school at Piyali village that had started in 2008 to provide education to underprivileged children.
Fathers of most of the girls in the school are masons, agricultural labourers or van-rickshaw pullers. Mothers are mostly homemakers or domestic workers.
"The pandemic has detached some students of Piyali from education. Online classes are not that easy for them as it is for the children in urban areas," said Samriddhi Guha Thakurta, a Class XI student of The BSS School.
Swati Gautam, the managing trustee of Pukaar, said the Piyali girls had been given sanitary pads and exercise books because they needed them the most.
"Parents would cut down on hygiene and school stationery during tough times. Students can still share text books but they need exercise books to continue studies. In many families girls' education is considered dispensable," said Gautam.
Anup Gayen, the founder of Piali Ashar Alo, said the pandemic had made the situation more difficult for many families and it was tough to keep the girls engaged in studies at a time when classes were being held online.
"Not all of them have smartphones. We try to conduct classes for those who have smartphones and provide photocopies of the chapters covered to others," said Gayen.
The journey and the experience will also teach the city girls to be grateful for what they have, said Sunita Sen, the principal of The BSS School.
"Despite the pandemic and the problems, one can get a different perspective of life. One has to struggle to get basic things like sanitary pads and exercise books and they should be grateful for what they have," Sen said.