Calcutta Covid survivors campaign against waste burning
The group, comprising mostly people who have recovered from Covid or their family members, was formed to help patients in home isolation get essential supplies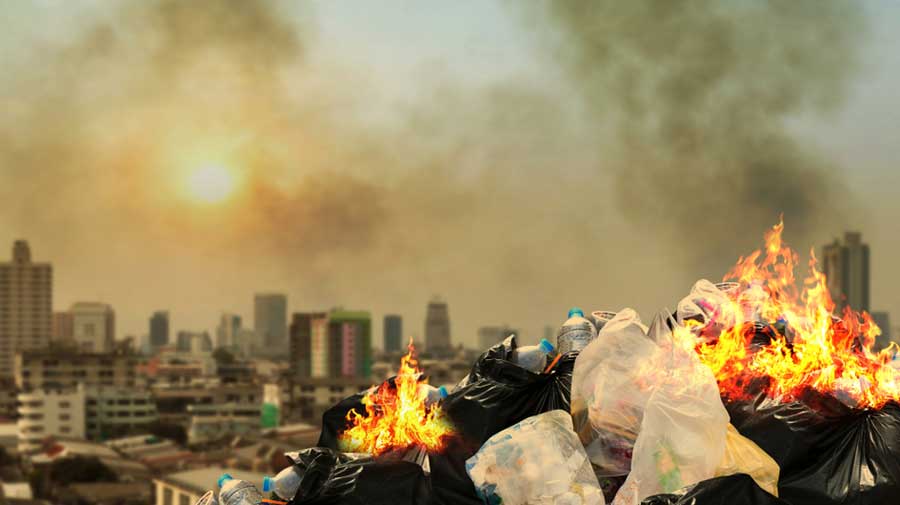 ---
|
Calcutta
|
Published 21.12.20, 01:55 AM
---
A group of Calcuttans is running awareness campaigns in the city urging people to refrain from burning waste, which damages lungs and can have serious impact on people who have recovered from Covid-19.
The novel coronavirus, which causes Covid, is known to affect the functioning of the lungs. A good number of people suffer from breathing problems even weeks after recovering from Covid, doctors said.
Several members of the group, Covid Care, are putting up posters with the message to not burn waste. The group, comprising mostly people who have recovered from Covid or their family members, was formed to help Covid patients in home isolation get their essential supplies such as medicines and food. But its members are now also focusing on issues like air pollution.
"Covid-19 is leading to lung fibrosis, which is scarring of the tissues of the lungs, in many recovered people. This is affecting breathing. Burning of waste generates a lot of toxic elements, which, if inhaled by people with lung fibrosis, will further worsen the condition of their lungs," said Sudipa Mukherjee, a founder member of the group and a doctor at Howrah District Hospital.
The posters, written in Bengali, have been pasted at many places in Dhakuria, Selimpur, Behala, Howrah and Shibpur, said Mukherjee. It says that people should not burn fallen leaves, plastic bags, discarded crates of eggs and other waste.
The posters point out that the smoke generated by these items when they are set on fire damages lungs. "People should refrain from burning waste for a better environment, for one's own health and everyone else's health," the posters read.
Metro has reported several times about the practice of waste burning in Calcutta. The ultra fine particles, especially PM2.5 (so called because they are smaller than 2.5 micron in size), emitted during the burning of waste can enter deep crevices of the lungs and trigger a host of critical ailments.
The particles float in the air close to the ground for a long duration during winter. Since air close to the ground is cold, it does not rise up and get replaced by fresh air. As a result, the emitted particles remain trapped close to the ground and enter the lungs.
Every winter, Calcutta's air quality routinely becomes poor, very poor and severe.
Pulmonologist Ajoy Krishna Sarkar said the smoke emitted by waste burning can lead to hypoxia — a condition marked by inadequate supply of oxygen to tissues — in people with reduced lung functioning. Many people who have recovered from Covid have to deal with reduced lung functioning because lung tissues get scarred.
"People who have lung fibrosis because of Covid-19 already have a problem in the exchange of gases, which is the main function of the lungs. They were given oxygen support at hospital
because their lungs could not take in adequate oxygen. When these people are discharged, they have to depend on oxygen in the ambient air," said Sarkar, clinical director at Peerless Hospital.
"When the percentage of oxygen in ambient air further drops , because of waste burning, these people can have serious problems because they will not get adequate oxygen necessary for the body to perform its functions."
Covid Care members are also urging ward coordinators of the Calcutta Municipal Corporation to spread their message. "We have started mike campaigns from autos. We are also approaching ward coordinators to campaign against waste burning in their wards," said Subir Gupta, a group member whose wife had contracted Covid-19.