Kedarnath temple at Sreebhumi this year
The club hosted khuti puja on Sunday with about 300-400 people in attendance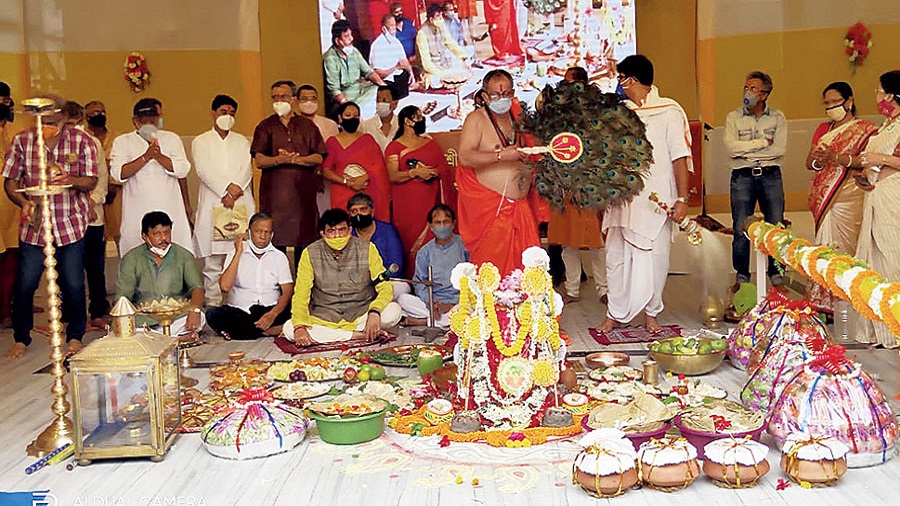 ---
---
Sreebhumi will construct Kedarnath temple this year. And hope that it does not draw as big a crowd as the puja is known for.
"This is not a time to show off. We are not looking for perfection this year. We have told the decorator that. So there should not be 100-150 labourers at work at the pandal at any point," said Dibyendu Kishor Goswami, chief co-ordinator of the puja committee.
The club hosted khuti puja on Sunday with about 300-400 people in attendance. "In other years, we have more than 700. It was difficult to reduce further as our members total over 200."
To keep onlookers away, no celebrity was invited this time. "Last time, we had actress Subhashree and filmmaker Raj Chakraborty. Actor Dev and singers Raghav and Rupankar have also attended our khuti puja in recent years," he said. The puja's sponsors were also not invited. Lunch and dinner, customary at Sreebhumi on the day, were cancelled in favour of packets of sweets. "We also handed over a sapling each to all visitors." Priest Somesh Sashtri came all the way from Behala to perform the puja. To ensure that attendance was staggered through the day, instead of asking people to come during the start of the puja, the entire duration of the ritual was mentioned — from 10am to 3pm — so people could drop by at their convenience.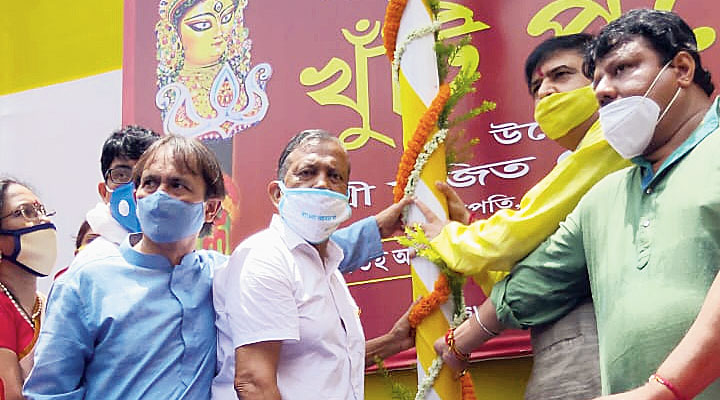 Explaining the choice of the theme, Goswami said the puja venue has a ready structure which cannot be downsized. "Moreover, our idol started being built right after Jagaddhatri puja. That was long before coronavirus struck India."
Idol-maker Pradip Rudra Paul said the traditional idol would be 20ft high with chalchitra as in other years. "Work was stopped for three months because of lockdown. Even now, we are short of hands. Labourers are hardly being able to come," said Rudra Paul, who makes around 65 idols every year. "Idols of most pujas will be smaller this time. But Sreebhumi and BJ Block in Salt Lake will retain last year's idol height," said the resident of BJ Block.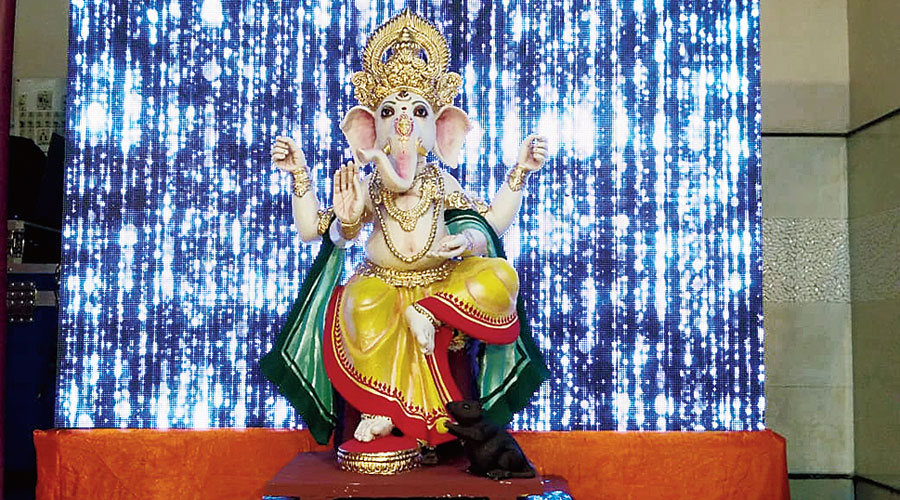 Yubak Sangha Club, that usually celebrates Ganesh puja near PNB Island, inaugurated this year's celebrations on Tuesday — online.
The Zoom meeting was attended by the likes of MLA and minister Sujit Bose, mayor Krishna Chakraborty and deputy mayor Tapas Chatterjee. "Due to the pandemic we have decided on the theme of 'Grihakone Vinayak' for our puja this year," said Anindya Chatterjee club president and local councillor.
The location of the idol has been kept a secret but those wishing to watch the rituals may, on August 22, watch the Facebook page 'Bidhannagar Ganesh Chaturthi Mahotsav'. Payment can also be made online for the priest to perform puja on behalf of someone.