Jadavpur University students who have been running a community kitchen to feed the poor raised a little extra to ensure people living in slums near Jadavpur rail station and under the Gariahat flyover could lunch with chicken on Dashami.
These people have been surviving since the start of the lockdown on a meal comprising a bowl of rice and soya beans delivered from the kitchen on the university campus.
On Bijoya Dashami (Monday), which marked Day 215 of the service, students wanted to do something extra to bring smiles to the faces of the impoverished.
A group of students, including research scholars, along with former students and teachers, had set up the "Community Kitchen" in the parking lot near Gate No. 4 in late March to feed the poor in the neighbourhood.
They started with khichdi before settling for meals comprising rice and soya beans.
On Monday, 700-odd people had something better at lunch — chicken curry and daal, along with steaming rice — as part of an initiative to ring in the Puja for the disadvantaged.
"One of the former students of the university contributed generously so that we could offer a different dish on Monday," Jhelum Roy, a research scholar of the university associated with the initiative, said.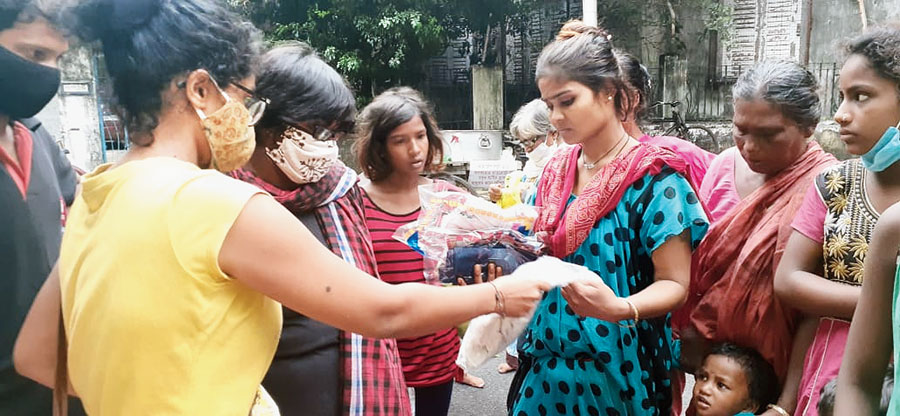 Students distribute new clothes to the people living in slumps in Gariahat Telegraph picture
The JU students did not restrict their efforts to offering a special menu on one of the days during Durga Puja.
They gifted clothes to the destitute after an alumnae made a separate contribution for the purpose.
As the volunteers set out on paddle-driven vans to serve lunch across the city, they gifted clothes to these people and their kids.
As scores of Calcuttans hopped pandals, members of the community kitchen ran from one pandal to another to raise funds to keep the initiative running. "We visited the pandals of big-ticket Durga Pujas such as Tridhara and 95 Pally, requesting contribution," a member said.
Volunteers moved around with loudhailers and donation boxes.