ICSE, ISC will announce schedule for Class X and XII board exams when poll dates are out
The schools will have to divide the examinees into batches depending on the number of students and the capacity of the laboratories, a principal said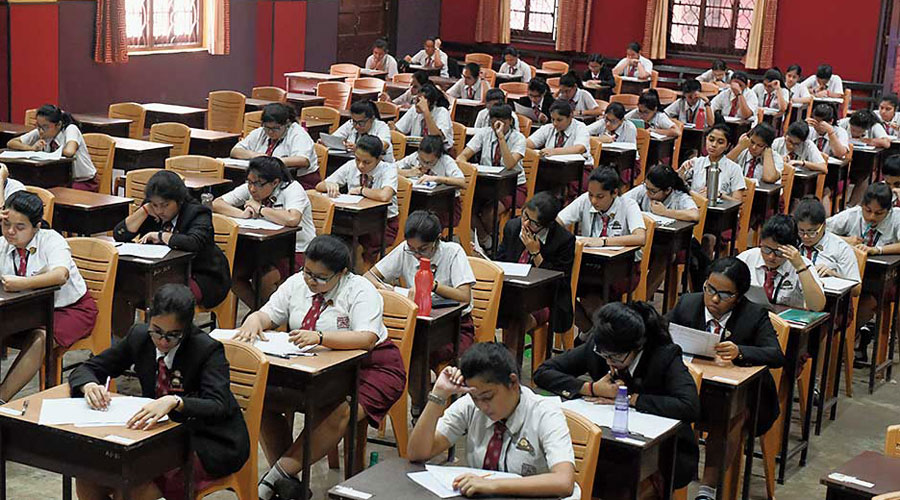 ---
Calcutta
|
Published 21.02.21, 01:24 AM
|
---
The ICSE council will announce the schedule for the Class X and XII board exams as soon as the Election Commission announces the dates for the Assembly polls, council chief executive and secretary Gerry Arathoon said on Saturday.
"As soon as the election dates are announced we will announce the schedule of the Class X (ICSE) and XII (ISC) boards. It could be within a day or two from the announcement. We are ready and waiting for the dates (of the election)," Arathoon, the chief executive and secretary of the Council for the Indian School Certificate Examinations (CISCE), told Metro over the phone.
On Saturday, Arathoon addressed about 150 principals of schools from across the country at the annual conference of the Association of Heads of Anglo-Indian Schools in India.
The 99th edition of the conference was held online this year because of the Covid pandemic.
During his session, Arathoon also discussed the ISC practicals with the principals.
The dates for the practical exams (for subjects like physics, chemistry, biology, biotechnology, Indian music and fashion designing) will be finalised by the visiting examiner in consultation with the head of the exam centre (the school's principal) and the supervising examiner of the centre.
"This is so that schools can maintain proper distancing during the practicals (because of the pandemic). In the old pattern when the council would fix the dates for practical exams, one set of students would appear for the practicals and another set would be locked up in a room. But this cannot happen now," Arathoon told Metro.
The schools will have to divide the examinees into batches depending on the number of students and the capacity of the laboratories, a principal said.
"The visiting examiners would be required to visit the Examination Centre to check the size of the laboratory/laboratories and then plan, in consultation with the head of the examination centre and the supervising examiner of the centre, the number of batches in which the practical examination for the concerned subject would be conducted at the centre. This should be done in compliance with the with the social distancing norms…" a circular from the council said.
The visiting examiner will also set the question papers for some subjects based on documents provided by the council, the circular said.
On Wednesday, the CISCE sent the circular to heads of schools presenting candidates for ISC 2021 about dates of practical exams and question papers.
The Telegraph had reported the next day that the circular was meant for practical exams in physics, chemistry, biology, biotechnology, Indian music (Hindustani), fashion designing, computer science and home science.
Computer science and home science have two components — planning and examination.
The date for the planning session will be fixed by the council and that of the examination will be finalised by the visiting examiners in consultation with the exam centre's head and supervising examiner, the circular had said. The council will set questions for these two subjects.