Hawker count rises in Salt Lake
Jobs lost to virus, many set up stalls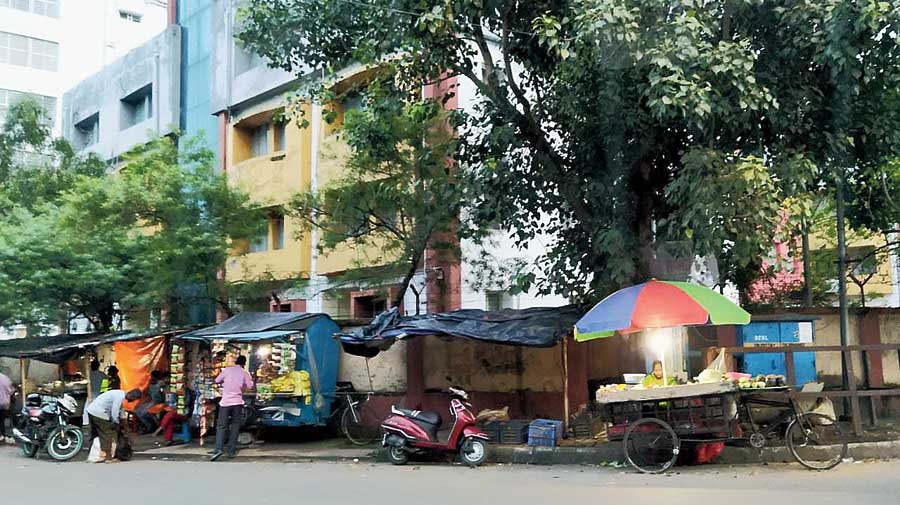 Stalls in Salt Lake Sector III on Wednesday.
Telegraph picture
---
Salt Lake
|
Published 10.09.20, 02:00 AM
|
---
Pavements and portions of roads in Salt Lake are being fast encroached upon by hawkers selling anything from fruits to poultry.
The numbers have gone up in the past couple of months as many who lost their jobs during the Covid pandemic have taken to selling fruits, vegetables and fast food to sustain themselves and their families.
Most of these men and women are parking their vans on roads and some are setting up stalls on pavements.
Many Salt Lake residents Metro spoke to said there had been a sharp increase in the number of pavement-grabbing stalls in all sectors of the township.
Metro went around Salt Lake on Wednesday and the hawkers presiding over pavement-grabbing stalls in Sectors I, II and III are hard to miss. They were everywhere in Karunamoyee, opposite the Geological Survey of India building, in front of the Punjab National Bank rotary, lanes in several blocks such as DL and EE, and the newly renovated stretch of pavement along the Kestopur canal near AL block. Hawkers have also sprung up in front of the CGO Complex.
Paritosh Duley, a resident of Kestopur who sells fruits from a pushcart and sets up his stall in AL block, said he earned a living by repairing air-conditioners before Covid struck. "I had to switch professions because there are very little work opportunities now. Most people are scared to let outsiders in. I now sell fruits to support my family," Duley said.
A glance at a 6ft wide pavement within the Karunamoyee bus stand shows the magnitude of fresh encroachments. More than a dozen illegal hawkers have set up shop there.
Fruit seller Swapan Pushti, 38, said he and other hawkers had moved inside the bus stand from where the Calcutta-Dhaka service operates because it is "safer" for them to do business there.
The Bidhannagar Municipal Corporation had evicted 3,000-odd hawkers and demolished stalls on pavements before the U-17 football World Cup in October 2017. Evictions were also carried out before Calcutta Book Fair in subsequent years.
A civic official said no eviction drive had been conducted over the past six months.
Mayor Krishna Chakraborty said they were not evicting the hawkers as most of them had lost their jobs because of the pandemic. "We are taking a softer stand because we don't want to destroy their only means of earning something," she said.
Samaresh Bandyopadhyay, a resident of Salt Lake's Sector II, however, said that not just pavements, even roads will be taken over if the authorities did not act against encroachments immediately. "The numbers are going up and it can turn into a situation where shops will spring up everywhere. We residents have a right to walk on pavements," said Bandyopadhyay.