Greening pledge to pay off carbon debt
2.3-acre plot carved out of the wilderness of Action Area III, will soon house 1,000 saplings of a variety of species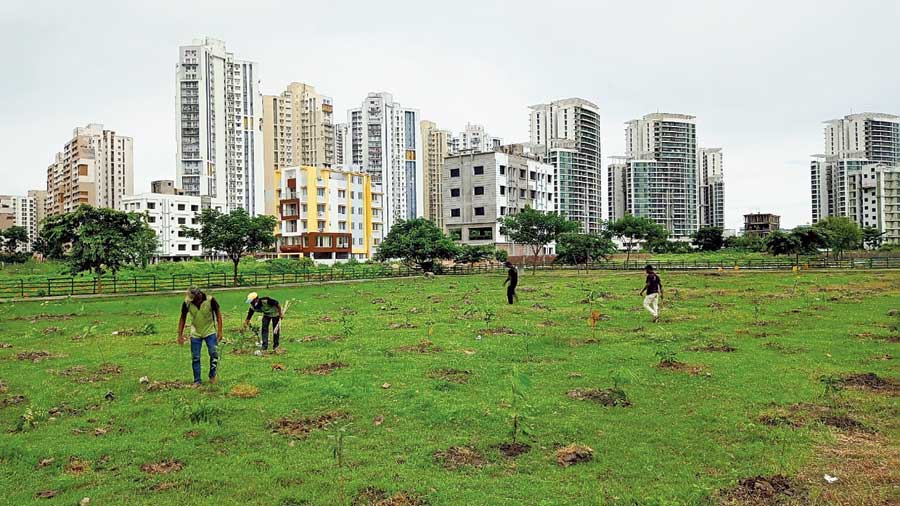 The Green Verge will be part of the carbon offset programme of CDE Asia, headquartered in neighbouring Eco Space.
Sourced by the correspondent
---
Salt Lake
|
Published 16.07.21, 12:06 AM
|
---
A 2.13 acre plot carved out of the wilderness of Action Area III, further up from Uniworld City and behind Tank 20, will soon house 1,000 saplings of a variety of species.
Green Verge 3 was formally inaugurated on Tuesday to coincide with the week-long state-wide afforestation drive, Van Mahotsav.
As reported earlier in these pages, the NKDA is inviting NGOs to adopt about 40 plots it has designated as Green Verge across residential blocks to create pockets of greenery at regular intervals amidst built-up space.
The Green Verge will be part of the carbon offset programme of CDE Asia, headquartered in neighbouring Eco Space.
"By 2025, we aim to become a carbon neutral company. Overall, we emit about 250-300 metric tonnes of carbon dioxide as our goods come from and supplied to far-flung areas like Maharashtra and Bangalore respectively. Many come from our UK factory. To offset this, we will need to plant 25,000 trees. We will engage more with NKDA and try to do more in our home city," said Manish Bhartia, promoter and managing director, CDE Asia.
More applications have been submitted to NKDA in this regard by the company's CSR company Sand Grains Foundation, he added.
"I love to visit New Town," said Nick Low, British deputy high commissioner, who inaugurated the plantation drive.  "There is nowhere in Bengal where I try coming to more. Be it movies or songs, there is dystopian, nightmarish view of the future that is put out. It doesn't have to be like that. We can have a clean, green future. This is the future," he said, pointing to the green expanse next to the stage with highrises dotting the skyline. "Last year," he pointed out, "has made apparent this nexus between looking after the environment and climate change. Covid was almost certainly caused by abuse of nature, by breaking down the barriers between man and animal. It was same with SARS and MERS, its predecessors," he added, referring to the aims of the upcoming United Nation's Climate Change Conference, COP 26, in Glasgow this November. "No country or group can combat climate change on its own. But everyone needs to do one's bit," he said, lauding the plantation drive as well as the other initiatives by CDE Asia towards a circular economy.
Hidco and NKDA chairman Debashis Sen spelt out the greening target for the year for New Town. "Last year, we had a target of 10,000. Through citizen initiatives, we managed to plant 10,053 trees. This year, we aim to plant another 10,000 but we are doing it differently by involving interested companies," he said.
In course of the next 11 months, Hari Mitti Foundation will plant and nurture 1,000 saplings, on behalf of Sand Grains.
Sen planted a Bokul sapling while Low planted Almond. Bhartia chose to plant a Jamrul, making it a mix of flowering and nut and fruit-bearing trees.