Gold mask for goddess at Baguiati khuti puja
'We thought with the third wave of the pandemic looming, if Ma Durga herself prescribed wearing of masks those coming to watch the puja will feel the urge to use one as well'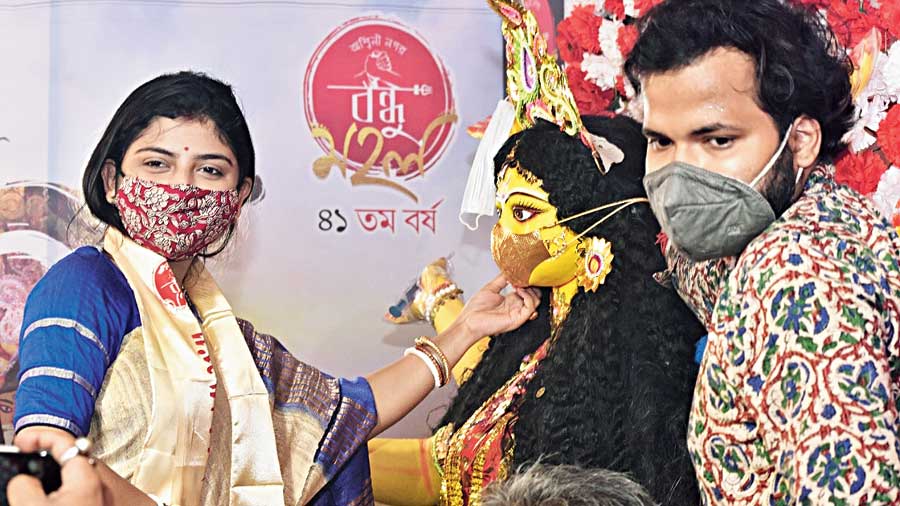 Rajarhat Gopalpur MLA Aditi Munshi poses with the masked goddess at the club's khuti puja on Sunday.
---
Salt Lake
|
Published 13.08.21, 03:26 AM
|
---
A puja organiser in Baguiati has turned to Goddess Durga to drill sense into the maskless multitude. And She is to do so by example.
A 6ft clay idol presided over the khuti puja of Ashwininagar Bandhu Mahal on Sunday. She had masks in six of her hands and in the other four there were a syringe to administer vaccine, a pulse oxymeter to check oxygen saturation, a thermal gun to check temperature and a sanitiser to minimise surface infection. But what caught the eye first was a glittering mask that covered her mouth. "We got the mask custom made of 15g gold. This idol will not be worshiped but will be part of the installation at our pandal," said Swarup Nag, treasurer of Bandhu Mahal.
The club is seeing this as an awareness drive. "Though the pandemic has not completely subsided, many people are tossing their masks away. In our country, people pay more heed to advice with a spiritual overtone. Hence we thought with the third wave of the pandemic looming, if Ma Durga herself prescribed wearing of masks those coming to watch the puja will feel the urge to use one as well," Nag said.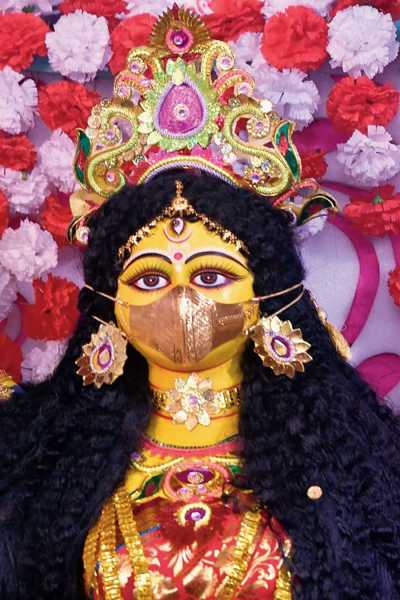 On the use of gold for the mask, he pointed out that gold was considered an auspicious metal. "Also craftsmen involved in jewellery-making have taken a hit along with those dealing with lights and floral decoration since the number of weddings has gone down. So the order was a way of helping craftsmen," he added.
The khuti puja was attended by Rajarhat Gopalpur MLA Aditi Munshi and Jayanta Kushary, the principal of Sarba Bharatiya Prachya Vidya Academy and the chief priest of the Sovabazar Rajbari puja. Kushary pointed out that the gold mask suited the complexion of the goddess described in the scriptures as tapta kanchan varna (heated gold colour, which takes reddish yellow hue).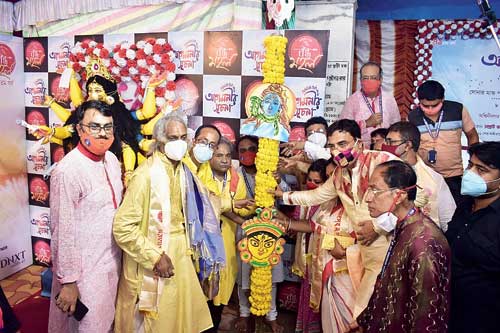 He drew a parallel of the coronavirus that replicates invisibly through human-to-human contact with Raktabij, the demon that spawned a thousand replicas on a drop of its blood touching the floor. "During that battle, Goddess Chandi was wearing dipicharma or a protective gear of elephant hide, which must have also masked her face. This can be equated to the PPE (personal protective equipment) that health workers wear to guard against the virus."
The club has already decided how to use the gold once Durga puja is over. "We support a local family of four in which the father was bed-ridden and the mother a cancer patient. We have an agreement with the jeweller that he will take back the gold and hold it in deposit to make jewellery for the weddings of the two daughters," Nag said.