Escape for father-in-law as gun jammed twice
The septuagenarian ran for his life when he found a moment to sneak out of the apartment while the accused was repairing his weapon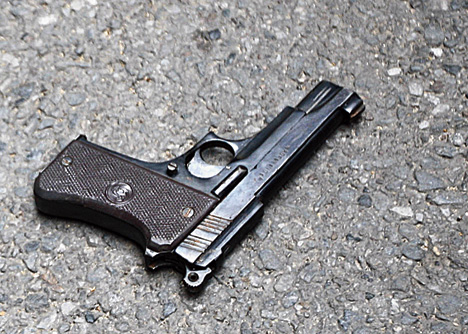 ---
|
Calcutta
|
Published 24.06.20, 02:55 AM
---
Subhas Dhandhania, the 70-year-old who saw his wife Lalita being shot dead by son-in-law Amit Agarwal, had a close shave after Amit had pulled the trigger targeting the gun at him at least twice on Monday evening, police said on Tuesday.

The improvised gun malfunctioned on both occasions.
"'Aap logon ka luck achchha hai (you are lucky)', Amit said when the gun did not function the first time," a police officer quoted Subhas as saying.
The septuagenarian ran for his life when he found a moment to sneak out of the apartment while Agarwal was busy repairing the gun with a screwdriver after killing Lalita.
Subhas ran out of the apartment in Rameshwaram Building, on RK Samadhi Road in Kankurgachhi, and bolted the door from outside before alerting Phoolbagan police station.
The police on entering the flat found Lalita and Amit dead. Hours before, the police said, Amit had killed wife Shilpi in Bangalore and took a flight to Calcutta.
Findings of preliminary investigations by the police suggest that Amit had gone to the Kankurgachhi flat prepared to kill both his in-laws and then end his life.
"He had called his brother-in-law Vineet, a software engineer in Gurgaon, and asked him to come to Calcutta. It is apparent that he wanted to kill Vineet, too, and eliminate the entire family of his in-laws," said an officer in the homicide wing of the detective department.
Amit, a chartered accountant, had entered the Dhandhania apartment around 5.30pm. Subhas has told the police that the 42-year-old took out a gun immediately after stepping in and aimed it at him. The son-in-law was standing near the entrance of the apartment, blocking the way out.
"The gun did not fire the first time he pulled the trigger. He started looking for a screwdriver. The elderly couple were frozen with shock and could barely move. By then the accused, who had been a regular visitor to the house, retrieved a screwdriver and repaired the gun," the officer said.
He pulled the trigger a second time. This time the gun fired but the bullet missed the target.
Lalita was hit close to her chest in the third attempt.
Subhas saw his wife slump and Amit aim the gun at him again. But the gun got stuck yet again.
As Amit picked up the screwdriver for a second time to repair the gun, the elderly man took his chance and ran out.
The police said the gun seized from the apartment, and suspected to have been used in the murder and suicide, was an improvised weapon resembling the look of a 7mm gun.
"Amit got the gun on Monday, after returning from Bangalore. We are looking for the person who handed it to him," an officer said.
Lalita and Amit's bodies underwent post-mortem on Tuesday. Both had one bullet each lodged.