Durga Puja: Calcutta local club to the aid of idol-maker
Kesto Das's makeshift studio on footpath was ravaged by Cyclone Amphan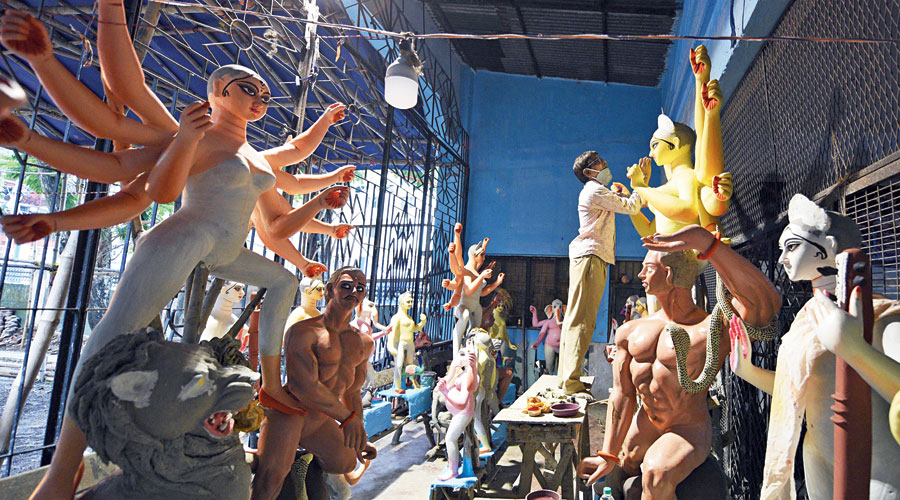 Kesto Das works on a Durga idol at the Khidirpur Sarbojanin club, which has offered him space.
Gautam Bose
---
Kidderpore
|
Published 13.10.20, 03:45 AM
|
---
Kesto Das's makeshift studio, on a slice of the footpath in Manasatala Lane, got ravaged by Cyclone Amphan and his earnings for the entire festive season looked uncertain.
But a local club has come forward to offer him space to make not only their idol but also any number of idols he gets orders for. Not just for Durga Puja but for Kali Puja as well.
"Visitors to our puja can even book his Kali idols, which we will display in our pandal," joint secretary of Khidirpur Sarbojanin Avijeet Das said.
The club has a permanent raised platform on which it performs puja. It is here that Das can be seen working away on six sets of Durga idols, including the club's own. Another adjacent space, under a tin roof, is where 10 under-preparation Kali idols stand.
Kesto Das could not be more grateful for the opportunity. "Amphan destroyed work worth about Rs 35,000. There were Annapurna, Radha Krishna and Sherawali idols ready in my studio. The clients were supposed to collect them after the lockdown. The cyclone blew the plastic sheet off the roof. All I was left with were lumps of clay in a flooded studio."
The idol-maker was resigned to the prospect of sitting idle before Puja. "I had no cash in hand. How would I have bought raw materials for making idols or repaired my shed?"
But when he reported his inability to deliver to the local club, they responded by offering him the puja venue to work in. "I am making as many Kali idols as I can in the little spare time I have in case I get orders from visitors during Durga Puja."
The club, which had a puja budget of Rs 6.5 lakh last year, will make do with Rs 1.25 lakh this time. They are thanking a local tradition they have for taking care of the lion's share of the cost of rituals.
"We hand each of the women who come on Dashami a gift packet, which includes a Lakshmir bhar (piggy bank). They put in whatever they can round the year and hand it to us before Puja the next year," joint secretary Das said. "In previous years, we used it for charity."
The collection, this time, came to about Rs15,000 and will sponsor the puja samogri.
The club will felicitate 100 Covid warriors. Among them will be joint secretary Das's mother, a nurse at Command Hospital. The family had faced hostility from neighbours in Adarsha Pally, Behala, when she had tested positive for the coronavirus.
"We were accused of spreading the virus in the locality. My insulin-dependent father and I survived on biscuits, instant noodles and milk for days as no one helped us with supplies. We were forbidden to open our windows and warned against stepping out, even though we weren't infected," he said, recalling the "harrowing days" in August. "Garbage collectors stopped picking our litter. My mother, who volunteered to work in the Covid ward as soon as she recovered, asked me if she was at fault for being a healthcare worker."
He has put the past behind him. "The neighbour who had threatened me got infected this month. Against the advice of friends, I went to his house with health supplements and supplies."
He believes in lending a shoulder to those in need. The idol-maker vouches for that. "My son will appear for Madhyamik next year. Had they not come forward to help me, I don't know how I would have supported my family."