Amphan-hit trees grow leaves
Jadavpur University sets new goal after restoration success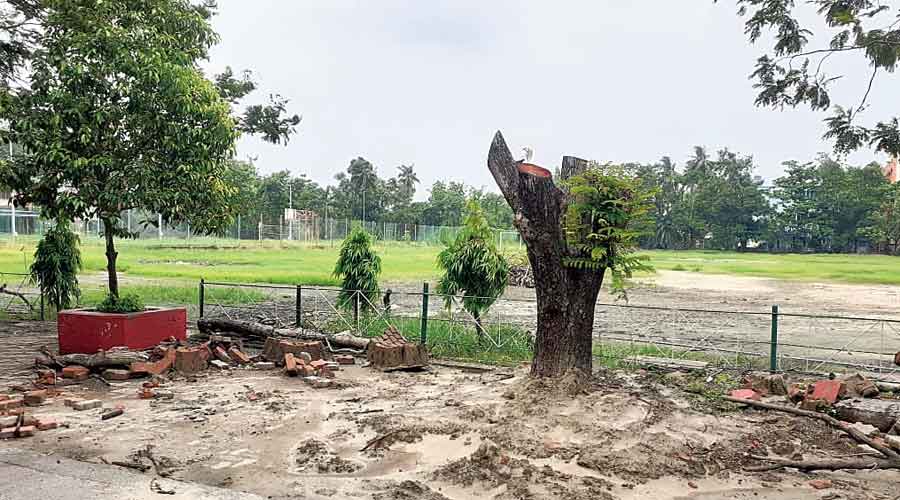 ---
|
Jadavpur
|
Published 11.07.20, 03:01 AM
---
The 81 trees on the Jadavpur University campus that were straightened after they fell during Cyclone Amphan have grown new leaves. The success has prompted the university to try and save another 20-odd trees.
Of the 1,800 trees on its main campus, the university had lost 181 trees to the cyclone. At least 57 have been restored. On the Salt Lake campus, 50 trees had fallen during the cyclone and 24 have been restored.
The university had formed a committee with its alumni to try and save the uprooted trees. Seeing the leaves, the committee became sure the restored trees had survived and decided to try and restore some more, Abhisekh Chatterjee of the committee said. Work will begin next week, he said.
"After treating the roots with hormone and fungicide, the trees were straightened with the help of chain pulleys. They have started growing leaves," Chatterjee said.
He is a member of a forum called Biloopto, which works on saving trees. the greenery and was constituted last year.
Mahogany, banyan and peepul trees were uprooted in the cyclone on May 20.
"We wanted to minimise the losses… and we have been successful in our mission with the help of the alumni," Snehamanju Basu, the registrar and the convener of the committee, said.
The alumni arranged heavy machinery like chain pulleys and cranes to straighten the tree, Basu said.
The branches of some trees have been chopped off to keep the canopy weight proportional to the strength of a tree, Ashis Majumdar, a teacher at the university and a member of the committee, said.
He is also the coordinator of the Regional Centre for National Afforestation, funded by the environment ministry.
"Now that the foliage has appeared, we can say that the trees are on the course of rejuvenation. The constant rain has been a help," he said.
The committee is trying to save nine trees, which got uprooted in the cyclone, on the university's National Instruments Ltd campus opposite the main campus.