Cyclone Amphan: Giant grandpa back on feet
The 100-year-old Baobab tree, also known as Kalpavriksha, was replanted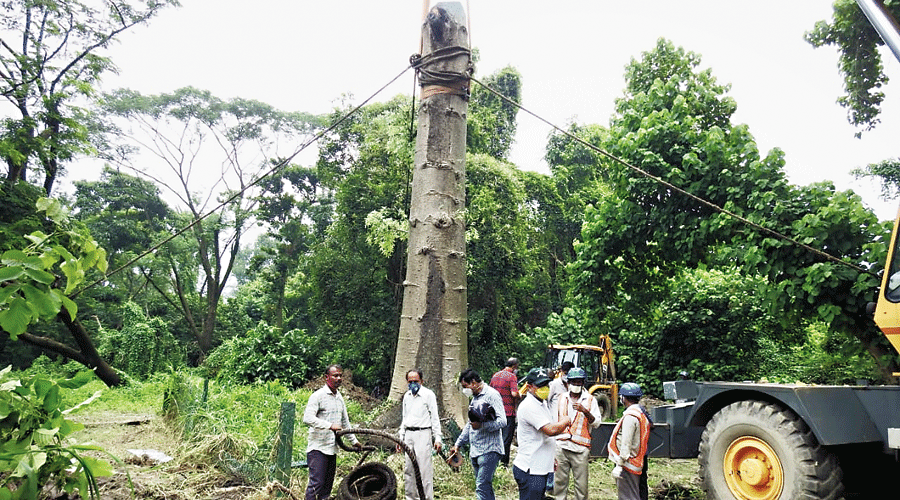 The Baobab tree uprooted by Cyclone Amphan being replanted at the Indian Botanic Garden in Shibpur on Tuesday
Telegraph picture
---
Calcutta
|
Published 29.07.20, 05:31 AM
|
---
The "wish tree" is back on its feet in the Indian Botanic Garden.
The over 100-year-old Baobab tree, also known as Kalpavriksha, that was uprooted by Cyclone Amphan on May 20 was replanted at the Shibpur garden by the Hooghly on Tuesday at a second attempt.
The tree weighing around 30 tonnes could not be lifted by any ordinary crane and had been lying in the garden alive, greenshoots growing from its branches.
It took the garden authorities two months and requests to various authorities to bring a crane that could pull such a huge tree up. The tree was finally back on its feet following help from the Kolkata Metro Railway Corporation (KMRC) and the Central Public Works Department.
The Baobab tree, a native of Africa, is known to be sturdy. It lives for 500 years and the one at the Shibpur garden is more than 100 years old.
Visitors, including a Chief Justice of Calcutta High Court, have made wishes touching the tree. Lore goes that wishes made under the tree come true.
The 30-tonne tree had to be pruned down. On Tuesday, minus branches and leaves, the Baobab tree weighed just 15 tonnes.
A telescopic hydraulic crane of the KMRC hauled it up. Its roots were treated with fungicide and the tree was replanted.
The Baobab tree was introduced in India by Mughal traders about 500 years ago in the Allahabad-Muzaffarnagar region. It is known for its medicinal properties, its bark is the source of amino acids and minerals and is often used as mineral supplements.
"It is one of the oldest trees in the garden," said A.A. Mao, the director of the Botanical Survey of India (BSI). "We had tried to replant this tree with two 10-tonne cranes and one 15-tonne crane but it could not be lifted. We approached KMRC. They had the 40-tonne hydraulic crane but its operators were on leave. So we waited for them to be back," said Mao.
Both Mao and Kanak Das, the head of the garden, are confident that the tree will live. "It's a very hardy tree and we have seen green shoots emerging from its branches," said Das.
The crane used to replant the Baobab tree has also replanted around 22 trees around Laldighi. Debasish Ghosh Dastidar of Afcons Infrastructure Ltd, who was in charge of operating the crane at the garden, said: "We have used this telescopic hydraulic crane to replant several trees that had to be removed because of the East-West Metro project."