Vaccine camp at Uniworld
SP Diagnostics provided the post-innoculation awareness and support in case of possible adverse reactions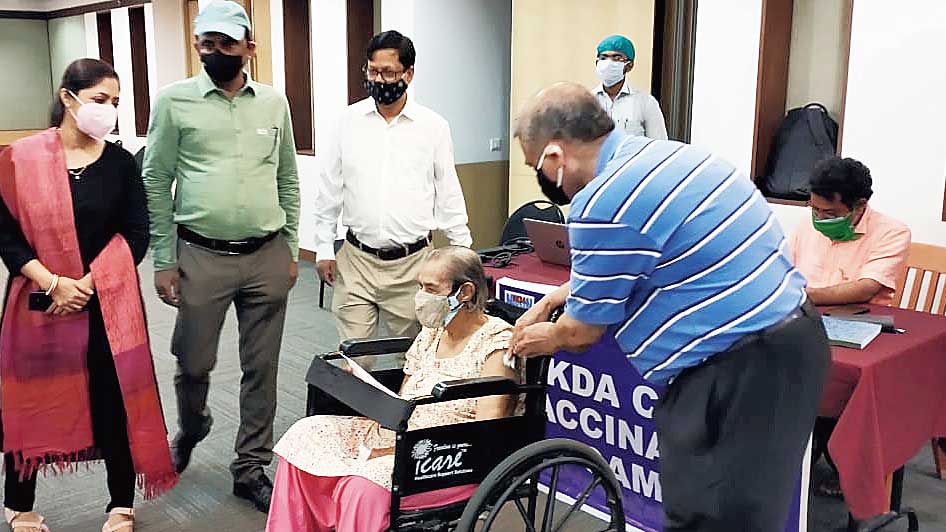 ---
---
Uniworld City became the first housing complex in New Town to host a vaccination camp. The camp, held on Tuesday, got 150 people vaccinated.
"We arranged for the vaccine and the nurse. They provided the doctor and the venue. Since the nurse would have to do the online documentation as well, we figured it would not be possible to administer more than 150 jabs in a day," said NKDA chairman Debashis Sen.
The Uniworld City authorities prioritised the vaccine recipients' list according to age. The oldest to get the jab at the camp was a 94-year-old lady. "We have about 3,000 families staying at Uniworld. We had requested NKDA to hold an offsite vaccination camp for us," said Ratan Kumar Goel, member of the Kolkata Uniworld City Apartment Owners Association board.
SP Diagnostics provided the post-vaccination awareness and support in case of possible adverse reactions. "We had two doctors and two attendants in attendance," said microbiologist Bibekananda Panda, who runs the diagnostic centre.
But there is unlikely to be another such camp unless vaccine supply improves. "We have received requests from about a dozen housing complexes to hold vaccination camps on their premises. In fact, the second camp was supposed to be held at Jal Vayu Towers today. But we had to cancel it as no supply came in the morning," said Sen on Wednesday, adding how the issue was causing enormous stress among people. In accordance with a government directive, even at the NKDA vaccination centres only second doses would be given till April 30, he said.
He urged elderly residents or those unable to register themselves on the CoWin portal to take the aid of NKDA volunteers. "We have trained them. Their contact numbers will be provided on calling our helpline (18001037652)," Sen added.