CoWin portal crashes 'under load'
Those who could finally register said they were greeted with the message "No Vaccination Centre is available for booking" on the screen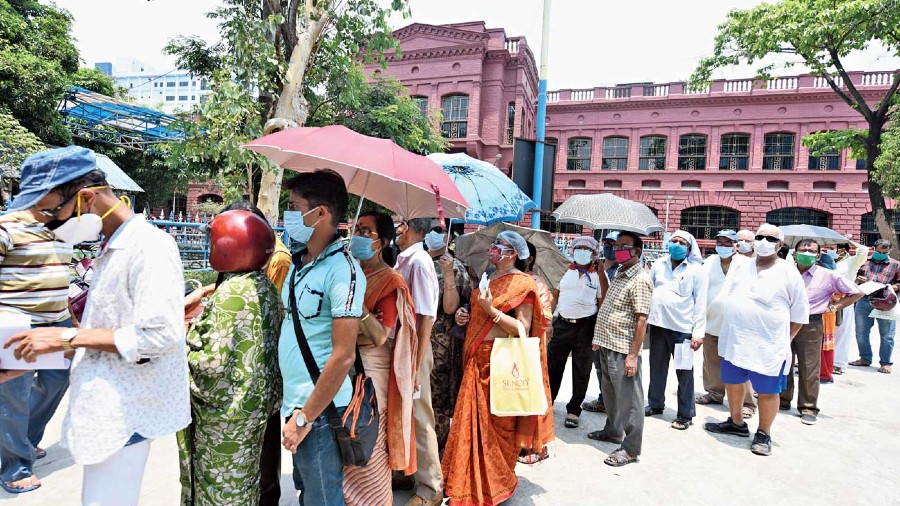 People wait at SSKM Hospital to get vaccinated on Wednesday.
Picture by Gautam Bose
---
Calcutta
|
Published 29.04.21, 02:06 AM
|
---
"No Vaccination Centre is available for booking" – flashed on the screen of hundreds of Calcuttans aged between 18 and 44 years who were hoping to book their Covid-19 jab slots through the Centre's Co-WIN portal.
Registration on Co-WIN of people of ages between 18 and 44 opened at 4pm on Wednesday and they will be eligible for the doses from May 1 (May 5 in Bengal).
Many complained that the website crashed and they could not register at all and many said it took them several attempts to get through because of delay in getting the One Time Password on their phones.
Those who could finally register said they were greeted with the message "No Vaccination Centre is available for booking" on the screen.
A state health department official said they had received a number of complaints about not being able to register on the portal.
"We have spoken to the Centre several times on the issue. They are trying to fix it. A large number of people tried to log into the system at the same time. That could be a reason for the problem," he said.
"I failed to enter the system twice as it was taking more than 10 minutes to get the OTP. After I finally registered, I could not locate any date or vaccination centre. One of my friends in Delhi managed to get options for hospitals and dates," said a 23-year-old techie in Calcutta.
A tweet from Aarogya Setu at 4.35pm – an app from where people could link to Co-WIN – confirmed a glitch in the Co-WIN portal around 4pm, when the registration for people between 18 and 44 opened.
"Cowin Portal is working. There was a minor glitch at 4PM that was fixed. 18 plus can register," the tweet read.
The Centre's announcements that people between 18 and 44 can be vaccinated from May 1 had raised hopes in many who have to step out for work risking infection.
Sabah Rahman, a teacher who lives in Gariahat, had registered for herself, her husband and siblings but could not schedule a slot for any of them. "I could not see any available date till July. The calendar is not scrolling down beyond that," said the Gariahat resident.
Rahman's 83-year-old father-in-law and 74-year-old mother-in-law are fully vaccinated against Covid.
The Co-WIN portal allows a registered user to check availability of slots at various vaccination centres by searching through the PIN or the district.
Sampurna Mukherjee, a student, said she could register and spot the names of some vaccination centres in Howrah but could not find any slot for the 18-44 age group.
Several private hospitals said despite the central government's announcement to start the vaccination drive for people aged between 18 and 44 years from May 1, they were unable to commit any dates for at least the next few days.
Rupak Barua, group CEO , AMRI Hospitals, said: "We are not taking any booking till May 5. Once clarity emerges about the availability of vaccines, we will update accordingly."
Sudipta Mitra, the chief executive of Peerless Hospital, said: "We are telling people to wait or go to a government hospital because we are not sure when we will receive doses."