'Move key to containing second wave'
Covid-19: State mulls taking jab to doorstep
Move key to contain new wave: Doctor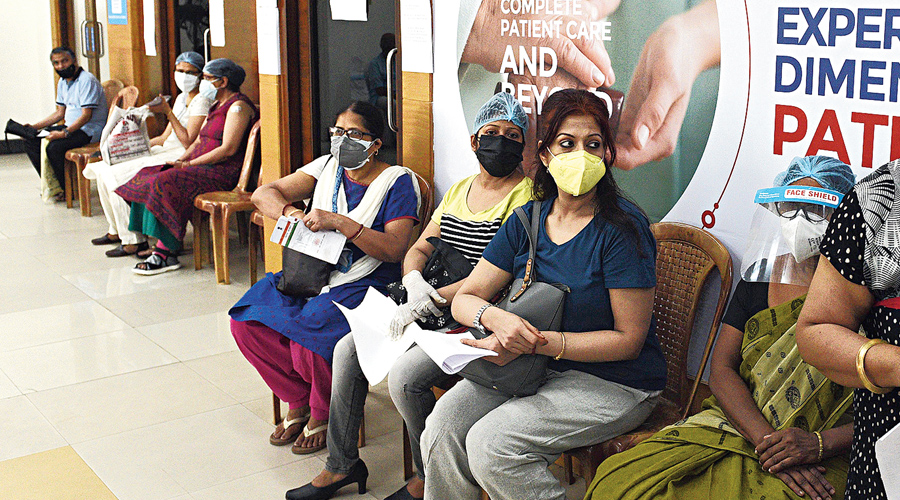 ---
|
Calcutta
|
Published 06.04.21, 02:18 AM
---
The state government is considering taking the Covid-19 vaccination drive to big housing complexes and corporate houses so that more people can be inoculated against the disease that is spreading much faster than it did at the peak of the epidemic last year.
The state health department on Monday met representatives of several private hospitals to discuss how off-site vaccination could be done in Calcutta.
Till now in Bengal, Covid-19 vaccines are given only at designated hospitals and clinics, including those run by the Calcutta Municipal Corporation and other civic bodies.
Private hospitals as well as the health department are flooded with requests from big residential complexes and corporate houses to conduct vaccination on their premises.
Representatives of some hospitals also proposed that vaccination centres be set up at sites like Netaji Indoor Stadium and Geetanjali Stadium in Kasba.
The state has around 2 crore 20 lakh people eligible for Covid vaccine doses. Till Monday evening, nearly 60 lakh have received at least one dose of a vaccine, a health department official said.
"Private hospitals and the health department are getting requests to take vaccination to people's doorsteps. Also, since the number of Covid cases is rising sharply, there is a need to speed up vaccination, especially in urban areas. A protocol has to be developed, after which the guidelines for off-site vaccination can be issued," the official said.
Monday's meeting discussed how to set up temporary vaccination centres at housing complexes and offices, those who attended the meeting said. Health officials have said off-site vaccination should be done at those places where at least 150 people, residents of a housing complex or employees of an office, are ready to take the shot.
For Covid-19 vaccination, a waiting area, a vaccination room and an observation room are required to be set up. The vaccination room and the observation room have to be air-conditioned, the official said.
Also, arrangements have to be made to store the vaccine vials in a refrigerator and ensure prompt medical attention to anyone who develops an adverse reaction.
"Many big housing complexes and offices have such facilities. Housing complexes have community centres that can be used for vaccination," said another official of the health department.
"Some states have started off-site vaccination and this is the need of the hour to contain the new wave. Covid vaccination only at healthcare facilities will not help, as many young and working people may not have the time to visit such a facility for vaccination," said public health expert Abhijit Chowdhury.
"However, the Centre should ensure adequate supply of vaccine doses. Otherwise, such exercises will have no effect."
Demands for off-site vaccination were being raised even before everyone above 45 became eligible for the Covid shot on April 1.
AMRI Hospitals Dhakuria has received such requests from at least eight big housing complexes and six corporate houses, said Rupak Barua, the group CEO of the hospital chain.
"Setting up vaccination camps at these housing complexes and offices is the only way to get more people vaccinated. We have been able to vaccinate only around 2,500 people between 45 and 59 since April 1. The target was to vaccinate 4,000 people. Since cases of adverse reactions after vaccination are rare, we can start the drive taking adequate precautions," said Barua.
He said ambulances with ICU facilities will be kept at the vaccination site to transport anyone falling sick after getting the shot to hospital.
The Rabindranath Tagore International Institute of Cardiac Sciences has been approached by three to four corporate bodies and a few housing complexes for doorstep vaccination.
"We are keen to start such a drive but are waiting for the state government's guidelines," said R. Venkatesh, regional director, east, Narayana Health, of which the RN Tagore hospital is a part.
Several hospitals said despite keeping vaccination centres operational on Sunday, the response was poor.
At Belle Vue Clinic, only 20 people took the shot on Sunday, compared with the daily average of 450 to 500. At Peerless Hospital, only 80 people were administered the jab on Sunday, compared with 200 on other days.