Covid-19 patient takes shelter in CK Market stall
Mayor Krishna Chakraborty said the woman had committed a grave mistake by living inside the market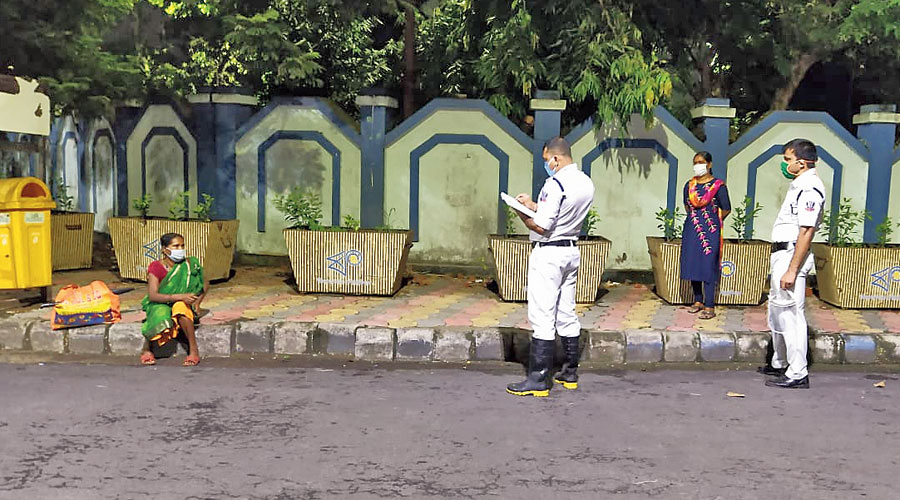 Police officers note down details of the CK Market shopkeeper from a distance, opposite Tank 9, on Sunday.
Snehal Sengupta
---
Calcutta
|
Published 07.08.20, 12:05 AM
|
---
A shopkeeper who tested positive spent four to five days living in her shop inside CK Market after her family asked her not to return home. When other shopkeepers found out they hounded her out.
The lady, in her late 50s, sells puja material and sundry items at her stall. On Friday, the sub-divisional hospital in DD Block handed her a report confirming that she had Covid-19. Since her case was not severe, doctors advised her home isolation. But her family members refused to take her in.
"I stay in Barasat with my daughter, her husband and my grandson. But when I got fever a week back, they asked me not to return home fearing Covid. They were even more adamant when I went for my test and the reports came positive. Since our house doesn't have separate rooms they claimed isolation would not be possible," she said.
With nowhere to go, she spent about five days and nights at her stall. "I have a second daughter who stays in a single room in the tenements near City Centre, a third daughter who stays with her family at a garage near Udayachal Tourist Lodge in DG Block and a fourth daughter who stays in Nayapatty with her family. Everyone refused to have me."
By Sunday, other shopkeepers got suspicious and confronted her about why she was wasn't going home. "She had been moving about freely despite her condition," said one of the shopkeeper who uncovered the case. "She could be a super spreader. When we found out we drove her out of the market."
With nowhere to go, the woman spent at least six hours on different pavements in Salt Lake. The Telegraph Salt Lake found her on the pavement opposite the Tank 9 petrol pump. Clad in a printed sari, carrying a black umbrella and a packet with her medical report, the lady was sitting on the pavement with a number of passers-by and commuters waiting close by to board autos and buses.
A call was made to Bidhannagar City Police commissioner Mukesh, after which a police team alerted the health department and got an ambulance to escort the woman to a safe house.
"It was unfortunate that the woman had nowhere to go. Our team stayed with her while maintaining proper social distancing protocol," said the police commissioner.
Mayor Krishna Chakraborty said the woman had committed a grave mistake by living inside the market. "She could have called the Covid-19 helpline number or any of the councillors. If she needed help she could have asked us," said Chakraborty.
The woman, on her part, said she did not have any of these phone numbers. "No one from the corporation or health department got in touch with me to ask if I needed help," she said.
The lady is now in isolation at a Sector V safe house. "She only has mild fever," said Maya Sarkar, the daughter who lives near City Centre. "It's best that she stays there as none of us have homes big enough to keep here in isolation."
The state government has set up several safe houses across the city for people who have tested positive but are asymptomatic or showing mild symptoms. Bidhannagar Municipal Corporation has a safe house in Sector V.