Delhi cloud on resumption of Calcutta Metro
Mamata had earlier said Metro had expressed its inability to resume full services from July 1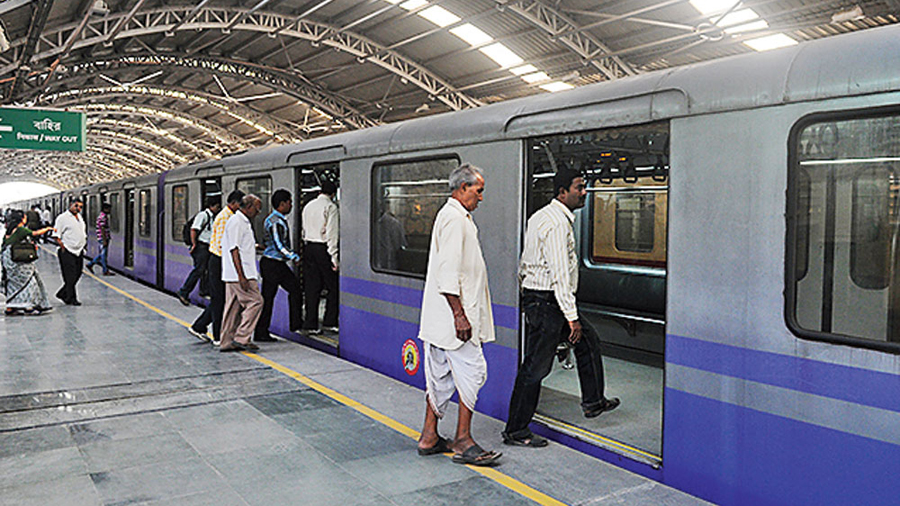 ---
---
Chief minister Mamata Banerjee said on Monday her government would talk to the railways for partial resumption of Metro for essential service providers, hours before the Union home ministry issued guidelines that listed Metro among activities that will not be permitted.
The guidelines said: "Dates for opening of these will be decided separately, based on the assessment of the situation."
Asked about the guidelines, a Metro official said: "The directive puts the ball in the home ministry's court from the railways' court". Calcutta Metro spokesperson Indrani Banerjee said: "We will work in compliance with government norms."
Earlier in the day, the chief minister said at a news conference that Metro had expressed its inability to resume full services from July 1, as proposed by her on June 26. She was speaking after a meeting between state officials and Metro Railway representatives.
"We had asked them to run trains for all. But as of now, they cannot run trains for all. They can provide limited services for essential service providers. I think even if that happens… a person now travelling by bus can take Metro. His seat on the bus will be vacated for another person," said Mamata.
The chief minister said essential service providers could mean "government officials, health workers, police and so on".
She added: "I have requested for early resumption of services. The chief secretary will talk to the chairperson of the Railway Board."
Metro spokesperson Banerjee said officials of the carrier had told the state government that "ensuring social distance would be a huge challenge" if full services resumed now. "They also said they will not be able to run full services because of staff shortage. Many of our maintenance staff are unable to report for work because of suspension of suburban train services."
As for the likely date of resumption of partial services, Mamata said: "We want this as early as possible."
A Metro official said the state government would decide on the "essential service providers".
"The government will issue passes for them. The passes will act as permits to enter stations," he added.
A smart card would be needed to enter the platform and board a train, said Metro officials.
On Friday, Mamata had said Metro services might resume if it could be ensured that the trains ran only with seated passengers.
Asked if that would determine the number of trains after the resumption of partial services, a Metro official said on Monday: "These things will be worked out. Our estimate is that the number of passengers will range around 30,000 once partial services resume. The number of trains will go down. The timings of the start and end of daily services will also change."
An eight-coach Metro train can seat around 400 people. The carrier used to ferry over 600,000 passengers a day before the lockdown. The number of weekday trains was 288.
On Monday, Mamata spoke of partial resumption of train services in Maharashtra before spelling out a similar arrangement for Metro trains in Calcutta.