Change of containment plan in Calcutta
Decision to widen area of the zone from a single building to a few houses adjacent to the building where someone has tested positive for Covid-19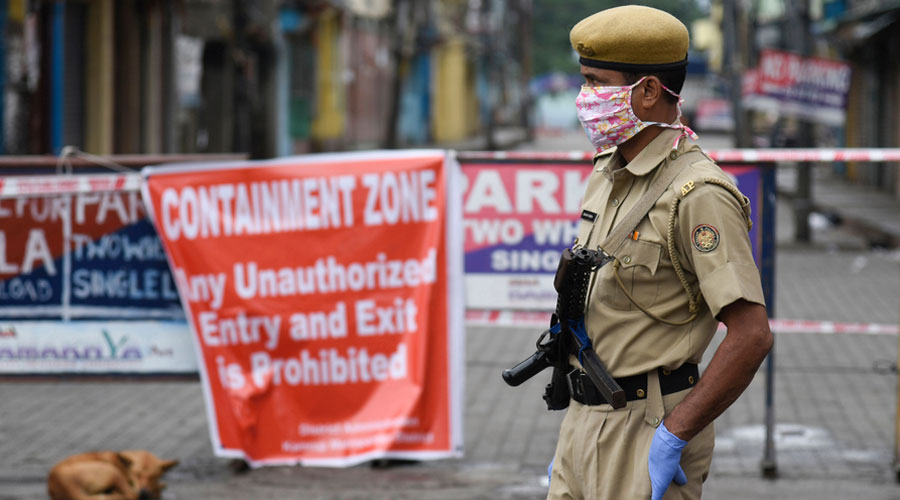 ---
|
Calcutta
|
Published 05.07.20, 03:37 AM
---
The Calcutta Municipal Corporation has decided to widen the area of a containment zone from a single building to a few houses adjacent to the building where someone has tested positive for Covid-19.
The aim is to stop the spread of the virus at a time when the daily count is rising, a CMC official said.
The civic authorities have noted that four or five cases are being reported from a single neighbourhood in many parts of Calcutta over the past seven or 10 days, prompting a rethink on the containment strategy. The expanse of the containment zone will not be as large as it was in April, but it will be more than what was in the past month, the CMC official said.
"Suppose three houses numbered 2, 80 and 108 have reported Covid-19 cases on a stretch with 200 houses. In April, all 200 houses fell in a containment zone. Towards the end of May, only these three houses were sealed. Now, we will take a middle path between the two earlier strategies," the CMC official said.
Besides, the civic body will go for stricter enforcement of containment rules. "I have asked officials to see to it that containment strategies are strictly implemented. Cases are on the rise and we must ensure that people follow rules. So, stricter enforcement will be done," Firhad Hakim, the chairman of the CMC's board of administrators, said on Saturday.
Isolation unit
The concept of containment zones has been changed. In the new concept, the house or flat of a patient will be called isolation unit and the surrounding areas will be declared free zones.
There have been several changes in the past few months. First, an area consisting of a number of buildings and structures on either side of a road with a Covid positive patient's home at the centre used to be declared as a containment zone.
Later, it was brought down to a multi-storey building or a few dwelling units in case of a congested place. The concept was changed again when the government decided to declare only the flat or the house of a Covid positive person as a containment zone.
"Now, a containment zone will be declared only when positive cases are reported from four-five adjacent flats or houses in a particular place. The concept of isolation units has been adopted as the concept of containment zones is not helping in dealing with the disease properly," a health department official said.
A large containment area is creating social issues while a very small area is not helping stem the spread of the disease, an official said.
"Last week, there were 1,800-odd containment zones in Calcutta… it has come down to 1,700. The number will drop fast following the introduction of the new system despite the fact that a number of positive cases has gone up in the city in the past few days," the official said.