Open Salt Lake shops fuel fear
Cops shut down outlets in at least two containment areas in the township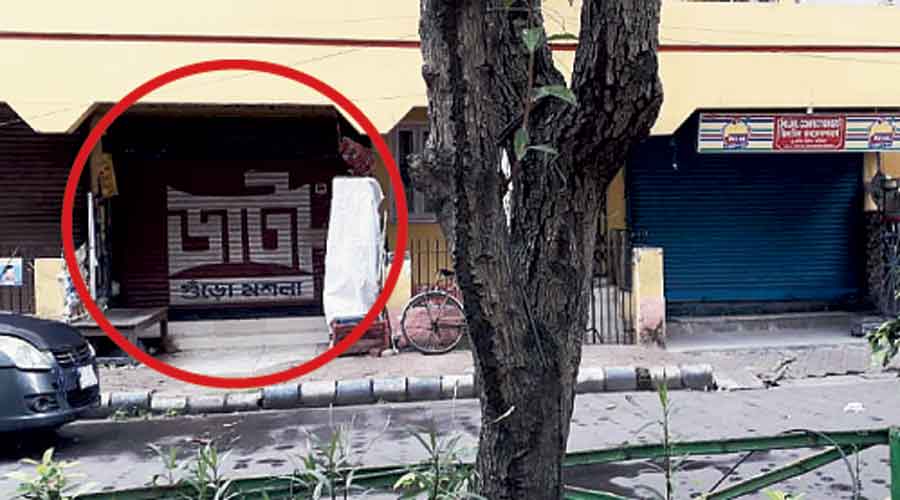 ---
---
Standalone shops on the ground floors of residential buildings in containment zones in Salt Lake are opening, putting residents at risk of contracting Covid-19.
"People are crowding in front of these shops in violation of lockdown and social distancing norms. The shops mostly sell groceries and cigarettes. There are a few tea stalls, too," an officer of the Bidhannagar commissionerate said.
On Tuesday, the cops shut down shops in at least two containment areas in the township — one in IB Block and the other in FD Block.
The Bidhannagar Municipal Corporation has drawn up a plan for the block markets to be kept open on alternate days to prevent crowding. But there is no such plan for standalone shops and department stores.
A civic official said they had sent teams to the shops in the containment areas asking the owners not to open them till the lockdown remained in force in the respective areas.
On Tuesday, Metro drove through the township and found people freely entering and leaving containment areas in all three sectors.
A tea stall in front of the SBI Employees residential complex in HC Block was open and there was a sizable crowd in front of it. A man carrying a glass slipped through a gap in the guardrails placed by the cops and went to the stall. The stall owner filled his glass with tea before the man left.
Not a single cop was spotted guarding any of the 13 containment zones Metro visited on Tuesday. There are altogether 27 such zones in Salt Lake.
"We are patrolling the zones and asking anyone we spot trying to enter or leave such an area to turn back. Some residents are not listening to us," a police officer said.
Devashis Jana, the councillor of Ward 41, which covers IB and HC blocks, said: "We have requested all shops in the containment areas to remain shut. The civic body will deploy teams every day to monitor the shops."