New Town RWAs tell homes to keep help, chauffeur away
RWAs to residents: Do it yourself
New Town complexes advise homes to keep help and chauffeur away unless indispensable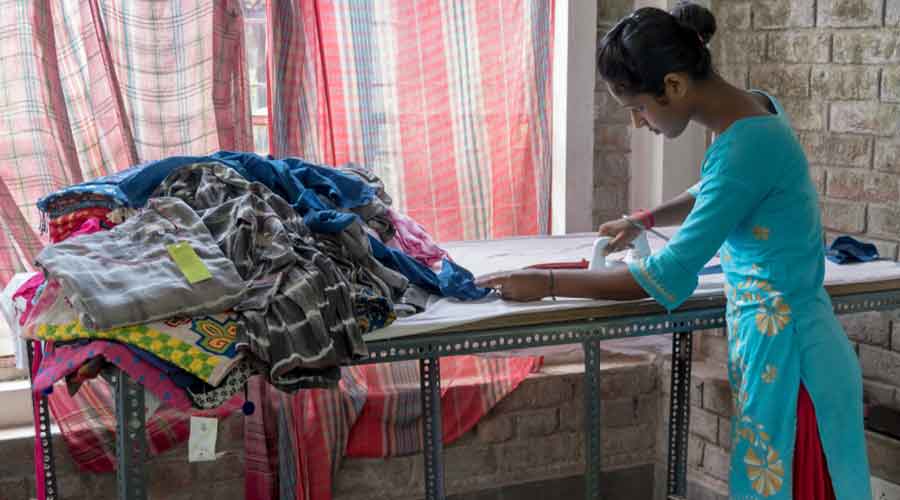 Most helps who work in housing complexes in New Town hail from Rajarhat, where panchayats have been reeling from the rise in the number of Covid patients
Shutterstock
---
New Town
|
Published 19.07.20, 02:07 AM
|
---
A rise in the number of Covid-19 patients in New Town has prompted many residents' associations in the township to "encourage" people to do their household chores themselves and drive their cars.
The residents' welfare associations (RWAs) have been asking residents verbally and through circulars to keep helps and chauffeurs away unless absolutely necessary. Most helps who work in housing complexes in New Town hail from Rajarhat, where panchayats have been reeling from the rise in the number of Covid patients.
The associations have sent out messages, requesting residents not to allow helps or chauffeurs unless absolutely required. Several associations have formed Covid-19 teams to help those who are in home quarantine as well as to oversee the daily sanitisation of complexes and handling of Covid waste.
At Rosedale Garden near Karigari Bhavan in Action Area III, the residents' association has asked residents to try and reduce their dependence on helps and chauffeurs.
The association has not restricted the entry of helps, drivers and car cleaners but it has spreading the word on WhatsApp asking residents to cooperate for their own safety, a member of the association said.
"As it is, many flat owners have not allowed helps back into their homes. Although we are following a strict hygiene protocol, which includes sanitisation of common areas like lifts and lobbies, we have been saying that it is safer if we restrict the entry of outsiders to the complex," the member said.
Members have been ensuring sanitiser bottles are kept at the gates and monitoring the entry of helps and drivers through a mobile app, which records the flat number where they are headed to, Ranjan Basu, the president of the  association, said.
"We have asked people to think of their own safety. Masks are mandatory for anyone entering the complex and temperature checks are conducted on everyone," Basu said.
Uniworld City, where 18 residents have tested positive for Covid-19 in the past few weeks, has restricted the entry of outsiders into the complex.
The association has not completely stopped the entry of helps, chauffeurs and car cleaners to the complex but they are being asked to change into a new set of clothes and thoroughly wash their hands before stepping into a building, a member of the residents' association said.
The complex has 51 inhabited towers and more than 2450 families live in 51 buildings in the complex.
Only 40 per cent of the residents have allowed helps, another member of the association said. "We told residents they should take the call on whether to allow helps into their homes… we cannot completely restrict the entry of outsiders into the complex since lockdown rules have been eased," said the resident.
Anjan Sen, the secretary of Kolkata Uniworld City Apartment Owners' Association, said the association had been arranging for delivery of groceries and other essential items to people in home quarantine.
"We are carrying out regular checks with pulse oximeters and running temperature checks on everyone entering the complex. Moreover, we have been telling helps who came in contact with a Covid-positive resident to get themselves tested and report back for work only if the report is negative," Sen said.
Most complexes in New Town had imposed strict restrictions and banned the entry of outsiders, including guests of residents, in the initial days of the lockdown. Milk, newspapers and couriered packages were delivered at a place near the gate and residents collected them.
Several complexes allowed helps, drivers, car cleaners and technicians from June 1 but the rise in the number of cases has forced many to do a rethink. Most have asked residents to do without helps and chauffeurs unless absolutely necessary.
Most apartment blocks in Action Area I, II and III have lined up a string of measures that include setting up separate areas to wash hands, keeping sanitiser bottles in common areas and running temperature checks on everyone entering the buildings.
Helps and drivers entering Greenwood Elements near City Centre II have their temperature checked with infrared thermometers. Flat owners have been asked to submit the addresses of their helps and to find out if anyone lives in a containment zone.
"We have asked residents informally not to let too many outsiders inside the complex," Arnab Bhowmick, a member of the Covid-19 volunteer force at the complex, said.