Puja budget tweak over hand sanitisers
Most organisers have had to settle for low-key pujas this year because the pandemic has robbed them of their share of sponsors and advertisers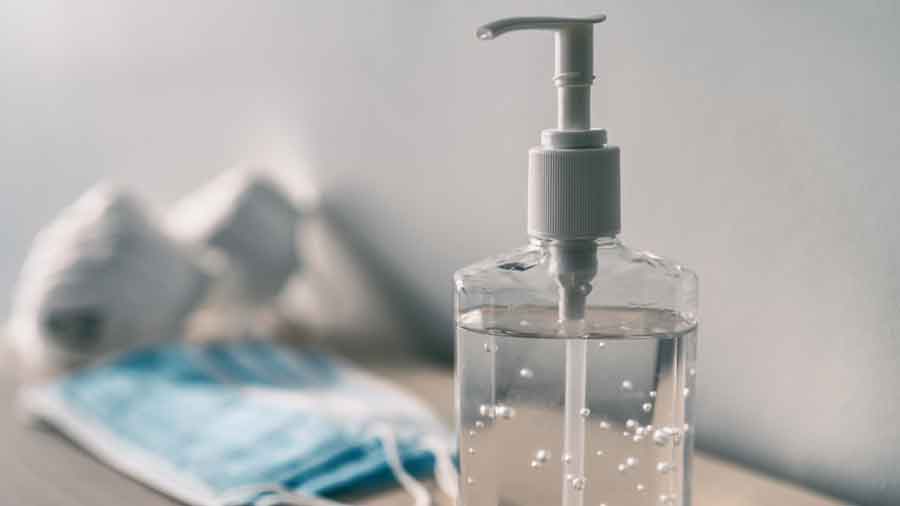 Several medium budget puja organisers remained busy between Friday and Saturday calculating the amount of hand sanitiser they would need for visitors turning up at their pandals
Shutterstock
---
Calcutta
|
Published 04.10.20, 01:28 AM
|
---
Puja organisers are replanning their budgets as they will need about 500 litres of hand sanitisers for the four main days of Durga Puja. It means an additional expenditure of Rs 20,000 to Rs 40,000 depending on the quality.
Several medium budget puja organisers remained busy between Friday and Saturday calculating the amount of hand sanitiser they would need for visitors turning up at their pandals.
"The basic quality will cost around Rs 850 for a five-litre jar. The better ones will come at Rs 1,900-2,200 for the same volume," Soumita Adak, the marketing head of Info Silicate Systems Private Limited, said.
Adak as visited several puja committees in south Calcutta and at least seven puja organisers have more or less finalised their orders for bulk supply of hand sanitisers. "Most are going for the basic quality."
Most organisers have had to slash their budgets between 40 and 50 per cent and settle for low-key pujas this year because the pandemic has robbed them of their share of sponsors and advertisers.
Idols have been made shorter to save on money, lights and decorations reduced to the minimum, and pandals have been cut to size, almost literally.
"The expenditure on account of hand sanitiser has left us stumped," Sandipan Banerjee of Behala Notun Dal said. "We have worked out that at least 500 litres of hand sanitisers would be needed for the four days… where do we get the money for this?"
Many organisers from north to south and on the city's eastern outskirts have been talking to suppliers for sensor-based dispensers or paddle-push dispensers.
"Each of these paddle-push dispensers costs around Rs 1,800. They are made of steel and are not given out on rent," Samir Ghosh, a dispenser distributor, said. "Several puja organisers have approached me and I have told them that you need to buy them."
Chief minister Mamata Banerjee has said that organisers would have to arrange masks and hand sanitisers for visitors apart from ensuring free air movement in pandals.
In the past few days, police have told organisers to follow these steps.
"This is our golden jubilee year; we will go for the top-quality hand sanitiser," Sanjoy Majumder of State Bank Park Puja in Thakupukur said. "You can calculate the cost... we will have to bear it."
A few others have been toying with alternatives to hand sanitisers. "There is a concept of using ultraviolet rays as an alternative to hand sanitisers. We have spoken to some companies," Kajal Sarkar of Bosepukur Sitala Mandir in Kasba said. "The health department has no directive on the use of such alternatives. So, we will go for hand sanitisers."