Covid safe homes at stadiums, auditorium
CMC to set up centres in Uttirna auditorium in Alipore, Gitanjali Stadium in Kasba and Kishor Bharati Stadium in Santoshpur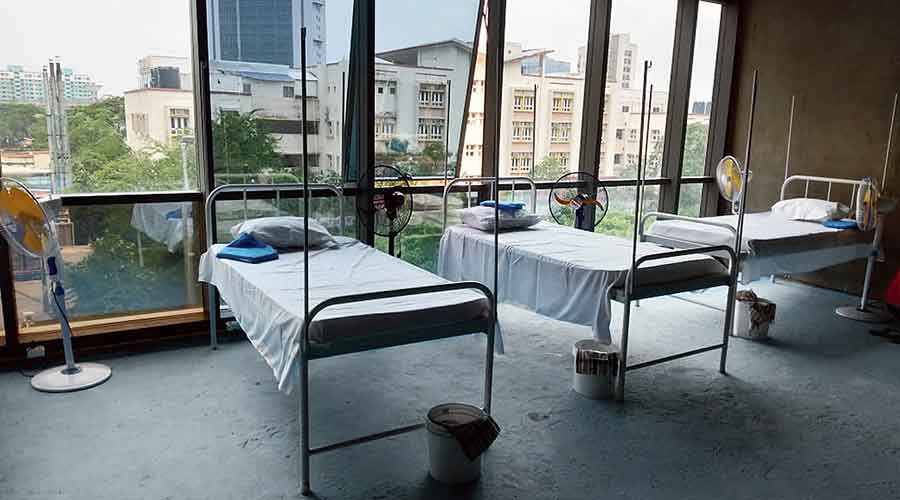 The inside of a safe home at South City Business Park in Calcutta
File picture
---
Calcutta
|
Published 27.07.20, 02:14 AM
|
---
The Calcutta Municipal Corporation is readying at least three more safe homes in the city to house asymptomatic or mild Covid-19 patients who lack enough space at home to stay isolated.
The safe homes will be set up at Uttirna auditorium in Alipore, Gitanjali Stadium in Kasba and Kishor Bharati Stadium in Santoshpur.
While the auditorium is managed by the public works department, the stadiums are maintained by the Calcutta Metropolitan Development Authority.
On Sunday, Firhad Hakim, the chairperson of the civic body's board of administrators, visited Uttirna.
A PWD official said the auditorium, which has four floors and a basement, could be converted into a 500-bed safe home.
"The indoor space will be turned into a safe home. Since it was meant to be an air-conditioned space, we did not keep enough ventilation provisions. More ventilation arrangements have to be made if we are to keep Covid-19 patients there," the official said.
"More toilets and washrooms have to be created, too. Also, additional power and water supply sources have to be built."
Work on these changes will start soon so patients can be shifted there as and when needed, the official said.
The CMC also runs a 375-bed quarantine centre in a building owned by the Central Forensic Science Laboratory in New Town.
As the number of Covid-19 cases is on the rise in Calcutta, there is a need to track and isolate infected people.
According to a bulletin of the state health department, 2,341 Covid-19 cases were detected in Bengal on Sunday. Of them, 648 were from Calcutta.
Quarantine centres and safe homes have different purposes. While contacts of Covid-19 patients who have not tested positive themselves are kept in quarantine centres, people who have tested positive but are asymptomatic or showing mild symptoms are kept in safe homes.
"More space will be needed to keep many of those positive persons who cannot stay at home, which is why more safe homes are required…. The health surveillance conducted by the CMC, too, tracks people with Covid-19 symptoms, who are then tested. More tests and more vigorous surveillance are likely to identify more positive people. They need to be isolated to slow down the spread of the disease," said a doctor associated with the civic body.