Ration for the distressed in red-light zones of Calcutta
Trapped and starving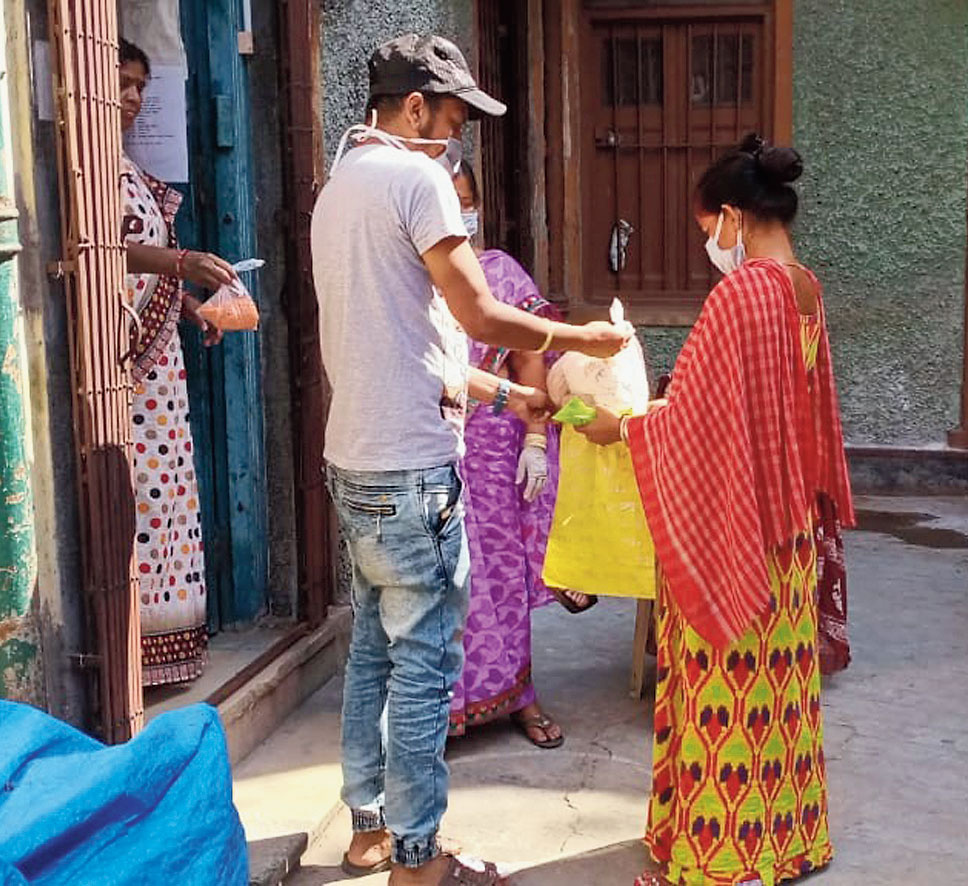 ---
|
Calcutta
|
Published 09.04.20, 08:35 PM
---
No livelihood, no home to go to and little chance of social distancing have left around 10,000 residents of Sonagachhi, Rambagan, Jorabagan, Bowbazar and adjoining areas staring at starvation.
The children of some of the social workers have taken to the social media to highlight the condition of the community during the lockdown. Several NGOs, citizens and community members have come forward to help the distressed women.
Sonagachhi went about its business as usual till the eve of the Janata Curfew, when the enormity of the danger finally sunk in.
"About 40 per cent of the sex workers managed to take the last train or bus back home on March 23. They are the ones who are the bread-winners of the family and hence are not ostracised, if only because of economic compulsions," said Smarajit Jana, principal, Sonagachhi Research and Training Institute.
The rest remain in Sonagachhi, shunned by everyone. "There aren't any clients to solicit. Landlords are asking for rent, there are mouths to feed," said Jana.
Apne Aap Women Worldwide has distributed meals among 5,000 families in the redlight areas of Calcutta, Delhi and parts of Bihar.
"One of the most affected areas is Settbagan in Sonagachhi. There are many women who would earn around Rs 3,000 to Rs 5,000 a month. The retired ones would often work as house help. Their income has stopped and many families are starving," said Tinku Khanna of Apne Aap.
A dance movement therapist and two of her friends from Kalighat had sought help online for the sex workers, especially the retired ones. "The response was great. We have already collected around Rs 2,000 and distributed 50kg rice, 25kg daal, 50kg potatoes and sugar in 50 such homes," said the 28-year-old member of Kolkata Sanved and daughter of a one-time sex worker.
Kolkata Sanved is taking care of around 50 families in Murshidabad, the Sunderbans and other areas as well.
Also working for the women is a freelance photographer. "In our area, there are many sex workers above 35. Some have left the trade to work in factories, like my mother, or as domestic help. Most of them have no income or ration now," said the Sonagachi resident who has been helping Apne Aap in locating the families in distress and distributing ration.
Ruchira Gupta, the founder of Apne Aap, said the organisation has been flooded with text messages and letters from sex workers and their children highlighting their despair.
Helping the NGOs are citizens from various professions. Around 30 of them have come together on a common platform to help the homeless and the Sonagachhi women. "We have supplied rice, mustard oil, daal and soap to around 250 families in Sonagachhi with the help of funds collected by Bikash Ranjan Bhattacharyya and others. We are also helping in government intervention. We are now planning our second distribution drive," lawyer Samim Ahammed, a member of the group, said.
Durbar Mahila Samanwaya Committee, a collective of over 60,000 male, female and transgender sex workers, has been distributing ration and building awareness about the dangers of Covid-19.
"We are trying to distribute ration among 300 sex workers every day. Our aim is to reach out to the older members first. We are also telling them why they need to follow a proper hygiene routine even when they get back to work. Not many know about Covid-19 here. Fewer customers will come here even after the lockdown but the girls need to take precaution even with their regular clients," said Ratan Dolui, a counsellor with Durbar,
But social distancing is impossible for the women who live huddled in 10ft by 10ft rooms. "Isolation is impossible here. They live in cage-like rooms with no windows, no ventilation or running water. They also don't have ration cards and hence no access to free ration. These women require access to food, clean water and toilets to stay safe," Gupta of Apne Aap said.
Help has also poured in from Ramakrishna Mission, Bharat Sevashram and other NGOs besides individuals, the local councillor and police station pitching in.
Kajal Bose, secretary of Durbar, sits at the forum office, organising bags of foodgrains. "We had started an awareness campaign in March. Daktarbabu trained us and we
went door to door telling the girls how to protect themselves. Then the lockdown happened. We are now trapped," she said. "Where will I go? I have left home a long time ago, this is my home now."