Grocers' moment and test
Busy during lockdown, upbeat on mall challenge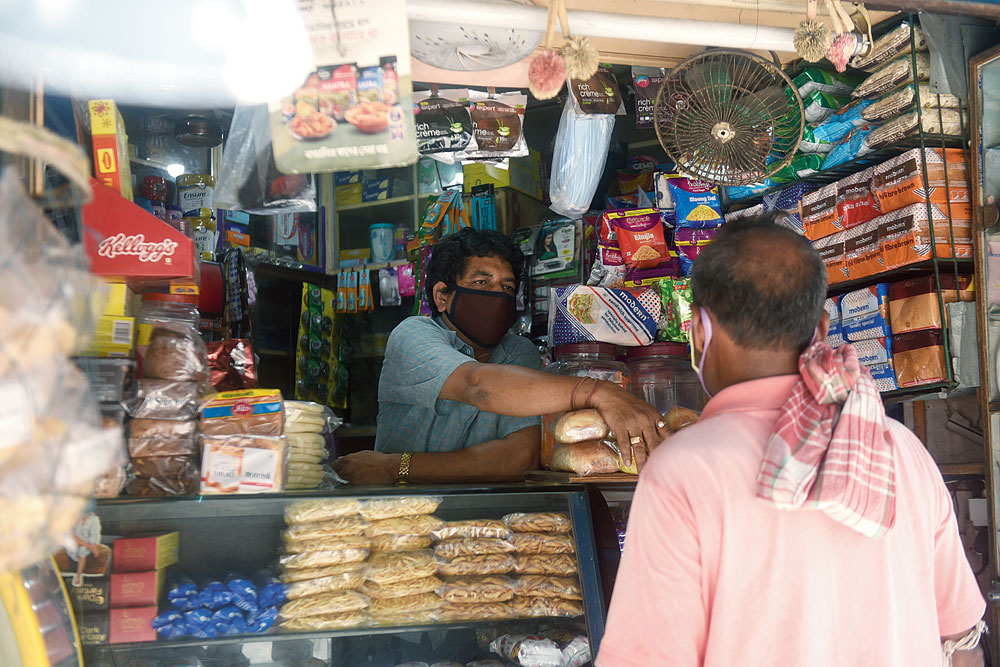 ---
|
Calcutta
|
Published 07.06.20, 08:51 PM
---
The lockdown forced by the novel coronavirus has propelled neighbourhood grocers, who had been sidelined for long by retail stores in malls, to centre stage.
They have been the lifeline sustaining households as malls stayed shut and delivery of online orders remained erratic. Malls are set to open from June 8 but many such grocers are banking on people's apprehension about visiting public places to ensure a robust future.
Biswajit Saha, the owner of Laxmi Narayan Stores on Hindusthan Road, has lost a few kilos and many hours of sleep in the past two months. "From 8am to 3.30pm, I did not get time to sit for even 10 minutes. There was a constant rush of customers," Saha, better known as Bapi in the area, said. "Earlier, a nap in the noon was common."
It took The Telegraph several phone calls and three visits to have a detailed conversation with Saha.
"A large section used to buy only soft drinks, soda and cigarettes, and an occasional bar of chocolate. They used to buy cereals and pulses from malls because I could not match the bulk discounts they got there. But they have been buying everything from me since March 22," he said.
Saha, a Garia resident, said he spent hours waiting for a government bus to Gariahat and back every day. "I doze off in the bus during the return journey daily because of the exhaustion."
Tapan Paria, another grocer in Muchipara near Tollygunge, used to sell stuff worth Rs 5,000 on a good day before the lockdown. His average daily sales volume in April and May was close to Rs 10,000.
A noticeable difference in the profile of his customers — residents of nearby housing complexes who would seldom visit his store earlier. During the first two weeks of the lockdown, Paria had noticed "panic buying". "People would stock up on everything. Brands did not matter… they would take anything available."
Crippled supply chain
The grocers continued selling stuff to people but faced several challenges in getting the stuff from wholesalers and "company godowns".
Earlier, representatives of FMCG companies and local producers would regularly visit the stores to supply everything. Grocers would procure cereals, pulses and masalas from wholesalers. Most other items were delivered to the stores by companies.
The entire supply chain of these companies has been crippled during the lockdown, making grocers dependent on wholesalers for everything from rice to toothpaste. For many, that means buying stuff at a higher price and a reduction in profit margins. Some passed the buck to retail customers.
People in the distribution channels of leading FMCG companies said the absence of suburban trains was behind the crippled supply chain. More than 90 per cent of workers in the chain — from unloading goods at godowns to delivering them at stores — are from the outskirts of Calcutta and are dependent on suburban trains. The Sealdah south section accounts for a bulk of them, according to company officials.
A few companies brought some workers to Calcutta in their transport. "These men have been living in godowns and offices in the city and barely sustaining the supply chain," a supervisor of a leading brand's distribution channel across south Calcutta said.
Hiring a car to visit company godowns is not financially feasible for many grocers. Wholesalers have been receiving products from companies. "It is more viable to send stuff to a wholesaler who can cater to many retail grocers," the supervisor said.
Future tense
Malls are set to reopen from June 8 but neighbourhood grocers are upbeat that people would not desert them soon. "Almost all my customers have said they will not risk going to a crowded mall. I hope at least 50 per cent of them stick to their word," Paria, the grocer at Muchipara, said.
The supply chain, which has slightly improved over the past few weeks, is unlikely to be back to normal any time soon. Railway officials said.
Suburban trains are suspended till June 30, according to rail officials. It is unlikely that suburban trains will get a nod to run from July 1.
"Passengers travelling on long-distance trains can be tracked. We can list their details. But if suburban trains start running, it will be impossible to keep details of all passengers," a rail official said. "The average daily passenger volume at Sealdah station is close to 1.2 million. Suburban trains comprise the bulk of the number."