Containment zone number spikes
Fresh cases reported from a BF Block house near the swimming pool, Duttabad remains a hotspot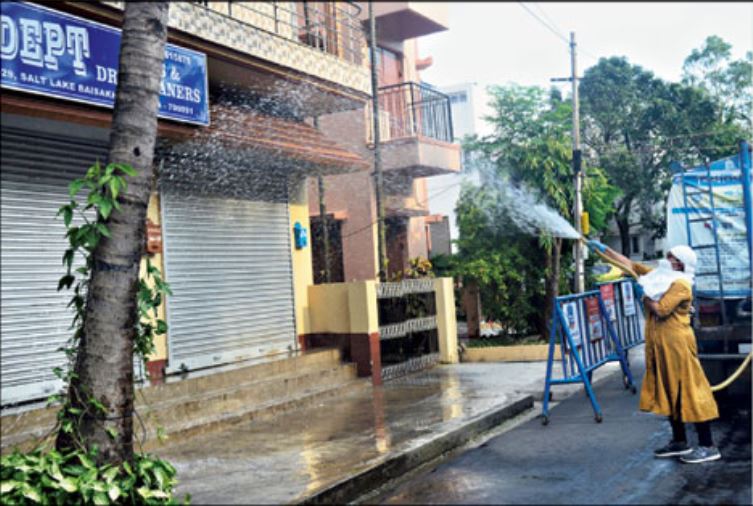 ---
Published 11.06.20, 12:46 PM
|
---
At least 17 containment zones cropped up in Salt Lake after residents across all three sectors of the township tested positive for coronavirus.
A resident each from AH Block and Sarat Abasan have tested positive for Covid-19, an official of the Bidhannagar Municipal Corporation said.
In Baisakhi housing estate, a middle-aged man had tested positive in end-May. So has an elderly man from AG Block last week.
Fresh cases have also been reported from a BF Block house near the swimming pool. A young woman of BE Block has also tested positive.
In Karunamoyee Housing Estate, a resident of K block and another resident of EE Block have also tested positive.
In Sector III, fresh cases have come up in FC Block, FD Block and FE Block.
A resident each of DB Block and BA Block are also down with the disease, the official added.
In Labony Housing Estate, two containment zones have been created as residents of two flats have tested positive for the virus. But one of them, an elderly lady who had tested positive for Covid-19 last week, has received negative results for her second test. She has been shifted to the general ward of the private hospital where she had got her herself admitted for an elective surgery.
Duttabad remains a hotspot and has been turned into a containment zone although people from the area are moving freely in and around the township despite the restrictions in place. More than a score from Duttabad have tested positive for Covid-19 in the past few weeks. Social distancing is difficult here and there have been instances when people who had tested positive had disappeared for several days, to avoid having to spend 14 days at a quarantine centre.
Nirmal Dutta, the councillor of the area admitted that people would go "missing". He had managed to take several men and women to quarantine centres after they had fled by reasoning with them, he claimed.
According to a health department official, the total number of cases has jumped to more than 180 from 90 that was the figure for the Bidhannagar Municipal Corporation area till about three weeks ago.
The official attributed the spike in cases to a number of reasons. "People are crowding the markets and tea stalls that have opened up are attracting regular groups of people who are chatting there without caring for the social distancing protocol," said the official.
He pointed out that most houses in Salt Lake had allowed domestic helps and drivers to resume work.
"Salt Lake gets a major share of helps from Duttabad which is a Covid-19 hotspot. Most of the women are working in multiple houses," said the official.
Pranay Kumar Ray, the mayoral council in charge of health at the civic body, said that they were doing everything they could to check the spread. "People also need to be aware. I have spotted people roaming around without masks or standing quite close to each other chatting. This has to stop," said Ray.
In New Town
A resident of Greenwood Park tested positive for Covid-19 on Wednesday. According to sources, she had visited a private hospital off the Bypass, which is also a Covid facility, where her mother was under treatment for a non-Covid ailment in end-May. She got herself tested on Tuesday after she developed fever. She is under home isolation now.
A pregnant woman from Rohra Heights had also tested positive after she got admitted at a Bypass hospital for delivery.
saltlake@abpmail.com