Calcutta walk for Stan Swamy
Solidarity gesture organised by the Mother Teresa International Award Committee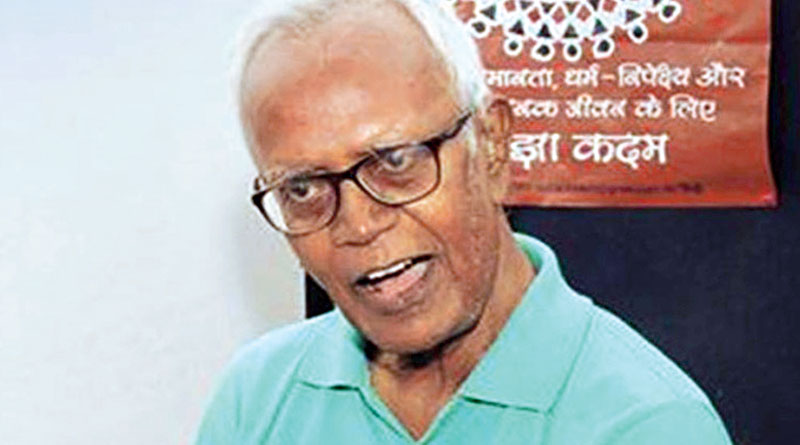 Father Stan Swamy
File picture
---
Calcutta
|
Published 16.10.20, 02:46 AM
|
---
A march that will not differentiate between religions and political affiliations to show solidarity with Father Stan Swamy and demand his release from jail will be led by St Xavier's University vice-chancellor Father J. Felix Raj in Calcutta on Saturday afternoon.
The protest organised by the Mother Teresa International Award Committee will start from St Xavier's College on Park Street and end in front of the statue of Mother Teresa at the Park Street-Camac Street crossing.
"There are protests, rallies, solidarity marches all over the country and in international forums. So far there have been none in Calcutta. This is the first solidarity march here and this march is irrespective of religion, irrespective of political affiliation and to show solidarity to Father Stan Swamy, who is 83 years old," Fr Felix Raj said.
"India is a country where senior citizens are respected and there should be a compassionate, concerned approach for them. If the police think there is something they should investigate. But be more compassionate --- not only this Jesuit father but all senior citizens should be treated with compassion. I want the government to change the attitude of arresting and keeping in jail any senior citizen."
Fr Stan Swamy was arrested in Ranchi on October 8, taken to Mumbai the next morning and sent to judicial custody till October 23.
Father Stan Swamy is a Jesuit from the Jamshedpur province of the Jesuit Order. 
Fr Felix Raj said: "Fr Stan speaks for the poor and their rights. He has a spirit like Mother Teresa. He is fearless and only fears God, for he knows he is serving him by serving the poor."
The Mother Teresa International Award Committee, which has called for the walk, is a secular body started in 2001. The committee has been handing out awards to distinguished people from across the world in fields like education, social work, sports and culture.
"The arrest is politically motivated. As a true Jesuit who follows Christ, Fr Stan Swamy is sharing in the sufferings of Christ for the sake of justice and truth.… It is time for all academicians, thinkers, philosophers, theologians and the like to come out openly and speak out against the arrest of activists and acts of injustice," Fr Felix Raj had written in this newspaper.
Fr Felix Raj said he had written to the Prime Minister asking for the release of Fr Stan Swamy. "I have written to the Prime Minister, asking for his intervention in this and considering the advanced age of this Jesuit father," he said.
Invitations to the walk have been sent to various churches. In line with the pandemic-induced restrictions, the organisers are keen to ensure that not more than 50 people assemble.
"The idea is to express solidarity in spirit and not in numbers. Let it spread out to many more places and many more days -- that may be more powerful," said Fr Felix Raj.
After the first walk on Saturday, the churches will be asked to hold walks or protests independently.
The chairman of the award committee, Anthony Arun Biswas, said it would be a peaceful procession against injustice.
"Fr Stan Swamy is someone who has been serving the poorest of the poor and we protest against this injustice of keeping him in jail in an unjust way. We demand his immediate release," said Biswas.