CMC and Metro blame game over waterlogging
Blockades in two canals at Jadavpur and Kasba for Metro piers at heart of the problem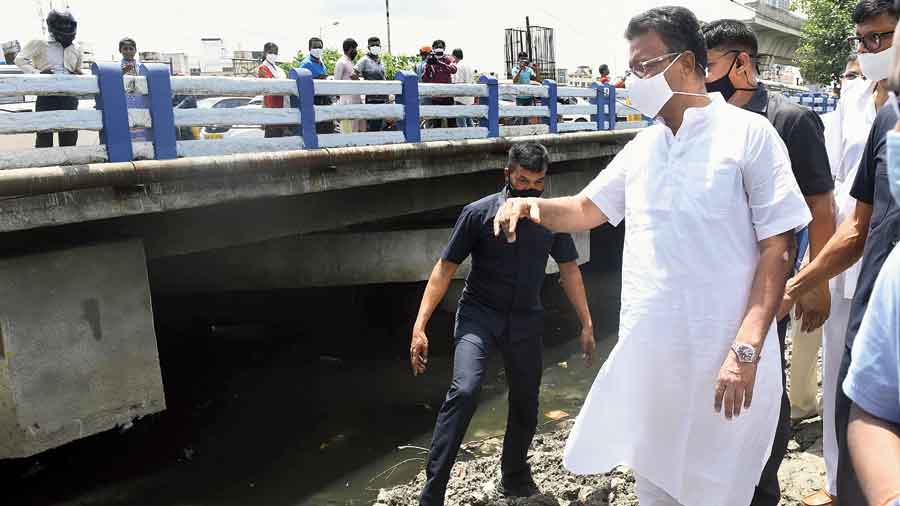 ---
Calcutta
|
Published 16.07.21, 01:30 AM
|
---
The outgoing city mayor inspected two canals that drain out water from Jadavpur and Kasba on Thursday. He blamed the waterlogging in these places on blockades in the canals that were made to erect piers of the New Garia-airport Metro corridor.
The blockades are necessary to erect piers for the Metro Railway corridor but they were supposed to be removed before the monsoon, said an official of the Calcutta Municipal Corporation.
The delay in removing the blockades can be blamed on the various government authorities responsible for providing citizen services.
RVNL, the executing agency of the New Garia-Airport Metro, had built the blockades last year to erect the piers. "We could begin work only in February," said an RVNL official. "We needed traffic closure in the middle of the Avishikta crossing for the construction work. This permission was granted only in February, otherwise we could have finished the work before the monsoon."
The delay in handing over the site was a result of another delay. The Calcutta Metropolitan Development Authority, the custodian of the Bypass, was supposed to widen a stretch of the artery at the Avishikta crossing last year. But the widening was completed in January this year. Police had agreed to barricade the crossing only after widening the stretch to prevent snarls.
While the CMC blamed RVNL for the waterlogging, the railway agency blamed the state government for the delay. Caught in the blame game, people suffered. Several homes were inundated after spells of rain. Water had entered the reservoir of several homes and residents had to wade through shin-deep water more than 24 hours after it stopped raining. 
Waterlogging in these areas is also a result of a lack of underground drainage, lack of desilting of drains and lack of dredging of canals, said civic engineers.
To reduce waterlogging for the rest of the monsoon, RVNL has promised to remove the blockade in the canals.
"The RVNL will remove the blockade by July 22. Once the blockades are removed, the water will flow at greater speed and waterlogging will reduce," Hakim said on Thursday.
The two canals cut across EM Bypass — one near Calcutta International School close to Ruby crossing and another at the Avishikta crossing.
The one running near Calcutta International School drains out water from Kasba. The one running under the Avishikta crossing drains out water from Mukundapur, Kalikapur and vast areas of Jadavpur.
CMC engineers said that only about 50 per cent of the area in Mukundapur has underground drainage. The rest has open surface drains. The height of the surface drains is lower than the canal. As a result, water does not flow into the canal from these areas in natural force of gravity, said engineers.
"If there was a proper underground drainage network with a drainage pumping station, then the water could have been pumped into the canal," said a CMC engineer.