Autorickshaw fares almost doubled on Salt Lake routes
A ride from the Sovabazar Metro station to Karunamoyee in Salt Lake cost Rs 50 on Thursday while it was Rs 29 in March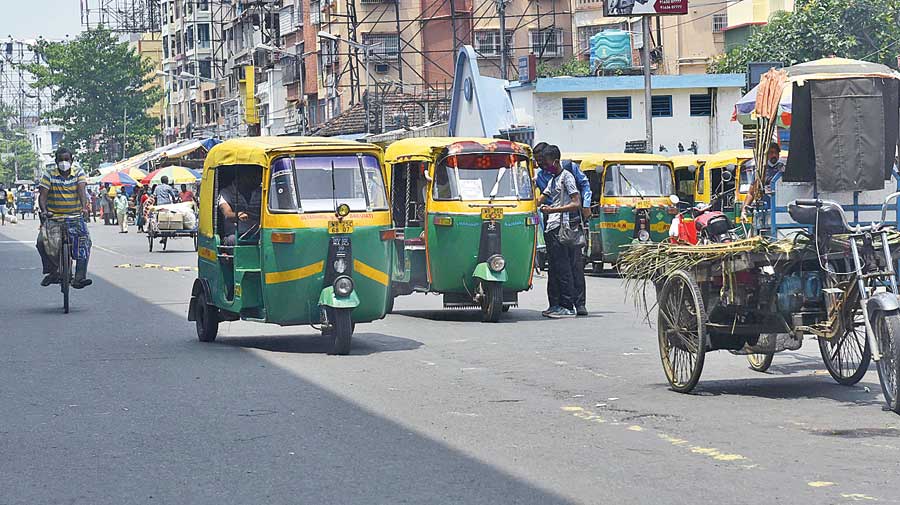 Commuters headed to Phoolbagan from the Karunamoyee bus stand were asked to shell out Rs 30. In March, the ride cost Rs 16.
File picture
---
Calcutta
|
Published 02.07.21, 01:36 AM
|
---
Autorickshaw drivers on four routes originating in Salt Lake charged nearly double the earlier fares on Thursday, Day 1 of resumption of public transport following relaxation of curbs imposed on May 16 as a precaution against Covid.
A ride from the Sovabazar Metro station to Karunamoyee in Salt Lake cost Rs 50 on Thursday. It was Rs 29 in March.
Commuters headed to Phoolbagan from the Karunamoyee bus stand were asked to shell out Rs 30. In March, the ride cost Rs 16.
An autorickshaw driver charged Rs 30 for a ride till Ultadanga from the Sovaba-zar Metro station, while another took Rs 20 for a ride from Ultadanga to Karunamoyee.
Passengers on multiple routes said they had no option but to shell out the extra money as buses were infrequent. Only a handful of buses rolled out on Thursday, with owners claiming that the government's refusal to hike fares for now and rocketing fuel price have made their business unviable.  
"I had to travel from Karunamoyee to Phoolbagan. An auto driver told me the ride would cost Rs 30. The driver told me to pay or wait for a bus," recounted Suresh Pandey, a resident of Phoolbagan who works at a Salt Lake shop.
"I waited for nearly 15 minutes before deciding to pay the amount and travel by auto. I had travelled on the same route a few days back, be-
fore autos were officially allowed to ply, and I had to pay Rs 40."
Drivers on the Karunamoyee-Ultadanga, Karunamoyee-Phoolbagan, Karunamoyee-Kankurgachi and the Karunamoyee-Beleghata Bypass routes said they were being forced to charge extra because of a rise in the
LPG price and to compensate for the lack of passengers.
The price of a litre of LPG on Thursday was Rs 51.65. A year back, it sold for Rs 35.71.
"The price of LPG has been steadily increasing. Moreover, we have been told to ply with only two passengers, although at times we are ferrying three or four like before. But the number of commuters has dropped drastically," said Bikram Dhali, an auto driver on the Karunamoyee-Phoolbagan route.
Many ran their autos on truncated routes.
Nirmal Dutta, a leader of the Trinamul-affiliated auto union, said: "We have not hiked fares and no new fare chart has been issued. However, we have to keep
in mind the rising fuel cost and the fact that people were stepping out only in the morning and evening," said Dutta.
Nearly all autos were spotted carrying more than two passengers, in violation of the state government's Covid curbs.
Most of the drivers were wearing masks and some had even kept sanitisers for passengers.
"We washed the vehicles thoroughly in the morning," said Dasarath Samanta, a driver on the Ulta-danga-Karunamoyee route.