A thought for rhinos
Naturalist Arjan Basu Roy, who would be a regular presence at the programme, shared some interesting facts of the rhinoceros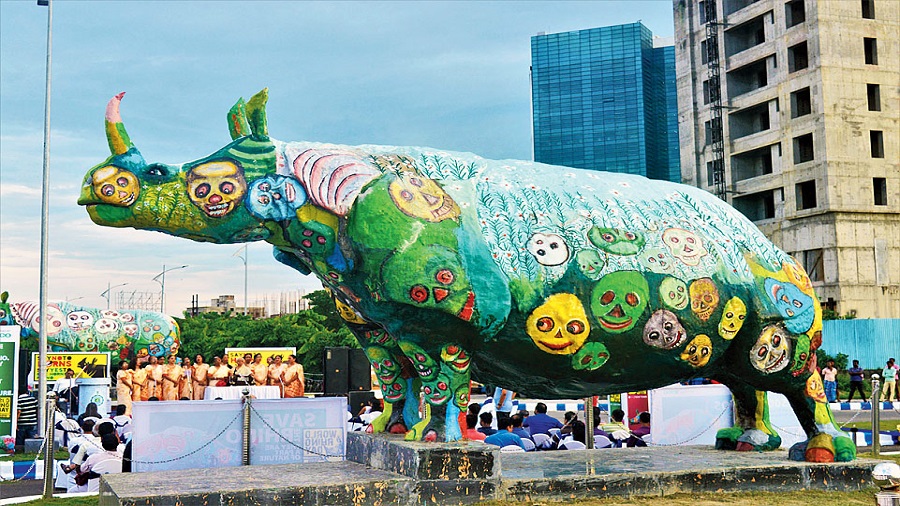 A World Rhinoceros Day event in New Town on September 22 last year
Debasmita Bhattacharya
---
Published 25.09.20, 02:58 PM
|
---
The World Rhinoceros Day on September 22 may have quietly passed by this year but the colourful presence at the junction near Aliah University, where two colourful rhino sculptures stand, is a reminder of the informative session that used to be held at the spot to mark the occasion till last year.
Naturalist Arjan Basu Roy, who would be a regular presence at the programme, shared some interesting facts of the rhinoceros with The Telegraph.
The lockdown hasn't spared anyone this year. Has it had any effect of wild animals?
It has — both good and bad.
The lockdown meant no more tourists at national parks so the rhinos were at peace without any intrusions. But monitoring of the forest through the eyes of tourist also stopped.
Besides the forest department's internal patrols, 30 to 40 tourist jeeps would do rounds of the parks twice a day. It allowed that much more surveillance. If anyone spotted an ill rhino or any suspicious activity it would get reported.

The mention of 'rhino' brings to mind a huge and strong creature. How strong are they?
The females weigh about 1,600kg and the males 2,200kg.
Rhinos have a life span of about 35 years and after the age of two, they could be strong enough to kill a tiger. Rhinos and tigers rarely fight, though. And they can run at 55-60kph.

Are they dangerous?
They are only dangerous if threatened. If you go within 10 feet of a rhino, he'll think you've come to harm him and attack.
With their magnificent horns rhinos usually fight with fellow rhinos. But if they decide to attack a person they usually bite.
Males fight among themselves to decide who mates with a female and these fights are deadly. They can go on non-stop for days and at times end only when one has killed the other.

Do rhinos have predators?
Adult rhinos have no natural predators but the young ones can be targeted by lions. Once a rhino dies and decomposes, hyenas and other carrion-animals (those that eat carcasses) feed on it.

Is the skin of the rhino really that thick?
Oh yes! It is extremely tough and smooth. So much so that sometimes when poachers shoot at rhinos, the bullets slip off their rounded body.

And the horns?
Rhino horns are actually modified body hair. Baby rhinos are not born with them and the horns grow with age. Both males and females have them. Curiously, despite being tough, the horns weigh at most 2.5kg.

And these horns are what poachers are after?
Sadly, yes. Rhino horns are said to have medicinal properties and fetch big bucks in the south east Asian black markets.
Rhinos defecate at the same spot every day. That's where poachers wait for them. They shoot the animals at specific spots where their skin is soft — such as the neck. Villagers tip off poachers about rhino movements for a share in the price it fetches.

Do poachers tranquillise the rhinos and saw off the horns?
No, that would be too risky. If this two tonne beast even stirs in pain while under sedation, he could crush the poacher under its weight.
So the poachers shoot to kill. And then they saw off the horns.