'No apology, please follow the law'
Calcutta woman who complained of being slapped by cop recounts session with his seniors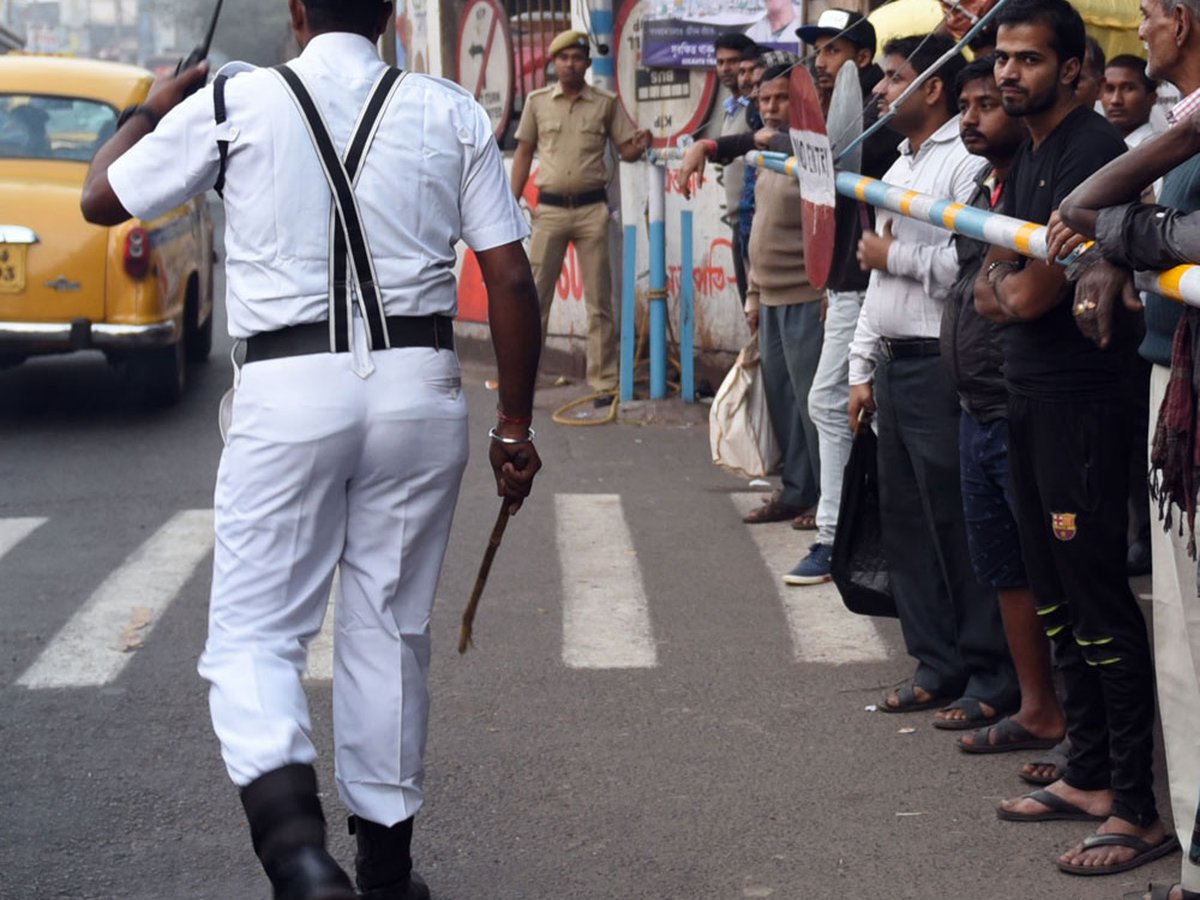 An assistant vice-president of a company said she was slapped by a policeman on Park Street on Wednesday.
The Telegraph file picture
---
Calcutta
|
Published 20.12.18, 10:33 PM
|
---
The senior executive who alleged that she was slapped by a police officer on Park Street has said two police officers contacted her on Thursday.

One officer, she said, apologised and the other called her to his office in Park Street. The 46-year-old woman narrates her experience with the police:
I received a call from deputy commissioner Meeraj Khalid (in charge of the south division) in the morning. He said they (the police) had received my complaint and asked if I could meet him at his office today (Thursday). I told him about my preferred time and he agreed.
Sometime later, I received another call, from Mr Supratim Sarkar (joint CP, headquarters, and additional commissioner III, Calcutta police). He apologised profusely about the incident
and said that under no circumstances should a woman be assaulted. He said he would ensure that the accused cop tenders an apology to me. However, I said an apology would not cut ice with me.
I had decided that the law should take its course. There was no question of accepting an apology. The man had a chance to apologise on the spot but did not.
I reached the DC's office in Park Street around 4.25pm. I was called in within a few minutes. Mr Khalid and a lady officer, whose name was Aparajita (Aparajita Rai, additional DC, south), were there.
They told me the same charges I had brought against the cop could be levelled against me as well. (She had said on Wednesday that she had patted the officer's shoulder to draw his attention to the fact that the app cab he was shooing away had been booked by her.)
I said I was ready to go to jail if I had made a mistake and he (the cop) too should go to jail if he was at fault.
These things were said in a very polite way but I felt that, possibly, it was a veiled threat that he (the accused cop) too could bring charges against me.
Second, I was told he is an esteemed officer and has won 22 rewards during his 24 to 27 years of service. I said I too am a very esteemed citizen. I pay my taxes and there's been no complaint of hooliganism against me in these 45 years (of my life).
These were not very positive discussions, I felt.
Then they said that he (the accused cop) had said he had committed a mistake and would apologise.
I don't want an apology. I said that just like I follow the rules, cross the road from where you (the police) tell me to, and pay my taxes, I expect that you will follow the law too. There's no question of anyone seeking an apology.
I thought the discussion was a little upsetting for them; (they felt) they had failed to make me understand what problems I might face if I pursued with the complaint.
They did not say this directly but I could feel it.
I could not understand, though, what charges could be brought against me — that I had beaten someone on the road?
They said some witnesses had told them that the cop was right and that it was I who had pulled his uniform. They (the witnesses) have apparently said that it (the slap) was unintentional. I said I was ready to give him the benefit of the doubt, but what kept him from apologising on the spot?
They (the officers) said the CCTV footage does not show the incident but only a commotion. But I strongly feel the exact incident must be visible…. I can't believe there is no footage of what happened in front of the main gate of Olypub.
Had they been transparent, they would have shared whatever footage has emerged.
It's strange that only their witness accounts were recorded but none of my colleagues who were also on the spot were contacted.
I have been working in this office (at Apeejay House) for the past 20 years but for the first time I learned that no alighting is allowed on the left side of Park Street. It is strange that there is no signage saying the left side is a no-alighting zone.
I was asked if I wanted to lodge a fresh complaint or continue with the one I had registered yesterday. I said I did not wish to change a word in the complaint I lodged last evening.
They noted this down. I hope they will pursue my complaint.
Police response
Contacted by this newspaper, deputy commissioner (south) Meeraj Khalid said: "We are finding facts. Once the facts are clear action would be taken, as would be found appropriate."
Additional DC (south) Aparajita Rai said she was not authorised to brief the media.
Joint CP, headquarters, and additional commissioner III Supratim Sarkar did not respond to the call or the text messages seeking his reaction.