Tallest tower gets four more floors
The 42, the 61-storeyed residential building on Jawaharlal Nehru Road will now have 65 storeys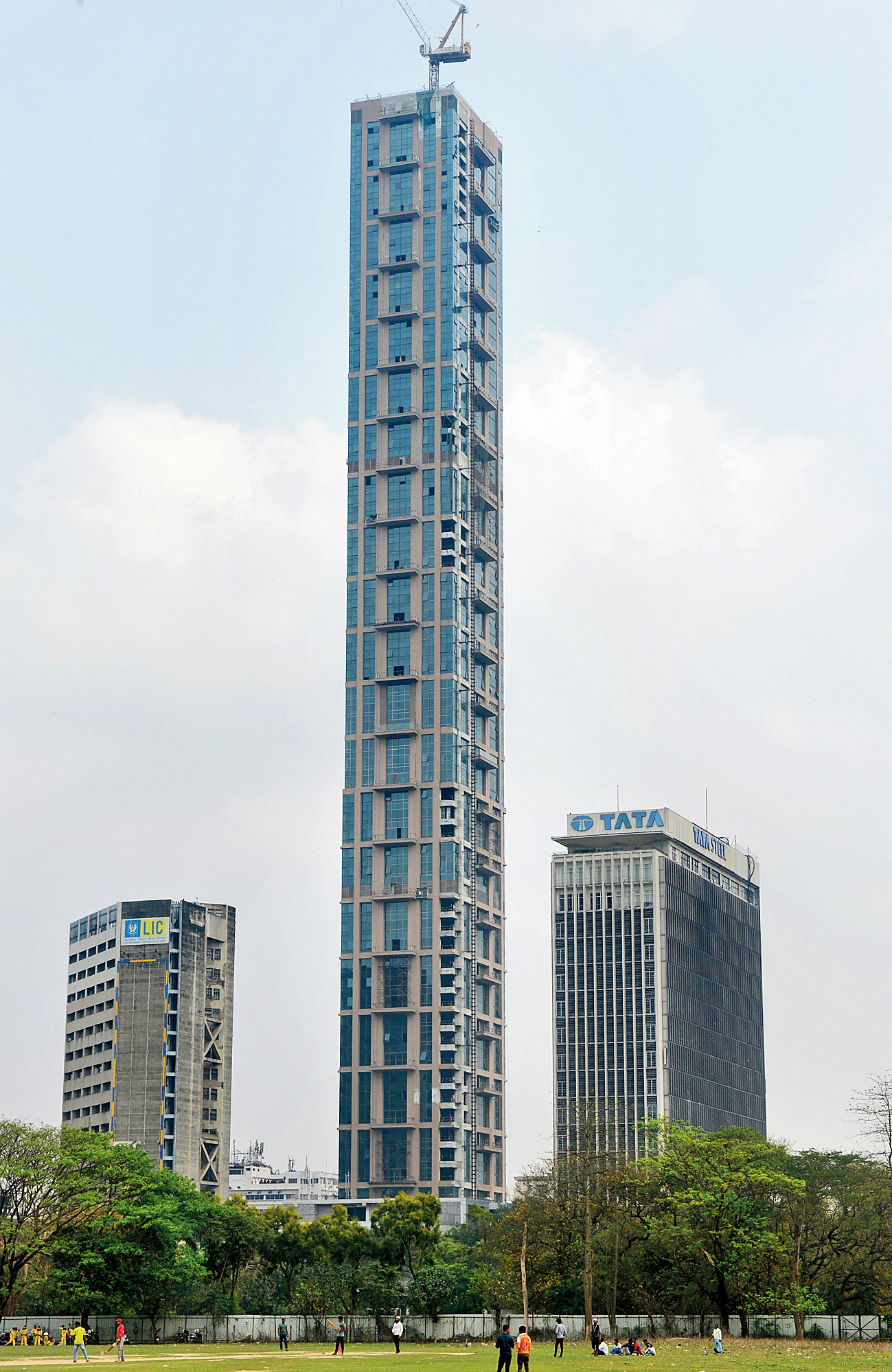 ---
|
Calcutta
|
Published 10.03.19, 10:23 PM
---
The 42, the tallest building coming up in Calcutta, is getting taller with the civic body sanctioning the construction of four more floors following a change in a rule related to buildings within a kilometre of the Metro Railway corridor.
The 61-storeyed residential building on Jawaharlal Nehru Road will now have 65 storeys. The tower will be 249m tall, 12m more than the height in the original plan.
The Calcutta Municipal Corporation approved the proposal for the extra floors last year.
"We have started constructing the additional four floors," said Subir Basu, one of the architects of the project, being developed by a consortium named Chowringhee Residency Pvt Ltd.
Mumbai-based Hafeez Contractor is the other architect.
The civic body could allow the construction of the additional floors because of an amendment to its building rules last year, which allows extra floor-area ratio (FAR) for buildings within 1km of the Metro Railway corridor.
"Fifteen per cent extra FAR is allowed if the road in front of a building is 15m to 24m wide and 20 per cent extra FAR is allowed if the road is more than 24m wide," a CMC official said.
The 42, the city's tallest structure, is just a building away from Maidan Metro station and the road in front — Jawaharlal Nehru Road or Chowringhee Road — is nearly 30m wide.
FAR denotes the ratio of a building's gross floor area to the size of the plot on which it stands. More FAR means opportunity to build more floor space in a building.
"Following the amendment, we have got 20 per cent more FAR," architect Basu said.
The building plan for The 42 had been approved in 2014. Subsequently, the CMC building rules had been amended twice. The first amendment, in 2017, allowed extra FAR to properties within 500m of the Metro corridor. In 2018, buildings within 1km of the corridor were brought within the ambit of the revised FAR rule.
For the CMC, the additional floor space would result in more revenue.
The work at The 42 site was stalled for some time in 2017 after the Airports Authority of India had imposed a height restriction of 198m on structures within a certain radius of the airport. The order would have resulted in demolition of the top 12 floors of the tower.
The AAI later revised the height limit to 260m and sent a no-objection letter to the developers of The 42 in January 2018.