Calcutta's fight to protect secularism
The processions came like waves through lanes and thoroughfares and meetings were held in the heart of the city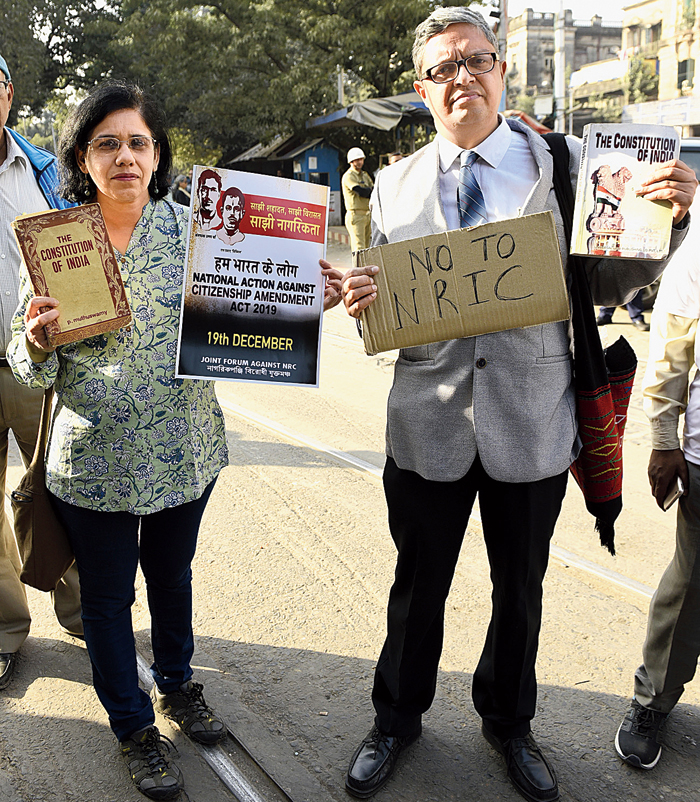 ---
---
Tens of thousands of people hit the streets in Calcutta on Wednesday to protest the Citizenship (Amendment) Act and the National Register of Citizens. The processions came like waves through lanes and thoroughfares and meetings were held in the heart of the city. Many of the participants had never walked in a protest march before. Subhankar Chowdhury, Subhajoy Roy and Jhinuk Mazumdar of Metro spoke to some of the protesters
What they are doing is unconstitutional
Sunil M. Caleb
Principal of Bishop's College
Beulah Caleb
Teacher at La Martiniere for Girls
They arrived at Esplanade with copies of the Constitution to drive home the point that the Citizenship (Amendment) Act and the National Register of Citizens (NRC) are "unconstitutional".
Beulah Caleb said that around this time last year they were busy baking cakes and buying items to decorate their home for Christmas.
This time they have sacrificed celebrations and hit the streets because they feel the secular identity of the county is in danger and the Muslims are being threatened through enactment of "unconstitutional" laws.
"In a secular country, you feel for your Muslim brothers. If we don't feel for our brothers, for other communities, you are not even human beings. We are holding the
Constitution because what they are doing is unconstitutional," said Beulah. One of the two copies of the Constitution the couple were carrying was from her school's library.
The couple were always looking for ways to protest and decided to join Wednesday's rally against the Citizenship (Amendment) Act and the National Register of Citizens as soon as they heard about it.
Sunil M. Caleb said they wanted India to remain a secular country and not become a "Hindu Rashtra".
"In Gujarat there is a proverb, 'pehle kasai phir isai (Your first target are Muslims, then Christians).
So, we are deeply worried over what is unfolding," said Sunil.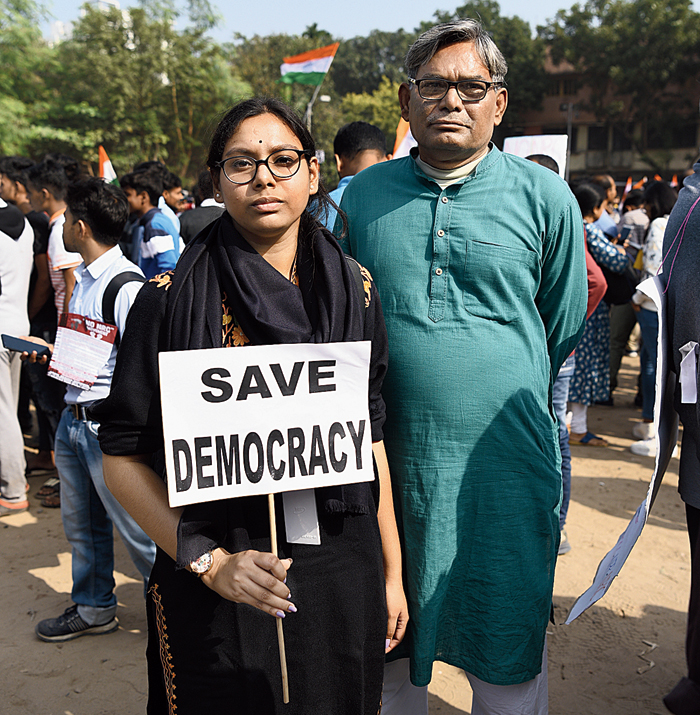 Time to distinguish between right & wrong
Bimal Karmakar
Retired government employee
Sukanya Karmakar
Political science student
Sukanya Karmakar, 20, said it was her duty as a citizen to register her protest against "an act that discriminated against a single religion".
Her father Bimal Karmakar, 65, had been speaking out against the Citizenship (Amendment) Act at home and in their New Barrackpore neighbourhood.
When the two got to know of the rally from Ramlila Maidan, the father-daughter duo decided to join.
"We didn't come as part of any group. We decided the two of us would join the rally," Sukanya, a student of Victoria Institution in Sealdah, said. "How can a law that says only Muslims would not be given citizenship be promulgated? This is biased and against the Constitution."
The two walked from the start to the end of the rally. This is the time to distinguish between right and wrong and stand up for what is right, her father said. "If not now, then when? I felt it was our duty to protest the wrong and stand up for what is right."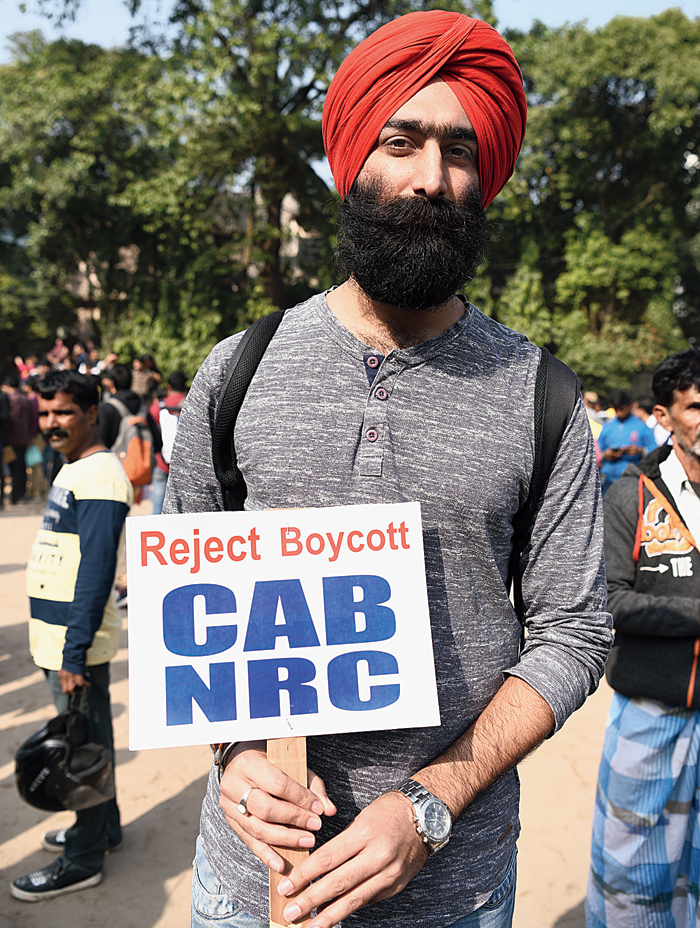 Angad Singh
Copywriter with an advertising agency
Angad Singh said at Ramlila Maidan that he never felt that he belongs to a minority community and doesn't want anyone else to feel so. He has lived in several Indian cities and everywhere he felt at home. To him that is the idea of India.
"The Citizenship (Amendment) Act doesn't align with the idea of India the founding fathers had in mind," Singh said.
"I have lived in Dehradun, Bangalore, Hyderabad and Calcutta. Nowhere did I feel like a minority. Then why should people of another religion be made to feel that
India is not their home," he said.
The resident of Phoolbagan skipped office to join the rally. "I dropped a message to my boss that I would be at the protest," he said.
"India was all about the freedom to do whatever one wants to. That freedom is being taken away in this new India."
Singh is worried that if the trend does not stop, more restrictions would be imposed on people. "Tomorrow they may say only vegetarian food will be allowed. Where does this stop? If you have other visions, say loud and clear that you want to make India a Hindu Rashtra."
You don't have to be a Tagore to speak out. Just be inspired by him and his ilk but speak out you must. Now is the time

Where the Mind is With Fear
An antonym in verse by Barry O' Brien
Where the mind is with fear and the head hangs in shame;
Where you are not free;
Where caste and creed have broken us into
fragments and we are separated by religious walls;
Where words fear to come out from the depth of truth;
Where intolerance breaks the arms of
love and compassion;
Where the clear stream of reason has completely lost its way into that dreary desert sand of
desolation;
Where the mind is led into the depths of
despair by thought and action that
denigrate the spirit
of India —
In that hell of hatred,
my Father, let not my country burn.