CALCUTTA: OUTSIDE-IN
Read more below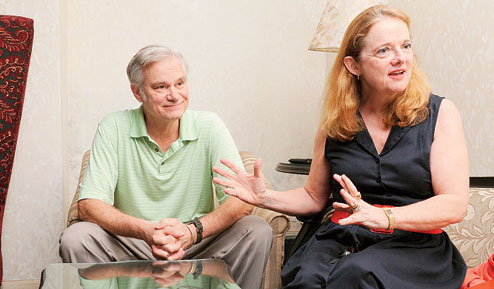 ---
Published 07.04.13, 12:00 AM
|
---
Douglas Kelly and Laurel Steele recount their Calcutta memories. Picture by Pabitra Das
He has Calcutta memories dating back to World War II. She still has school deskmates in Calcutta. DOUGLAS KELLY and wife LAUREL STEELE, both retired US foreign service officers, tell Metro about their love affair with Calcutta
"The first thing I heard about India was not Taj Mahal, it was Howrah station"
Douglas Kelly: My connection goes long back to my father who was here in 1944, when he was in the US Army. A small contingent came here, because this was a British military base in the war against the Japanese. He came in 1944 and lived here for three or four months. They stayed at the Great Eastern Hotel, which became a place for the military. So, when I was a little kid growing up in Virginia, my first memories were of him telling me about Calcutta. At that time it had a huge impact on him. He was only 19 when he came here.
A view of Flurys from Park Street
Laurel Steele: He came from Kentucky and he had never seen anything like this.
Douglas: They flew all the way here and it took them a long time to get here. At that time the Howrah bridge had just been built. So, it was a brand new gleaming structure. In Calcutta, he was in charge of looking into traffic accidents between the military and the people. He had to go with the police and then interact with them. So he would go across the new Howrah bridge all the time over to Howrah station. When I was about 10 or 11, I remember him telling me about Howrah station. The first thing I heard about India was not the Taj Mahal, it was the Howrah railway station. So my introduction to Calcutta and eastern India was through my father's stories of World War II.
When I finally came here, when I was 19, I saw the Howrah bridge and thought that's it!
I was always interested to come to this part of the world. When I joined the diplomatic service I was posted to south-west China. To that leg of where he ended up. And my final tour in foreign service was Calcutta, so the beginning of his trek.
Laurel: My father was first a professor and then in foreign service and when I was 10 he was posted in Calcutta. My father was an English major in California and he was very widely read and he knew a lot about contemporary movements in literature.
An exhibition at CIMA Gallery
About the time that Doug was hearing the stories, I was arriving in Calcutta. My dad and mother loved it. They had a huge network of friends. And people don't remember but Calcutta was much simpler — there was nothing imported, and I am sure there were people with a lot of money but it was much more of a cultural thing. My parents were friends with Jamini Roy, Gopal Ghose and my father became very good friends with and admirer of Buddhadeb Bose and his family.
I was here between 10 and 13, for four years. I was back by the time I was 21. I studied in Loreto House. My parents didn't have any idea about Indian schools back in California and they put me in a British school here and I said I wouldn't go. I had little brothers and sisters and they did not want the rebellion to spread. So, they kept it kind of quiet and I was sent to Oxford Bookstore every day to read while they sorted out the school problem. They decided I would go to the nearest school, and that was Loreto. It is a great credit and tribute to the kind of friendships you make in Indian schools, I am still friends with people who were my deskmates. Even the kind of education, you know you might complain about it and say oh it was all rote learning or they didn't stress imagination, but it was an excellent education for a child who travelled a lot and didn't have much discipline. The only reason why I became a foreign service officer was the education of Loreto.
Inside the Oxford Bookstore
I keep coming back. I have actually been in Calcutta for about five months in the last one-and-a-half years.
Douglas: Last time we were here for a stretch was from 2006 to 2009 that was when I was with the American Center. But since then we've come back numerous times.
"For us, friendships in Calcutta have been warmer"
Laurel: Of course the people come first. These are the people you have feelings for and have interactions with. But I think the way people here value culture, and it is not just their culture but everyone's culture and music and art and dance.
Douglas: We've been to many Indian cities and at the risk of alienating anybody in the other cities, I would just say that I enjoyed the people of Calcutta much more than in other places. I think the people of Calcutta are more open. The other places of India all have their own charms but for us friendships in Calcutta have been warmer.
The other thing is the physical look of the place. For example the stretch from Nakhoda Masjid up Chitpur Road all the way to Bagbazar, I can walk the stretch every day and not get bored.
Laurel: You know one of the things that people tell you when you go from US or Europe to India is "the colour, the colour" and it sounds like a cliché but if you do that walk up those stretches, your eyes are alive.
The historic Favourite Cabin
A CALCUTTA MEMORY
Douglas: One of my favourite memories is at the Calcutta Cricket and Football Club when I played Santa Claus there. That was fun.
Laurel: One of the great feelings I have about Calcutta now has to do with a memory of my father. When he had become demented, I told my brother let's take him to Calcutta and my brother flew him across the Pacific and he stayed with us. He didn't really know where he was but he knew he was in Calcutta. And he had such a marvellous time because he walked everywhere with Douglas. Now when I come back I see the last places that my father was and it makes me feel better.
A CALCUTTA CORNER
Douglas: I would advice people to go to the flower market then head up to the Howrah bridge and then walk east towards Chitpur and Central Avenue to north Calcutta. That would be a great experience.
Laurel: Even a place like New Market, the last of this kind of a giant market.
"The corner of Park Street and Free School Street will always be the same"
Laurel: Well, it really is the new India. The first and second generation of an India that is so much more global. It is completely different in that way. But in some ways not so much. One of the beauties of Calcutta is that for a variety of social and political reasons it didn't change. The buildings remain, of course, there are new buildings popping up like magic mushrooms, but the street grids are the same and some of the old buildings are still there. It has an incredible heritage and the one reason we keep coming is that we think it will change even more.
Douglas: The first time I physically came to Calcutta after I heard my father's stories was in 1971 and that was during the whole crisis leading up to the war between East Pakistan and West Pakistan so it was flooded with refugees. It was a bad time for Calcutta. It was also the Naxalite time. But since that time, every time coming back, I look back and I remember where I stayed then and I can easily find it. As Laurel said, the street grid has remained the same. You can always find your way in Calcutta because physically it has not changed that much compared to most large cities in Asia…. If you haven't been in China for 10 years and you go back, you could be lost. But in Calcutta that is impossible. Because Camac Street is always where it was.
Laurel: The corner of Park Street and Free School Street will always be the same. You know, the day you'll know that Calcutta has changed is the day they don't have the corner of Free School and Park Street.
Douglas: So, in that sense Calcutta has changed less than not only most Asian cities but also most large Indian cities. There have been even more changes in places like Delhi or Madras. We like that because we feel that people in Calcutta value their heritage and they still have so much of it. But, last year I was in Shanghai and we had some Indian friends come visit us and we took them on a tour of the art-deco buildings of Shanghai, buildings from the 1920s and 1930s and we were all amazed at how the government of Shanghai has maintained the buildings, renovated them and valued them. Our Indian friends said "But in Calcutta we have so much more than this and it's too bad that it is not really been maintained". That's the difference. Calcutta has so much more, the heritage is much richer, especially the built heritage.
We just hope that Calcutta can maintain this incredible heritage. For example, north Calcutta — whole stretches of it, whole blocks, can easily be a Unesco world heritage site and it should be.
Laurel: But it doesn't mean that it should halt any kind of progress or economic gain. The other thing in Calcutta, as you are moving around, people are incredibly warm and they are interested and it is not that they are trying to be nice. They are nice and they are interested.
This time I've had this incredible opportunity; the University of East Anglia was running a writers' workshop and there was a competitive entry for it and I was able to be a part of it. My goal was, I've been writing about the Calcutta I remember and I wanted to learn more about how to make it more interesting and also be in this space. My mission is to use some of my memories which are now 50 years old and some of his (Douglas) memories to capture it. Because it was never photographed and if you don't write it down you'll lose some of it.
"The city is choking on its own traffic"
Laurel: I want everyone to have a job. I also wish the buildings would be preserved or no one will remember how beautiful it was.
Douglas: I'd like even more emphasis on mass transit. The city is choking on its own traffic and I think that it really hurts the quality of life. I always rode the trams here. When we lived here we lived in Ballygunge Phari and there was a direct tram from Gariahat to Howrah bridge. I always took that tram. I'm glad to see it is still there. And there has been some upkeep on the trams and I am happy about that. I do hope they can go forward with the expansion of the Metro.
A FEW OF THEIR FAVOURITE THINGS
Laurel: Flurys. Because I went there when I was a little girl and it has tremendous memories. Everyone says, oh they have remodelled it and it is not the same, but still. Then, Chinese food in Calcutta.
Douglas: Eau Chew. Josephine noodles.
Laurel: I love the bookstores in Calcutta, even though they don't always carry the books you want them to carry. I always make a pilgrimage to Oxford Bookstore and the book market in College Street.
Douglas: Favourite Cabin. Tea and toast. Nothing special, but so much history.
Laurel: I always visit the art galleries — CIMA, Seagull.
(As told to Chandreyee Chatterjee)
What is your message for Douglas and Laurel? Tell ttmetro@abpmail.com