Calcutta Metro probe report by August 22
The list was tabled to the Metro general manager on Saturday, sources said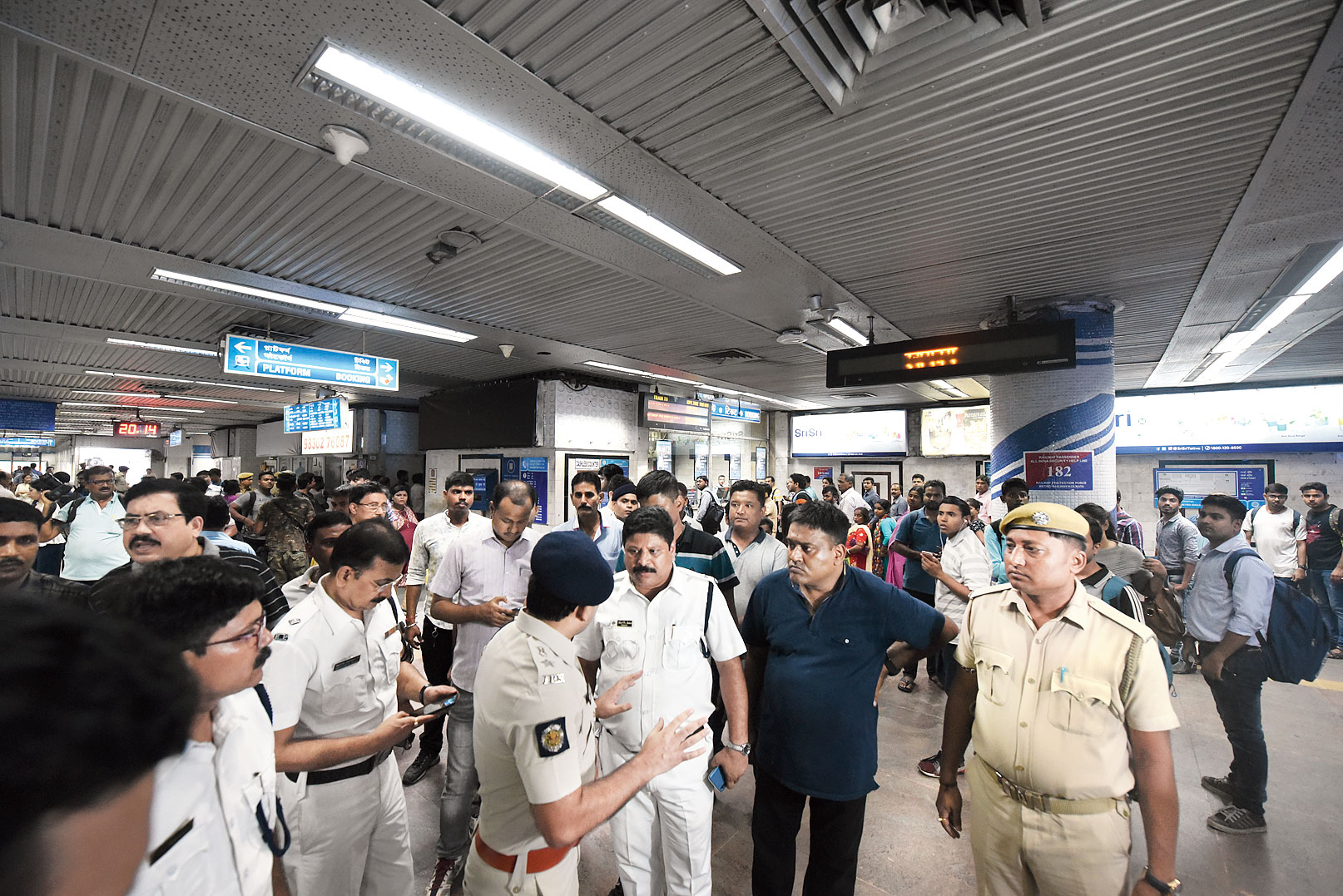 The Park Street Metro station after the accident on July 13, 2019.
Picture by Pradip Sanyal
---
Calcutta
|
Published 20.07.19, 08:31 PM
|
---
The commissioner of railway safety (Metro circle), probing Saturday's fatal accident at Park Street station, will have to file a preliminary report within 40 days of the accident, that is by August 22.
Commissioner J.K. Garg, who completed his inquiry at the Metro headquarters on Saturday, has provided a list of immediate suggestions in the wake of the accident, in which a 66-year-old passenger had a part of his hand stuck between the flaps of a door and was dragged to death.
The list was tabled to the Metro general manager on Saturday, sources said.
"The final report takes much more time, around six months," said an official. The probe had started on Monday.
The final report on the December 27 accident, when a train caught fire between Rabindra Sadan and Maidan stations, is yet to be tabled, he added.
Garg spoke to representatives of the Lucknow-based Research Design and Standards Organisation, the railways research wing, on Saturday.
A clearance from the RDSO is mandatory for any new Metro train before it starts commercial runs.
Garg had started his probe by visiting Park Street station, where the accident took place, and Tollygunge station, where the train involved was kept.
After his first day inspection, Garg is said to have suggested the installation of convex mirrors at the edges of platforms so that the driver of a train can see till the end of the train.
The list of recommendations is also expected to include his other suggestions — deploying more RPF jawans on platforms and upgrading the emergency talkback units among them.
Starting Thursday, he held court at the Metro Bhavan to record statements of passengers, eyewitnesses and Metro staff.
Just one passenger, who said he was on another train that had halted at Esplanade because of the disruption after the accident, turned up during the inquiry.
Garg spoke to the driver and guard of the train, who have been benched pending the probe, and Metro staff of Park Street station. He also spoke to RPF jawans and representatives of the Integral Coach factory, where the train was manufactured.