Calcutta Metro okays Durga Puja in Bowbazar
Puja organisers will have to leave a foot's space around the pandal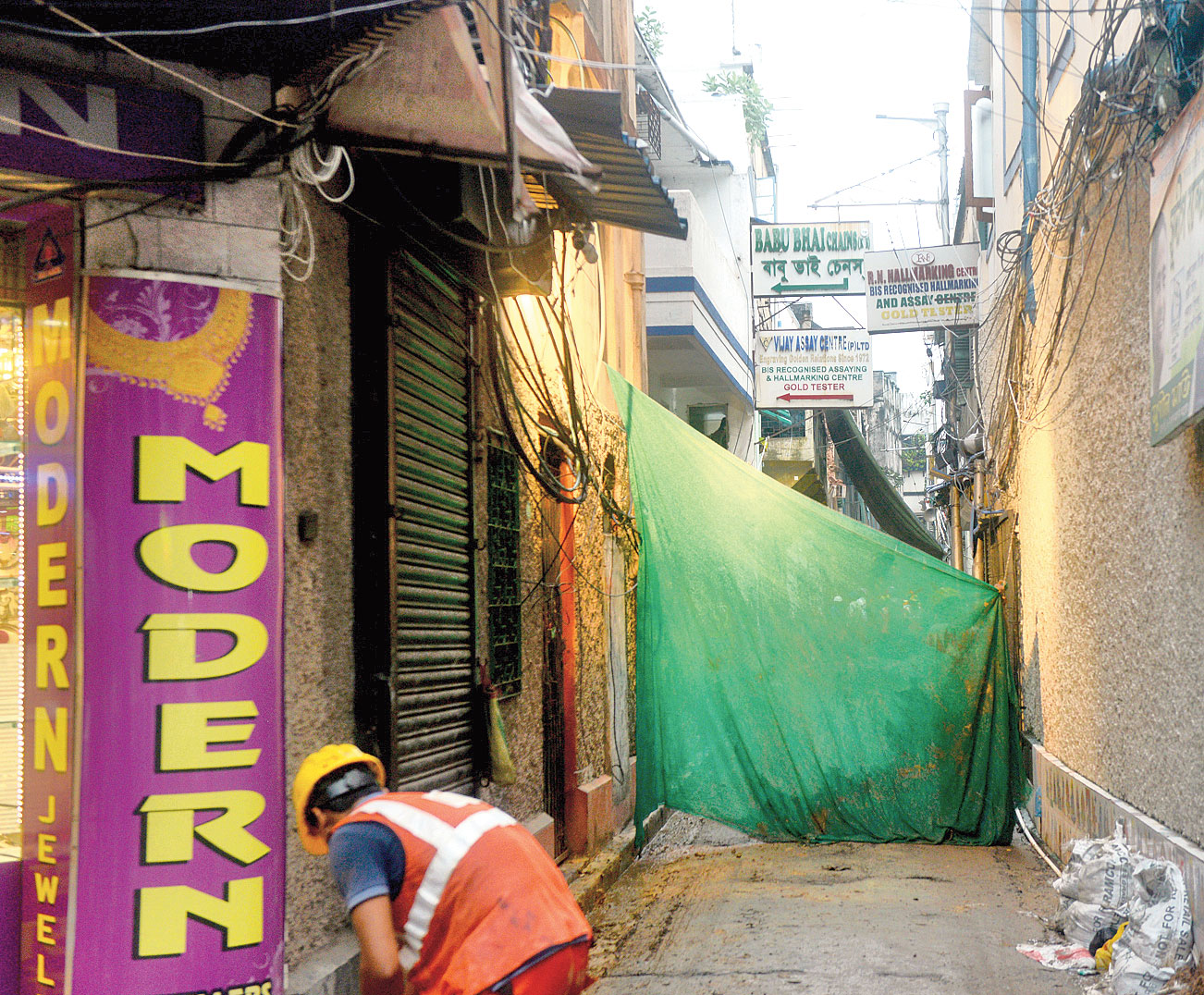 ---
|
Bowbazar
|
Published 28.09.19, 08:02 PM
---
Residents of Bowbazar who had to leave their homes following the August 31 subsidence in the area have been given allowed by Metro authorities to hold Durga Puja.
The clearance with riders came on Saturday after officials of the Kolkata Metro Rail Corporation — the agency implementing the East-West Metro — met representatives of the puja committee.
Puja organisers will have to leave a foot's space around the pandal, the location of which has been decided at entrance to Syakrapara Lane, and the puja crowd cannot spill on to BB Ganguly Street.
"We have agreed to all the terms and conditions. It is so relieving to know that we will hold the puja," Ashis Sen, secretary of the puja committee, said.
"We are thankful to police and the KMRC for offering us with this opportunity."
On August 31, a tunnel- boring machine of East-West Metro had hit an aquifer, triggering a subsidence in the Bowbazar area.
Durga Pituri Lane and Syakrapara Lane were the worst hit with buildings crumbling down or tilting and cracks developing in the walls of almost every house.
Gaur De Lane, which is adjacent to Syakrapara, too, was affected.
At least 688 people from these places had to vacate their homes. Metro authorities put them up in various hotels in the vicinity.
The East-West Metro will connect Sector V in Salt Lake with Howrah Maidan via a stretch under the Hooghly.
Every year, Syakrapara Lane Yubak Samiti organises the puja in a traditional way. For the past 57 years, the idol has been brought Kumartuli — usually three days after Mahalaya.
Initially, the police had decided to allow the residents to hold the puja inside Syakrapara Lane where it has always been held. But reaching the pandal through heaps of rubble posed a challenge for fire engines. So, the plan was scrapped.
On Friday, officers from Muchipara police station inspected the spot at Syakrapara Lane where the puja could be held. The final clearance came on Mahalaya (Saturday).
"We have started looking for a smaller Durga idol because the pandal will be smaller," Sen said. "The new location is 25m from the spot where we have held the puja for decades."