Metro funds grouse
Allotment for at least one project is 'grossly insufficient'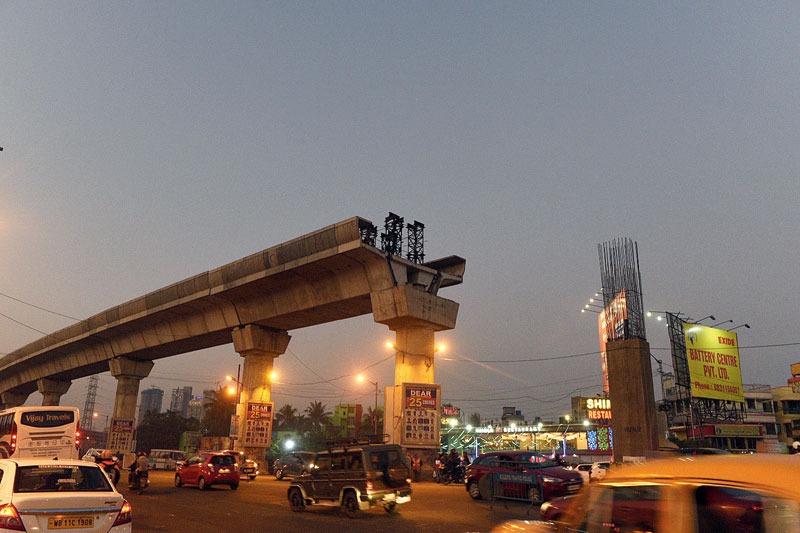 ---
|
Calcutta
|
Published 05.02.20, 08:52 PM
---
The budget allocations for several Metro projects in Calcutta are less than last year and the allotment for at least one is "grossly insufficient", railway officials said.
The Joka-Esplanade Metro project has received Rs 99 crore for the 2020-21 fiscal in the budget, the officials said. Last year, the project was given Rs 100 crore (see chart).
The railway ministry has sanctioned a project cost of Rs 2,825 crore for laying 6km of tracks under the Maidan for the Joka-Esplanade link.
"Much more than Rs 99 crore is needed to start work for the underground stretch. Unless more funds are sanctioned in the revised budget, it would be impossible to float tender for laying the underground tracks," a railway official said.
"A part of the alloted figure has to be spent on the Joka-Majerhat stretch of the corridor. So, you can well understand that the amount is grossly insufficient."
The ministry had earlier stated that funds would not be a problem for any project where land was available and work progressing.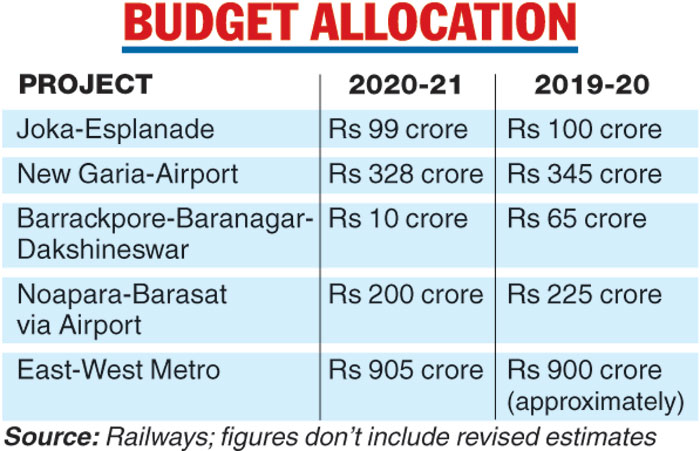 The initial plan was to install elevated tracks in the Maidan area till BBD Bag (the terminal station in the north that has since been changed to Esplanade).
The army, the custodian of the Maidan, objected to the plan. The defence ministry had in 2015 agreed to underground tracks in the area, ending a four-year stalemate.
The New Garia-Airport Metro project, too, has received less allocation compared with last year — Rs 328 crore against Rs 345 crore in the 2019-20 budget.
The first phase of the corridor — between New Garia and the Ruby crossing — is nearing completion.
The Baranagar-Barrackpore-Dakshineswar project has been allocated Rs 10 crore, compared with Rs 65 crore last year. "That is because the Baranagar-Dakshineswar stretch is almost complete and there is no progress on the Barrackpore stretch," an official said.
The East-West Metro project has been allotted Rs 905 crore, almost same as last year. "We are about to commission the first phase of the link, between Salt Lake Sector V and Stadium stations. Once that is done, we will be looking at completing work till Phoolbagan," said an official of Kolkata Metro Rail Corporation, the implementing agency of East-West Metro.
Once fully functional, the East-West Metro project will connect Sector V with Howrah Maidan and trains will run under the Hooghly.
"Funds have never been a constraint if work is in progress. Last year, we had asked for more funds. In the revised estimate, additional allocation was given... which is supposed to be spent by March 2020," Metro spokesperson Indrani Banerjee said.