Calcutta learns no lesson from Chennai, hoardings boom
A 23-year-old woman died in Chennai after an illegal hoarding fell on the two-wheeler she was riding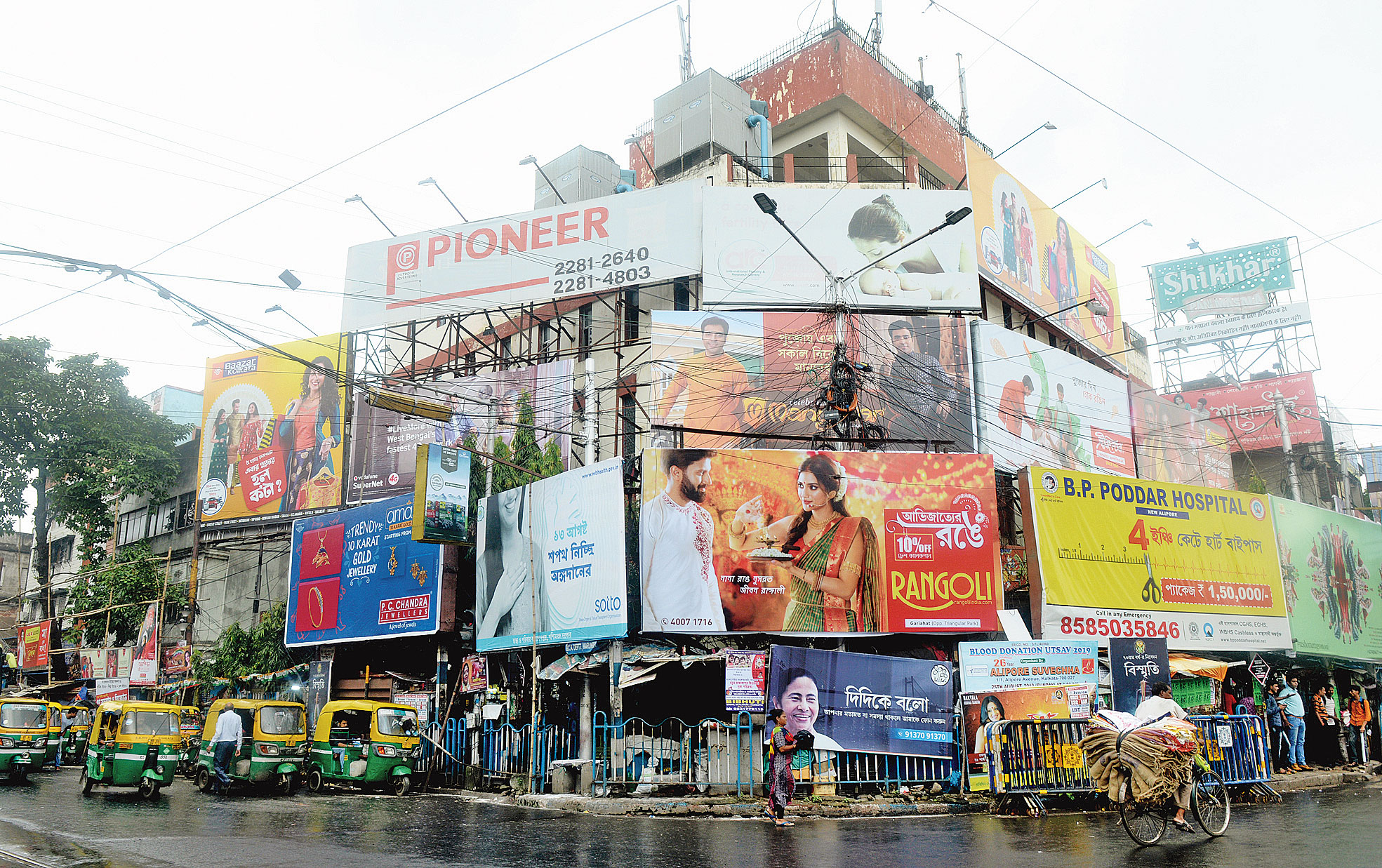 Temporary hoardings occupy space above guardrails at Rashbehari crossing.
Picture by Bishwarup Dutta
---
Calcutta
|
Published 14.09.19, 08:12 PM
|
---
Across Calcutta, hundreds of unauthorised hoardings hang along the roads posing danger to pedestrians and motorists.
The number of such hoardings increase manifold during Puja but the civic body has no clue about how many billboards have come up and where.
Civic officials admitted that these "temporary" hoardings did not bring them any revenue and they had no control over them.
A 23-year-old woman died in Chennai on Thursday after an illegal hoarding fell on the two-wheeler she was riding. The woman fell off the two-wheeler and was run over by a water tanker.
The death of Subashri Ravi prompted Madras High Court to comment on Friday "how many more litres of blood the state government needs to paint the roads with".
Metro found hundreds of such hoardings in the city on Saturday. These include hoardings that Durga Puja committees have put up, those that announce political rallies as well as cultural programmes enjoying patronage of the government.
At the Rashbehari crossing, hoardings hanging above the guardrails have hidden the view of the footpath and buildings behind them. Along Rashbehari Avenue — the road going towards Gariahat from Rashbehari crossing — bamboo structures have been erected on the footpath to put up the hoardings.
A few commercial hoardings have already been put up. The hoardings are tied with the bamboo frame using iron wires or cloth pieces.
Sources in the Calcutta Municipal Corporation (CMC) said that Durga Puja committees erect the bamboo frames to put up advertisements for a fee.
"Earlier we used to earn revenue from advertisements put up during Puja. This also ensured some supervision over these hoardings," said a CMC official. But in 2015 chief minister Mamata Banerjee announced a complete waiver of CMC tax on Puja advertisements.
Durga Puja related hoardings have also come up along SP Mukherjee Road.
But Puja hoardings are not the only ones that hang from the guardrails or median dividers. At the Mayo Road-Jawaharlal Nehru Road crossing, hoardings of a state government-organised television awards ceremony, one announcing a political rally as well as one promoting "Safe Drive Save Life" hang from the iron fencing along the footpath.
The hoarding of a CMC-sponsored food festival hangs from the median divider opposite Oberoi Grand in Esplanade.
Debashis Kumar, the mayoral council in-charge of advertisements, admitted that most of the hoardings had been put up without the CMC's permission.
"What happened in Chennai is extremely unfortunate and I hope that everyone becomes extra cautious. But it is really difficult for us to keep track of all the hoardings that are put up along the roads in Calcutta. Many hoardings are put up without informing us," said Kumar.
Kumar said that the CMC had control over permanent hoardings put up on buildings. But the innumerable hoardings made of flex with lightwood as frame were beyond any supervision.