Calcutta HC defers TBM order
The court had asked a 4-member technical committee to submit a report on whether it was safe to move the tunnel boring machine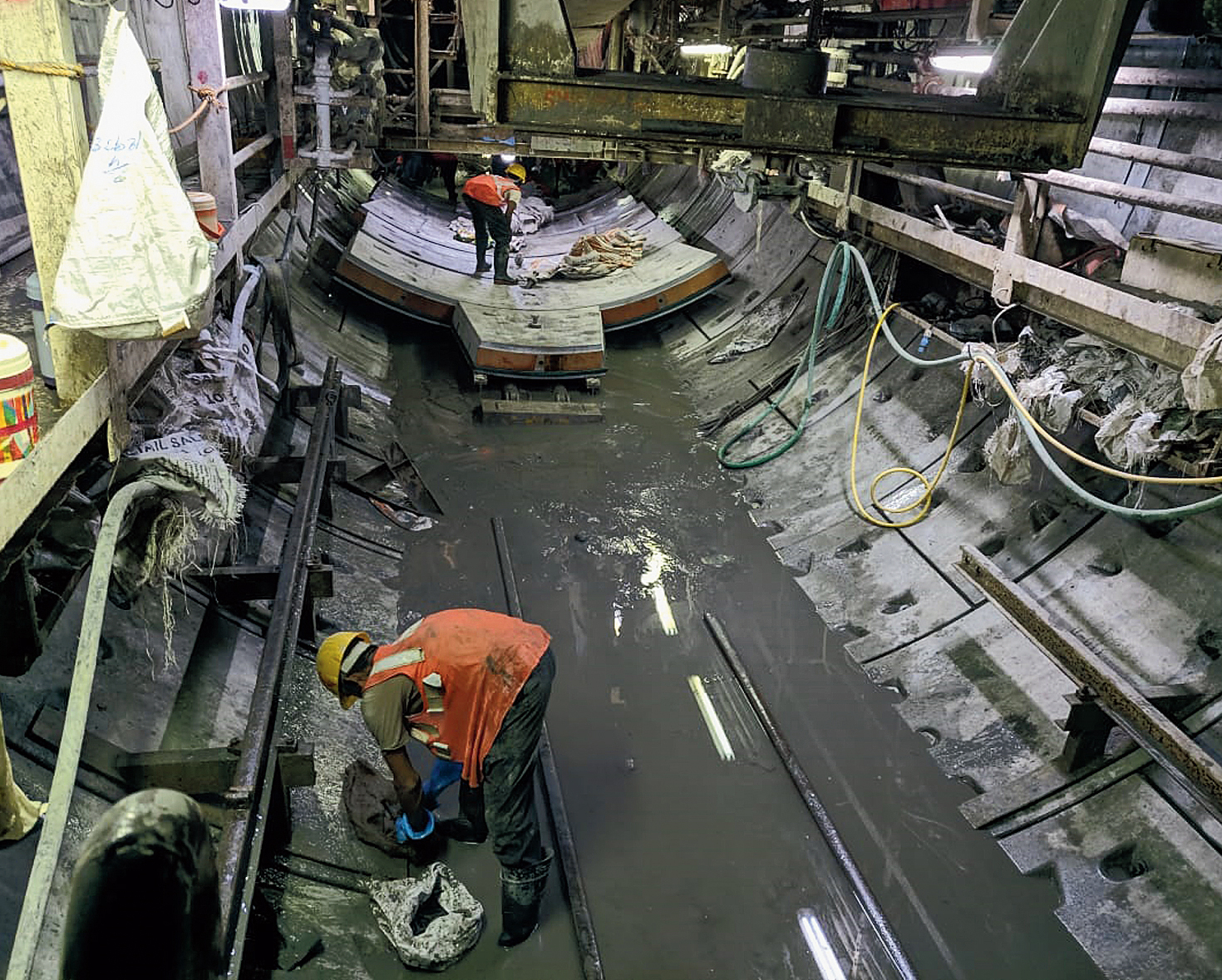 ---
|
Calcutta
|
Published 15.11.19, 08:59 PM
---
The high court on Friday deferred to Monday the verdict on whether the second tunnel boring machine of East-West Metro can be moved five metres under Bowbazar to facilitate maintenance.
The court had asked a four-member technical committee to submit a report on whether it was safe to move the tunnel boring machine (TBM) that is lying under Nirmal Chunder Street, a few metres from the first machine that had collapsed on August 31.
The experts in their report advised moving the machine, burrowing the east-bound tunnel, for up to five metres for maintenance.
The Kolkata Metro Rail Corporation (KMRC), the implementing agency of East-West Metro, that aims to connect Salt Lake Sector V with Howrah Maidan under the Hooghly, had sought permission from the court to rotate the machine to keep it functional.
A division bench headed by Calcutta High Court Chief Justice T.B.N. Radhakrishnan had asked the KMRC to place experts' report first. The bench was hearing a petition moved Paribesh Academy for Environment Awakening, seeking the court's intervention to ensure safety measures were taken by the KMRC before burrowing the twin tunnels under Bowbazar buildings.
When a copy of the experts' report was handed over to the petitioner's counsel Ritzu Ghosal, he sought time from the court to verify the report in detail.
"Since we have just got the report, we cannot come to a conclusion on the issue, right now. The court should grant us time to study the report in detail. We'll get it studied by experts," Ghosal told the court.
The division bench then granted two days to the petitioner and fixed the matter for hearing on Monday. On that day, the court will decide whether the TBM would be allowed to move.
The three-page report submitted by the KMRC before the court on Friday stated that a team of experts consisting of John Endicott (British geotechnical expert from Hong Kong), Guy David Christopher Bridges (tunnel boring expert from Hong Kong), Neelakantan Kumar Pitchumani (geotechnical expert from Chennai) and Suman Dutta (structural expert from Calcutta) had thoroughly examined every thing before concluding that there would be no further damage if the machine was slightly shifted.
The experts opined that the "committee members are of unanimous opinion that shifting of the tunnel boring machine by 5 metres will not result in soil subsidence and will as such not affect life and property above the ground over the distance over which the machine is proposed to be shifted or otherwise".
"To ensure protection against any such eventuality, the committee has proposed that the following additional safeguards be taken, which proposal has been accepted by KMRC," the report stated.