Calcutta endures dry spell as Fani sucks up moisture
The dry run ended in a light shower brought about by by a storm that hit the city on Monday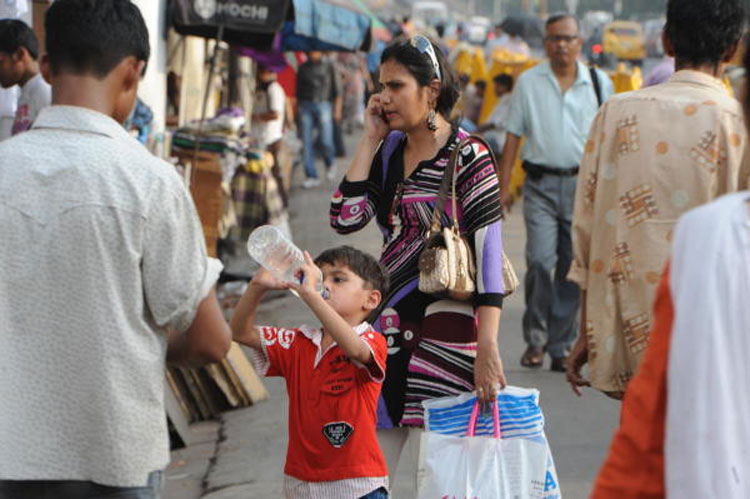 ---
|
Calcutta
|
Published 14.05.19, 10:18 PM
---
Seven squalls between February end and April 10 and then none for over a month meant a rather cool start to summer, followed by a swelter spell that had a brief interlude during Cyclone Fani.
The dry run ended in a light shower brought about by by a storm that hit the city on Monday.
The ups and downs of the weather graph can be attributed to Cyclone Fani remaining active for 11 days — the longest a cyclone has remained in April — and sucking up moisture from the Bay of Bengal, weather officials said.
Fani had developed as a low-pressure area near the equator on April 24. It made landfall in Puri on May 3 and its effect lasted till May 4 when it entered Bangladesh as a depression, meteorologists said.
This 11-day period during which it stayed active was a record since 1891 when the India Meteorology Department started maintaining records of cyclones.
Cyclones usually stay active over the Bay of Bengal for five to six days and at times for seven to eight days, said Sanjib Bandyopadhyay, deputy director general, India Meteorological Department, Calcutta.
When there is a strong cyclone like Fani around, smaller formations such as low-pressure areas or cyclonic circulations cannot form and normal weather patterns are altered, Bandyopadhyay said.
Squalls are common in the city between mid-April and mid-May. There had been six squalls between April 11 and May 14 in 2017 and 2018, five in 2016 and three in 2015. But the city experienced only one squall during the same period this year.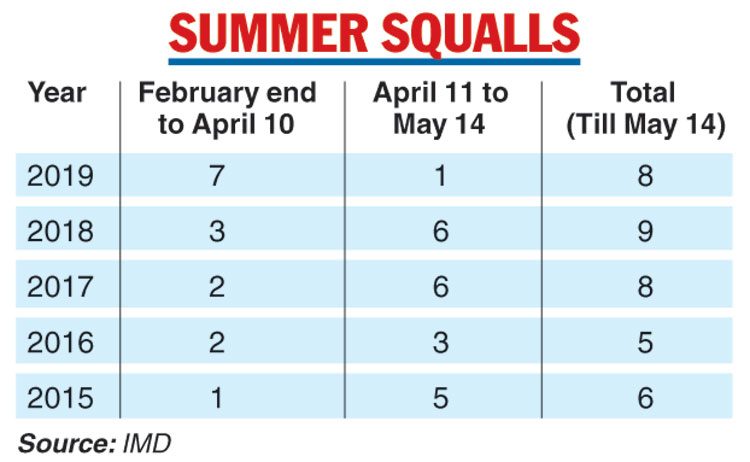 The first half of the season had, however, been stormy with seven squalls till April 10, along with 236.5mm of rain in Calcutta. In comparison, there had been between one and three squalls during this period in 2015 and 2018.
Winds blowing at 44kmph or more during a thunderstorm for over a minute qualify as a squall.
The city has recorded just 80.6mm rain — 66mm between May 3 and 4 — since April 11. This means only 14.6mm of rain came in the remaining 32 days between April 11 and May 14.
"Cyclone Fani was very strong. Not only did it stay active for a record-breaking duration, it was also the only cyclone ever recorded in April in these parts that went over two states, Odisha and Bengal," Bandyopadhyay said.
Fani was also the only one of 27 recorded April cyclones since 1891 to make landfall in the Andhra Pradesh-Odisha-Bengal region. Most cyclones recurve towards Bangladesh and Myanmar from the coast.
Thunderclouds developed over Jharkhand and Odisha on Tuesday as well and some parts of Bengal received thunderstorms as they moved to Bengal. The clouds, however, dissipated by the time they reached the city, which only got a drizzle or two.
A thunderstorm is likely in the city on Wednesday but thereafter another rainless and humid phase would follow that could see the mercury rise to a season's high of 39 degrees Celsius around the weekend.