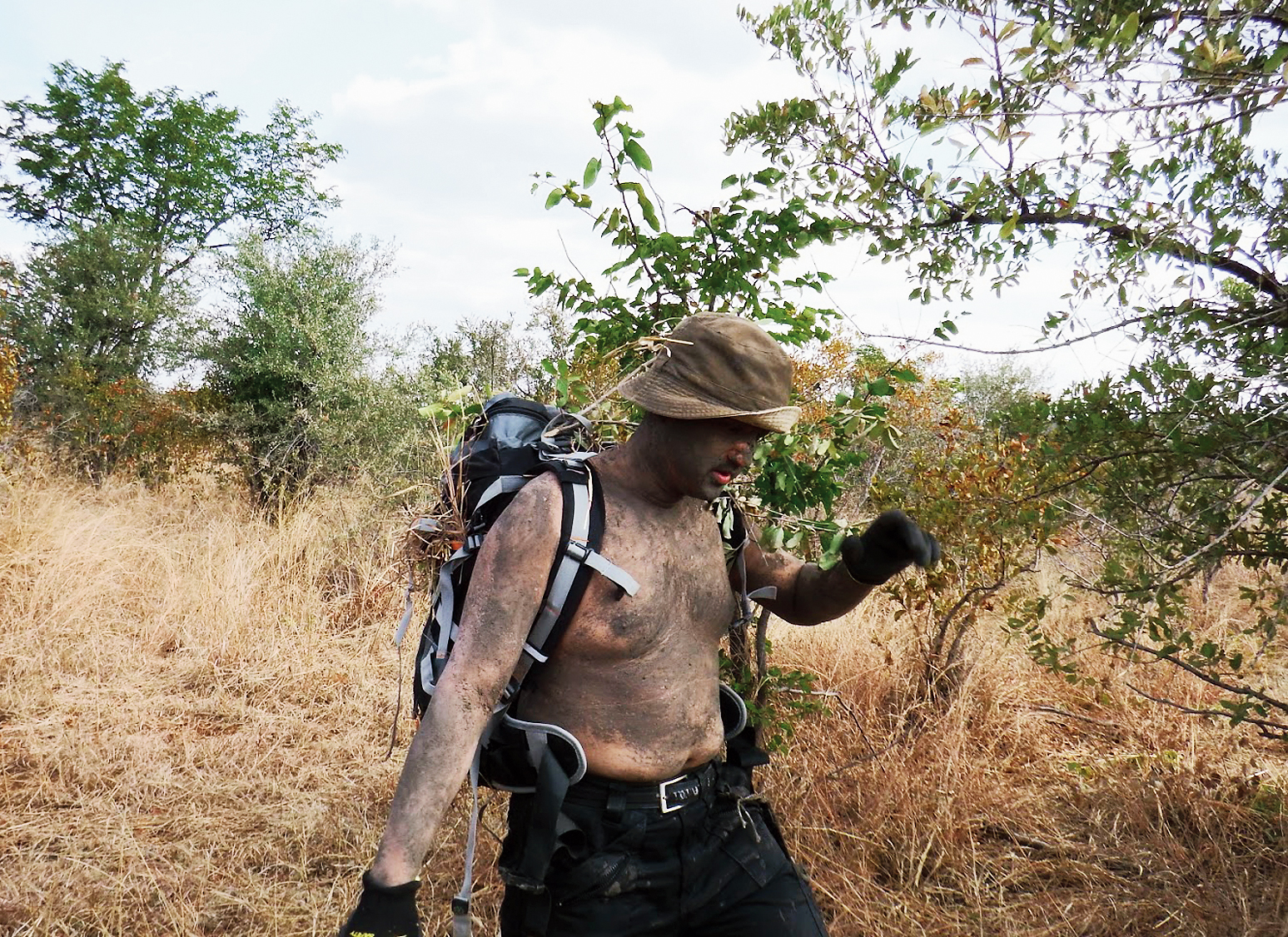 Five summers ago, a Bengali doctor was on a raft that toppled over in the Zambezi river in Zimbabwe.
He managed to stay afloat in the crocodile-infested river but was swept by the strong currents to Zambia on the opposite coast. A kayak finally rescued him.
Long before Prime Minister Narendra Modi shot with Bear Grylls for a wilderness survival television programme, Rajarshi Pal, 47, had participated in survival courses run by the adventurer's academy, spanning three continents.
Apart from scaling mountains and swimming across rivers in spate, Pal can light a fire with metal and dry leaves, is trained in combat and has survived by hunting in the wilderness, thanks to his stint with the Bear Grylls Survival Academy in Scotland, Zimbabwe and Oman.
"These extreme adventure courses have been a life-changing experience. It is not only about the adrenaline rush. There are times when primal instincts are your only key to survival," Pal, a paediatrician with the National Health Service in the UK who visits Calcutta every year to meet his parents in Salt Lake, said.
He spoke to Metro over the phone from Exeter, his current home in the UK.
Pal's father was a doctor with the railways and he spent his early years in Katihar, Bihar, and Lucknow, Uttar Pradesh, before settling down in Howrah.
Pal took an active interest in rock climbing since he was a teenager and is also a trained mountaineer. His only regret — not having met Grylls in person.
Grylls, the face of outdoor adventure for his survival show Man vs Wild on Discovery channel, broke his back in a parachuting accident in Africa at 22 when he was with the Special Air Service (SAS), part of the United Kingdom Special Forces (UKSF).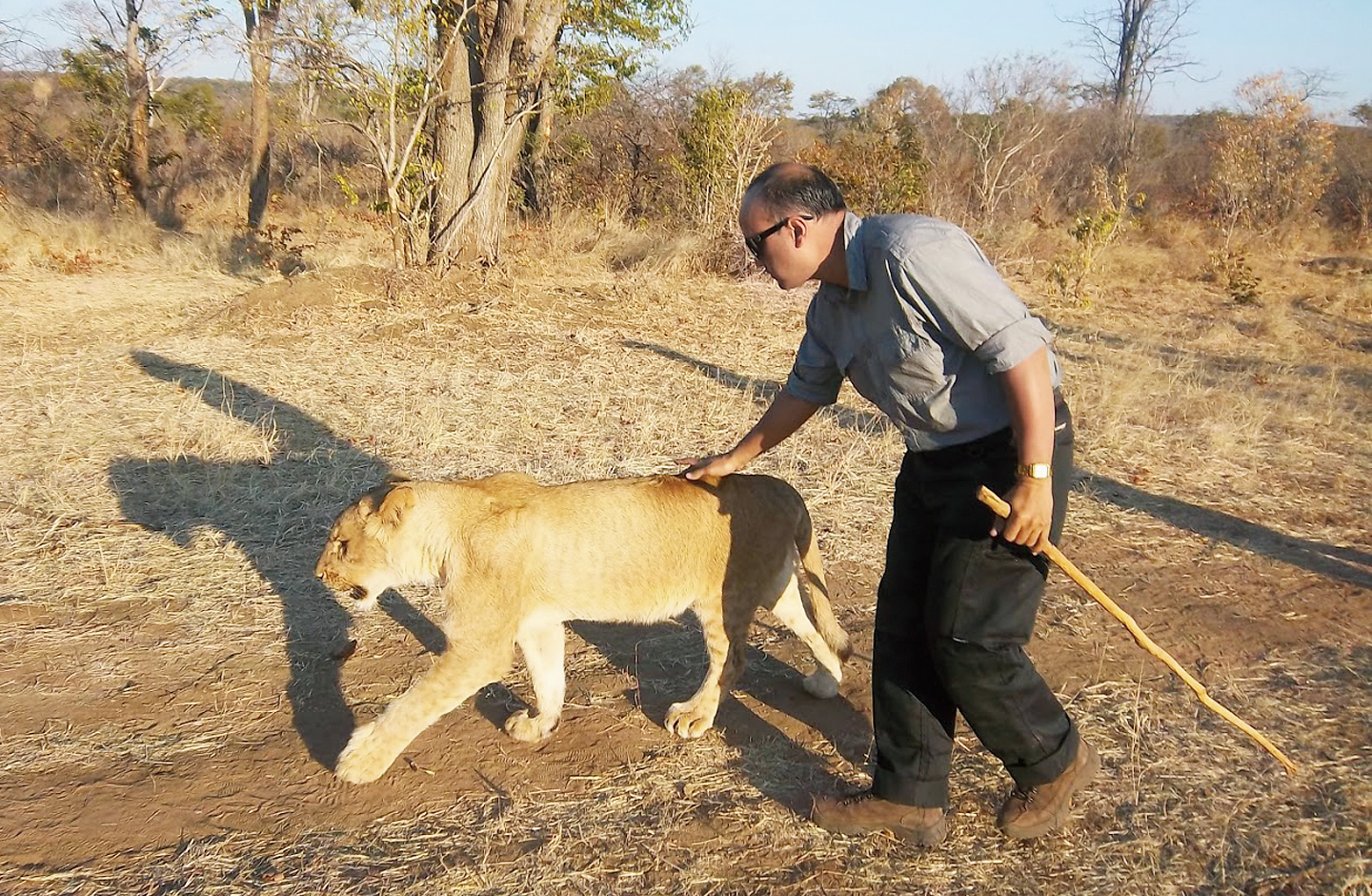 Pal pets a lion at a park in Zimbabwe
The accident ended his military career but he rediscovered himself as a man who challenged the limits of human endurance on television week after week.
Despite a broken back, he went on to become one of the youngest ever to summit Mount Everest.
Trained at a young age in martial arts, the Eton-educated Grylls is now a hot topic in India because of an episode of his show that will feature Modi braving it out with him.
The courses run by his academy are conducted by instructors from the Man vs Wild crew. Advertisements say Grylls might make an occasional appearance depending on his schedule.
The courses offer outdoor enthusiasts from around the globe an opportunity to be taught Grylls's extreme survival techniques in the wild. Some of the things participants are taught include making a fire in the pouring rain without matchsticks or lighters, foraging for grubs and rodents for food and crossing a range of difficult terrains.
Pal's most memorable stint so far has been the 2014 course in Victoria Falls town in Zimbabwe and the gateway to the spectacular waterfall of a same name, a mile-long marvel of mist and spray marking the border between Zambia and Zimbabwe.
"There was a psychologist from Canada, an engineer from South Africa, a forensic expert from Spain, an ex-army officer from Switzerland, and a forest guide from Zimbabwe, apart from me," Pal said. "Our instructors were former Marines and wildlife experts from southern Africa."
Camping on the high ground overlooking the Masui river, rafting through the high rapids of the crocodile-infested Zambezi and hiking through the dense forest and climbing the vertical Zambezi gorge were some of the highlights of the five-day course.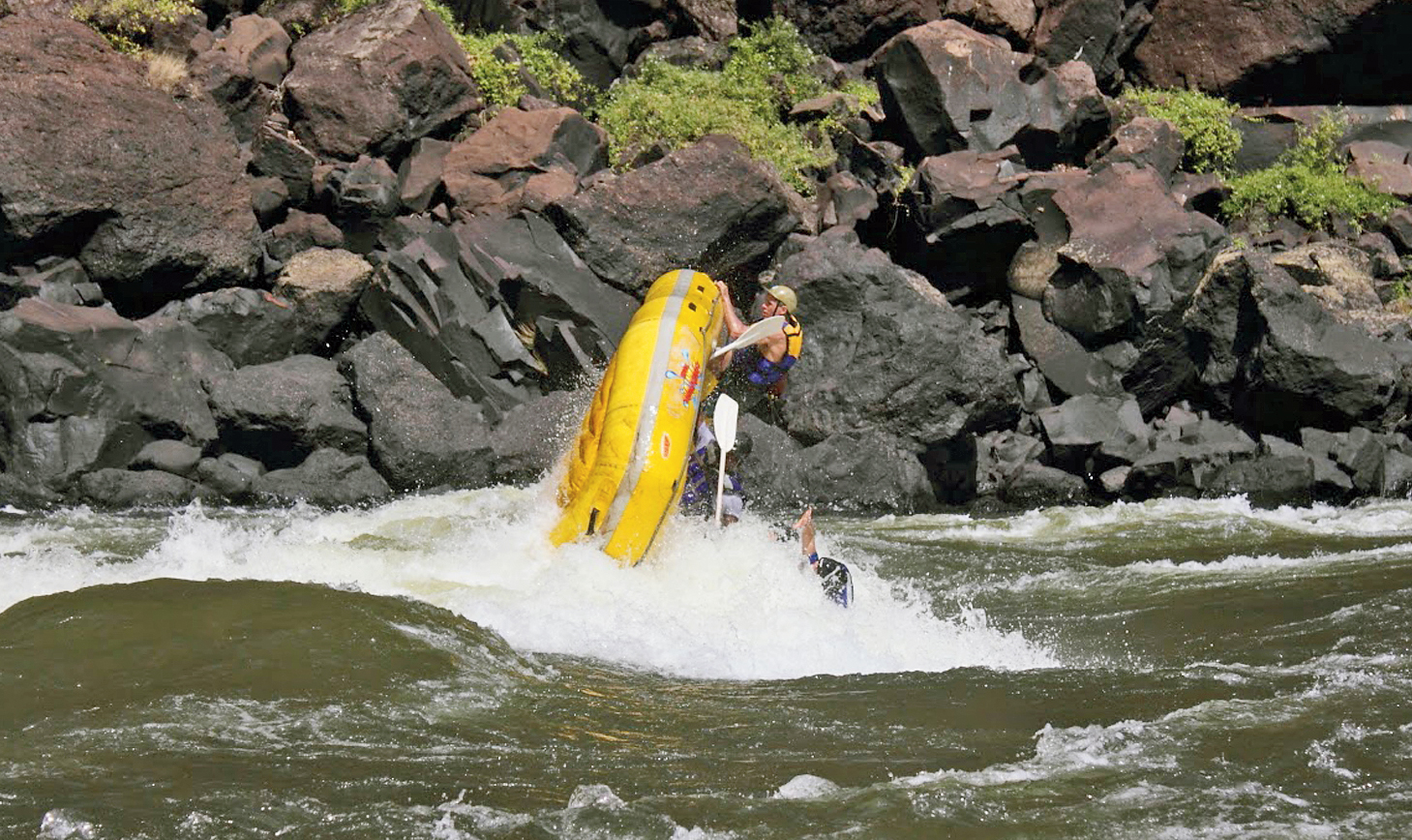 Pal's raft topples over in the Zambezi river. The picture was taken from another raft Pictures courtesy: Rajarshi Pal
The participants were left alone to solve problems and build teams, starting from hunting for food and making fire using primitive tools.
"Negotiating the high Zambezi rapids was particularly deadly. Our raft flipped over and I was carried away by the whirlpool of current. I landed into the crocodile-infested bank on the Zambian side. I climbed a high rock to escape the crocodiles," Pal, who did his MBBS from the NRS Medical College and Hospital, said.
"I was finally rescued by Bhusa, a local Zimbabwean on a kayak. My partners were sure I was dead and were praying for my soul."
His first stint with the Grylls academy was in 2013 in Alladale Wilderness Reserve, a 23,000-acre area in the Scottish Highlands with rugged terrain, colourful hills, glistening rivers and home to herds of majestic red deer. The last was in 2015, a one-day course in the deserts of Oman.
Pal is a bachelor. "It would not have been possible to live this life with wife and kids."