CAA slammed by Santipur
Twenty-three of Trinamul's 24 councillors and the lone CPM member supported the resolution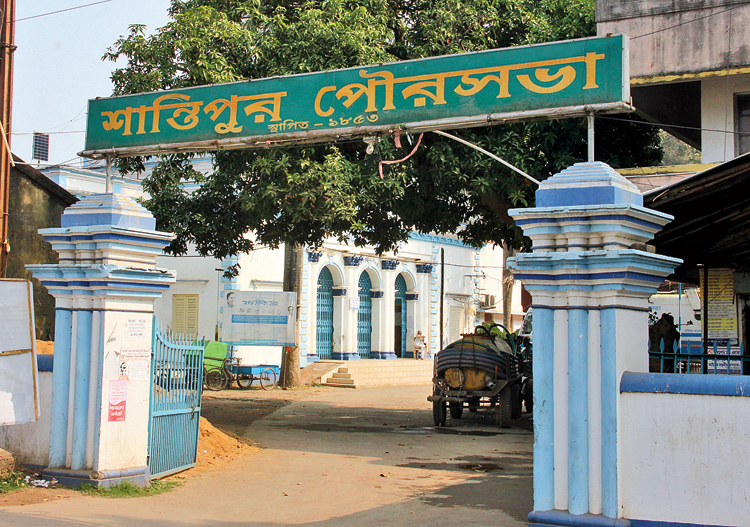 The entrance to Santipur municipality headquarters.
Picture by Abhi Ghosh
---
Santipur
|
Published 11.02.20, 09:18 PM
|
---
The Trinamul Congress-run Santipur municipality in Nadia on Monday adopted a resolution against the Centre's citizenship push.
The resolution, similar to the one adopted in the Bengal Assembly, vowed to oppose the Citizenship (Amendment) Act, along with the proposed National Population Register and the National Register of Citizens.
Twenty-three of Trinamul's 24 councillors and the lone CPM member supported the resolution. A Trinamul councillor skipped the board meeting because of illness.
Santipur is the second town in the state to adopt a motion against the citizenship drive. The CPM-led Siliguri Municipal Corporation had passed a similar resolution.
Santipur municipal chairman Ajoy De said: "Chief minister Mamata Banerjee has made clear her opposition to the CAA. The resolution reiterated our stand against it."
The motion was adopted at a board meeting on Monday following a proposal placed by the chairman.
The resolution states: "Members of this board think that the Citizenship (Amendment) Act 2019 and the NPR proposed by the Centre for implementation are dangerous for the people of India. This act is unconstitutional and aims to created division in the society on the basis of religion, which this board condemns unanimously….".
Speaking on the resolution, De, who is also a former Trinamul MLA, said: "The CAA is a draconian act and aims to upset the communal harmony in the country. We strongly oppose its implementation and promise to stand by people if any attempt is made to tag them as outsiders exploiting the draconian provisions of the act".
CPM councillor and party's Santipur area committee secretary Soumen Mahato said: "We supported the resolution as we principally oppose the CAA. This act is anti-people and unconstitutional. Our party has already demanded the unconditional withdrawal of the act."
Ashoke Chakraborty, the president of Nadia south district organising committee of the BJP, said the resolution had no locus standi.
"Once Parliament passed an act, no such resolution against it can be adopted legally. Trinamul and the CPM have been trying to unleash panic among common people, particularly Muslims, for the sake of politics."