Byelection: Anit Thapa retains Sitong seat
Bharatiya Gorkha Prajatantrik Morcha president decides to vacate Giddepahar constituency of Gorkhaland Territorial Administration Sabha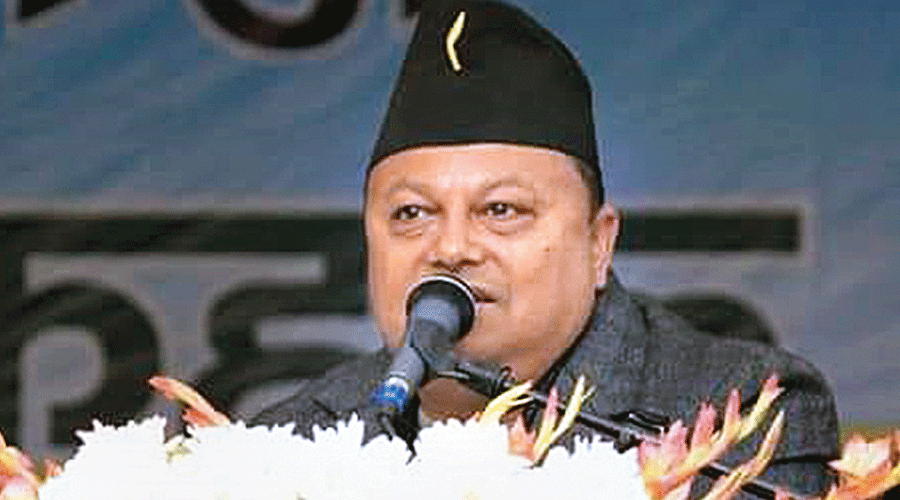 ---
Darjeeling
|
Published 08.07.22, 01:40 AM
|
---
Bharatiya Gork­ha Prajatantrik Morcha (BGPM) presi­dent Anit Thapa has decided to vacate the Giddepahar constituency of the Gorkhaland Territorial Administration Sa­bha and retain the Sitong seat.
Thapa contested and won from the two GTA const­i­tu­e­ncies. While Giddepahar seat comprises parts of Kurs­eong town, the Sitong constituency is completely rural.
 A reliable source told The Telegraph: "Anit Thapa will vacate the Giddepahar seat and retain Sitong."
Thapa had won the Giddepahar seat in the first ever GTA Sabha elections in 2012 unopposed.
Once Thapa quits, a byelection will have to be held at Giddepahar.
"The party (BGPM) is likely to field a youth leader in the bypoll," the source said.
The BGPM has won 27 of the 45 GTA Sabha seats. With three Independents from Kali­m­p­ong joining the BGPM, the total strength of the party presently stands at 30.
Sitong, which is about 40km from Darjeeling town and falls under the Kurseong subdivision, has had always heavyweights.
In the 2012 GTA elections, Go­rkha Janmukti Morcha general secretary Roshan Giri had contested from Sitong. He does not hail from Sitong but belongs to Chandmari in Darjeeling town.
The Morcha headed by Bimal Gurung did not officially contest the GTA elections this time but the party did field some Independents and supported other candidates.
Thapa returned to Darjeeling from Calcutta on Thursday.
"I also paid a courtesy visit to TMC leader Abhishek Ban­erjee on Wednesday. We held discussions on various issues regarding the GTA area and he has promised his party's full support to build the future of the hills," said Thapa.
He visited the Dum Dum central correctional home on Wednesday evening and met seven hill people who were lodged there for their alleged involvement in vandalism during the 2007 Gorkhaland agitation which was spearheaded by Gurung.
Until 2017, Anit Thapa had been with Gurung.
Sources said the first meeting of newly elected GTA Sa­bha members scheduled for July 12 was likely to be convened at the Gorkha Rangmanch Bhavan in Darjeeling.
"I had gone to Calcutta to extend an invitation to the chief minister to be present at the July 12 event. She has kindly accepted the invitation," said Thapa.
Sources had on Wednesday confirmed to this newspaper that Mamata Banerjee would be arriving in Darjeeling on July 11 and would return after attending the birth anniversary of Nepali poet Bhanu Bhakta Acharaya on July 13.