Busy Sundarpur bridge shut down for repairs
Various levels of curbs on the movement of pedestrians and traffic will be in place till December 11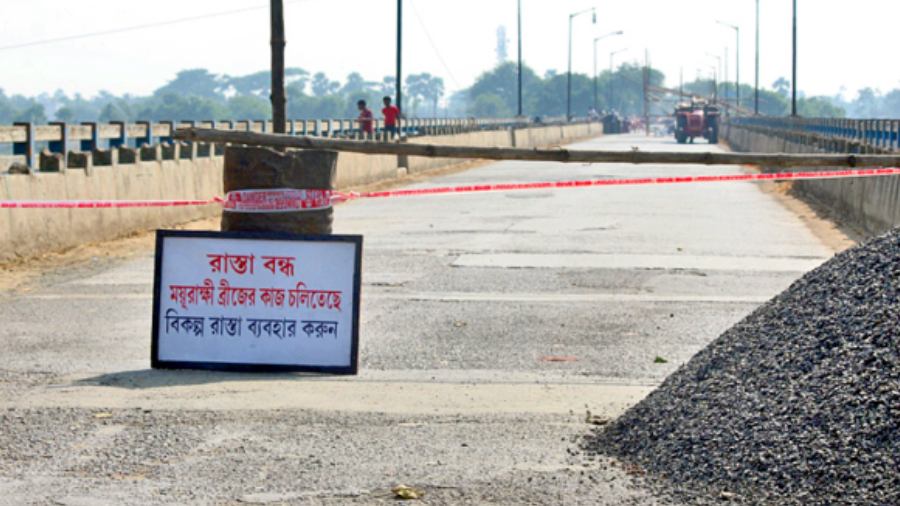 The Sundarpur bridge in Murshidabad's Burwan being repaired on Saturday
---
Behrampore
|
Published 20.11.22, 04:37 AM
|
---
Vehicular and pedestrian movement was restricted at a bridge over the Mayurakshi in Murshidabad's  Burwan from Saturday by the public works department for "comprehensive" repairs.
Various levels of curbs on the movement of pedestrians and traffic will be in place till December 11. Even pedestrians have been asked to stay off the bridge for a week. Heavy vehicles will be barred till early December.
The Nani Bhattacharjee bridge, colloquially referred to as Sundarpur bridge owing to the village in which it is located, was built in the early 1980s and is reportedly in "dangerous disrepair". Four slabs of the bridge have fallen off over the past few years.
"The bridge constitutes a part of the vital Haldia-Moregram state highway and is used by an average of over 2,000 vehicles a day, as well as pedestrians. We cannot proceed without immediate repair despite the month-long inconvenience it will cause to citizens," said a PWD source, explaining that the affected slabs would need "total replacement" and not just repair.
PWD officials in conference with police and district officials issued a notice this week on the closure, with sources saying a police outpost would be set up at a point 15km ahead of the bridge in Sonarpur, with vehicles being diverted on various roads depending on their destination.
The Haldia-Moregram state highway is a vital roadway for traffic headed to north Bengal, Haldia as well as Santiniketan, given Sundarpur's proximity to the district borders of Murshidabad, Birbhum and Burdwan, which meet at nearby Phutisenko village.
The road leading up to that area is also reportedly in disrepair.
"We had appealed for central repair funds for the entire area, including the bridge, which was granted. Therefore, we have been able to conclusively plan the repairs," said PWD executive engineer Atanu Sen.
Detours that vehicles will have to take for the next month will reportedly range from 20- 35km in length, with the longest one having to be taken by vehicles headed to Phutisenko.
Vehicles headed to Burdwan will have to go through Kandi, Salar and Ketugram while Santiniketan-bound vehicles will have to ply through Sainthia.
Burwan MLA Jiban Krishna Saha welcomed the PWD's move.
"I have been appealing for the repair of this bridge for long, and had even raised the issue in the Assembly. We will ensure that residents cooperate with the police and the PWD," the MLA said.