Bumper sales at Book Fair
Nobody walking out empty-handed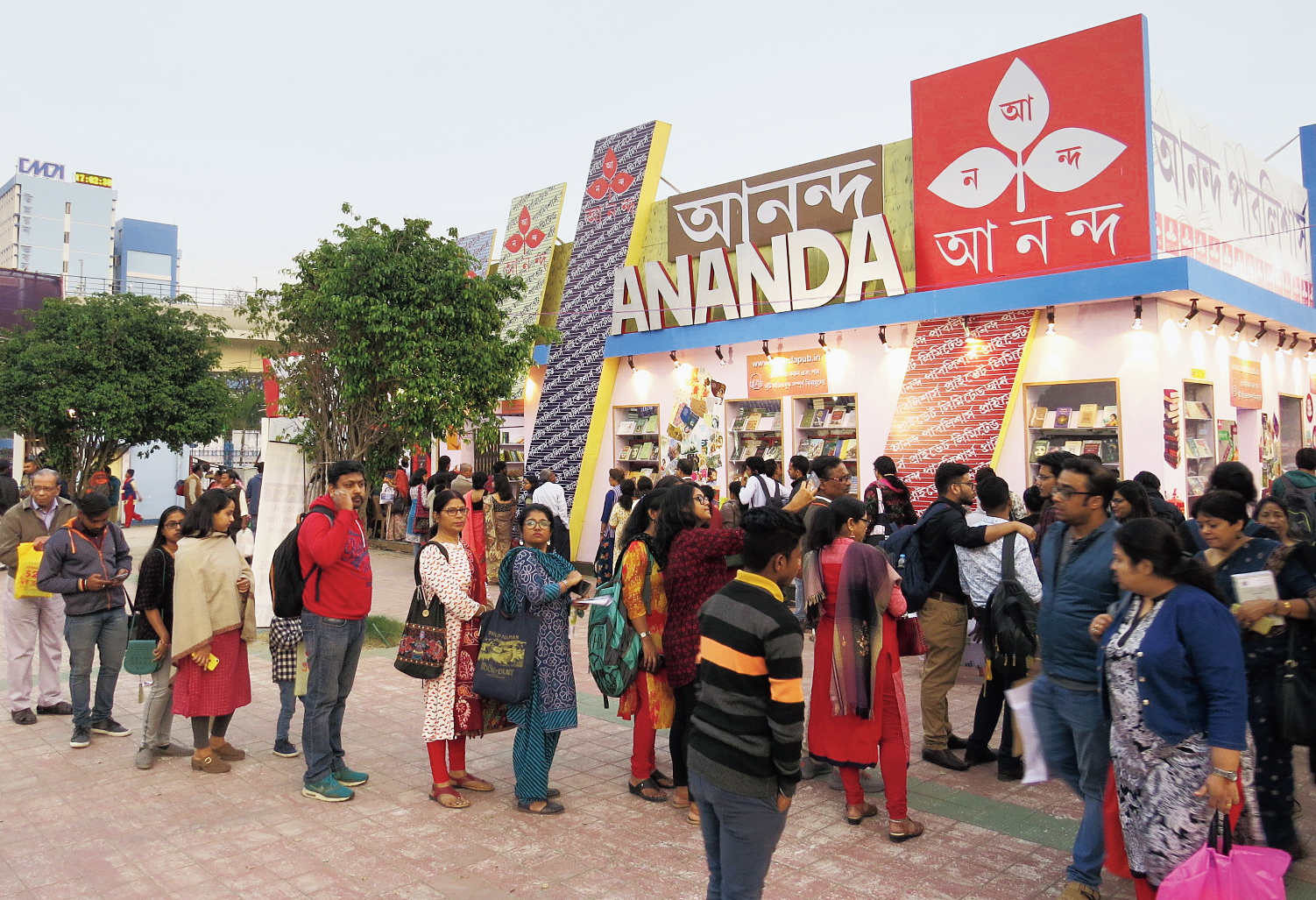 A long queue in front of Ananda Publishers on Tuesday afternoon.
---
Published 06.02.20, 08:18 PM
|
---
Sales are robust at the Book Fair underway at the Central Park fairgrounds. "We are selling more than we did last year. Even if less people are coming compared to when the fair would be held at Milan Mela, those who are coming are actually buying books. You will hardly see anyone walking out empty-handed," said Sudhangshusekhar Dey, general secretary of the Publishers and Booksellers Guild and owner of Dey's Publishing.
Children's books are traditionally a robust selling category at the book fair. Those at the Shishu Sahitya Sansad counters say they are "satisfied". "Last two years, we have been doing good business. But we will have to wait till the end of the fair to say whether we do better than last year," said an official. He agreed with the guild's impression that more genuine buyers flock the fair at Salt Lake.
Esha Chatterjee of Bee Books was happy with sales. "We have definitely sold more this year. I think the bigger publishers will break even by today or tomorrow," she said.
One reason, in her view, is better planning of the stall layout. "Space is a bit more this year. Also in the first couple of years, it was estimated that the maximum crowd would come by bus from the Karunamoyee bus terminus side, through gate 9. But now we have realised that people of Salt Lake own cars and also commute by auto rickshaw. So the big stalls have been evenly distributed towards gates 4 and 5. Also last time, the third hall had got hidden behind the Bangladesh stall. This time there are two halls, not three, with the second hall being bigger in size to accommodate more stalls. With both halls being next to each other, the crowd flow is smooth," says Esha, whose stall is inside one of the halls. Two more changes, she points out, have worked. "Little magazines are very visible this time, being near gate 9. They have been clubbed with the stalls of smaller publishers which were at the other end of the ground last year. This rationalises the economic profile of visitors too. The food stalls have been pushed towards the back as visitors will go look for them anyway. Last year, they were in the middle," she pointed out.
Traffic management, visitors feel, is also better. A rope tied parallel to the edge of the kerb keeps pedestrians from coming down randomly on the carriageway, allowing vehicles to ply smoothly. It also keeps a lane free for cars which stop to let off or wait for fair visitors. Pedestrians are allowed to cross only through designated points like in front of gate 6 and that too only when traffic constables stop the flow of cars.
Would all this encourage the guild to stay back in Salt Lake next year? It is possibly too early for the organisers to reach a decision on that count. "Let us see," Dey smiles.
The Book Fair will continue till February 9.
Kidney care corner
Get your blood pressure checked at stall 196 run by The Kidney Care Society. The stall, run by an NGO, is also selling books raising awareness about kidney diseases. But what has found popularity is the free check-up and a book of recipes of dishes suited for people with kidney-related ailments. The stall is also selling measuring glass and spoon.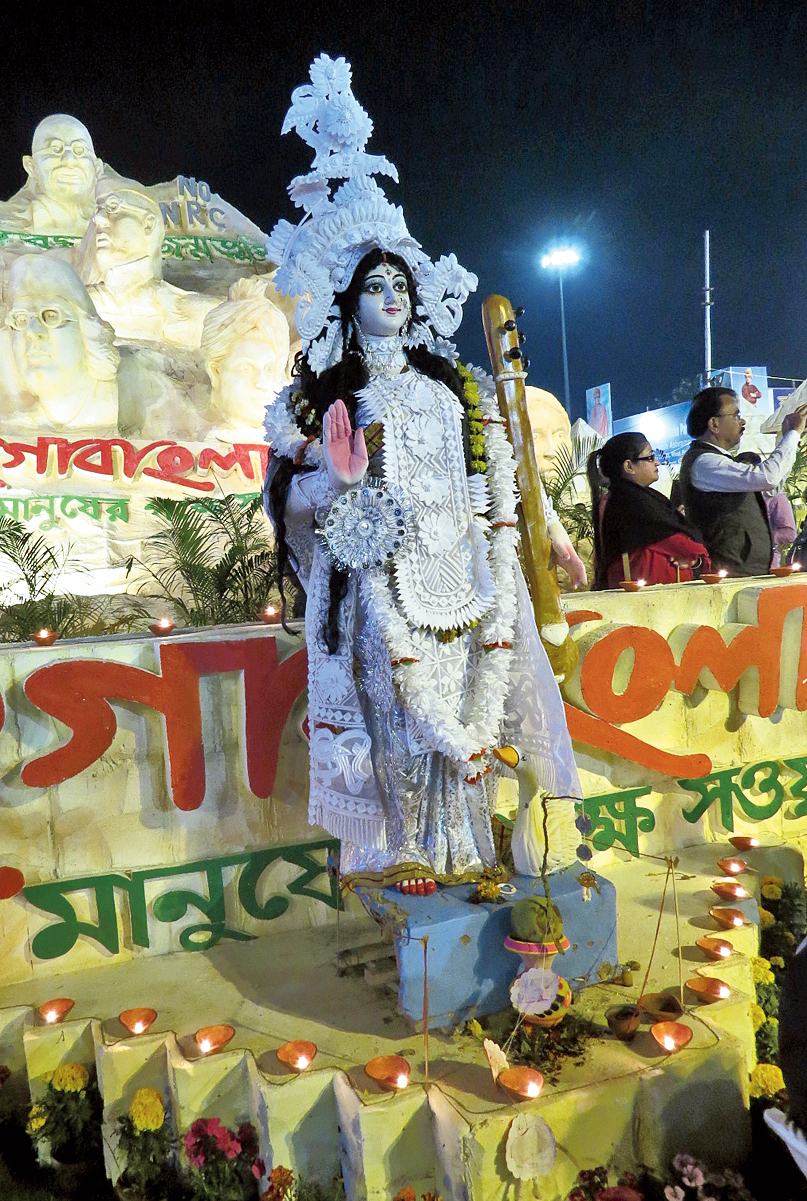 Deity amid books
Possibly for the first time in its 44-year history, Saraswati puja was held on the Book Fair grounds. A five foot idol was placed in front of the stall of Jago Bangla. The Trinamul Congress mouthpiece has been promoting Bengali culture with live baul performances being held every evening. The puja added a religious touch to its efforts. "The idol was brought on the morning of Saraswati puja, the first day of the fair. A priest came and we all got bhog prosad. The idol was taken away on Monday evening," said a volunteer at a nearby stall.
In fact, the inauguration of the fair was brought forward by a day this year to allow stall-owners to make the most of higher footfall on Saraswati puja, a holiday.