Bowbazar traders turn down Puja advance offer
Either Rs 5 lakh or nothing at all, group tells Metro officials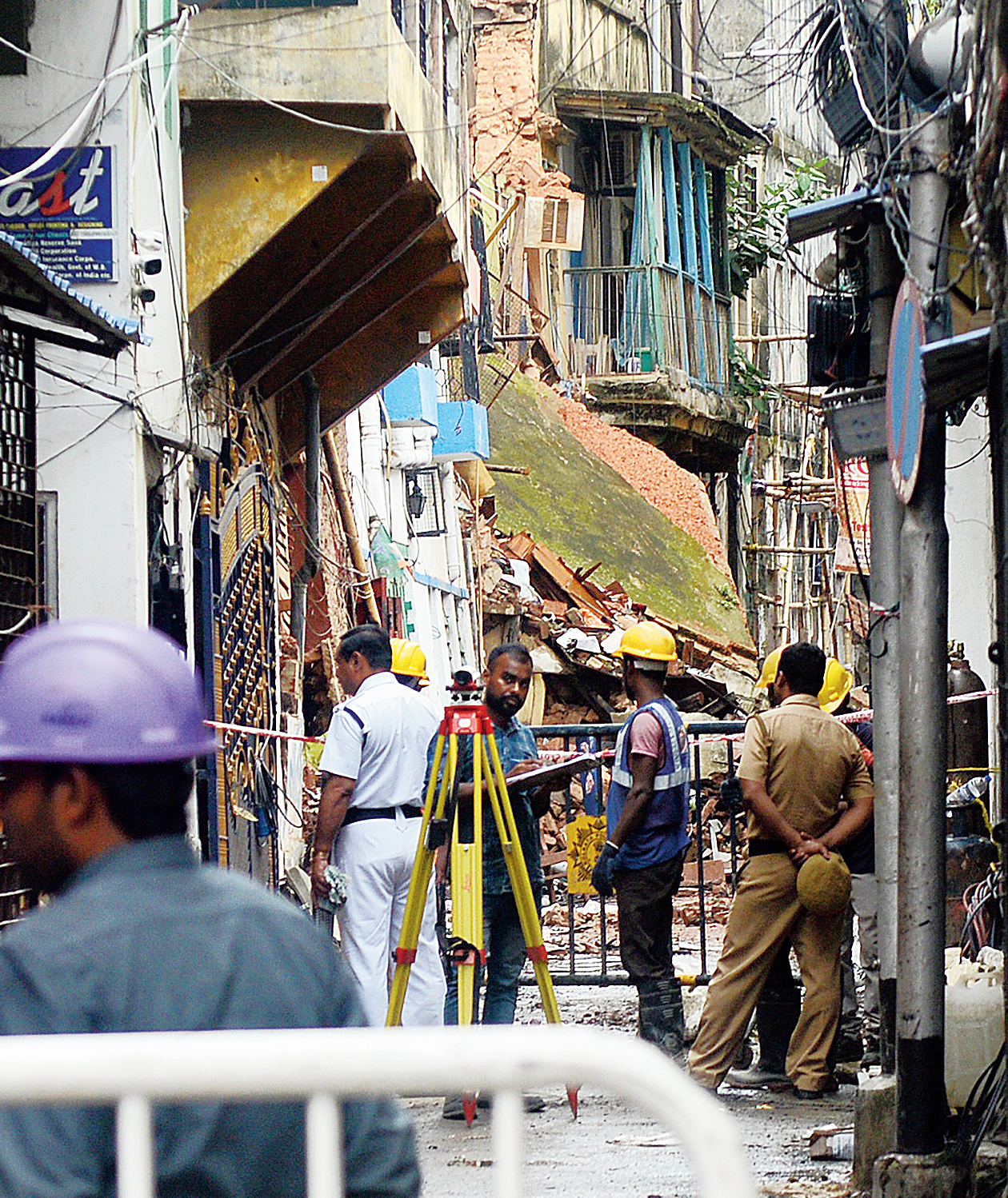 ---
|
Bowbazar
|
Published 23.09.19, 08:12 PM
---
The 100-odd traders who had their workshops in subsidence-hit Bowbazar lanes have refused to accept the Rs 50,000 that the East-West Metro authorities have offered ahead of the Puja as part of their compensation package.
The traders, most of whom deal in jewellery, have said they would either accept Rs 5 lakh, which the affected house-owners are getting, or nothing at all.
The traders who are refusing the "advance amount" had their workshops in Syakrapara Lane and Durga Pituri Lane, the two worst-hit stretches in Bowbazar.
A machine that was boring an East-West Metro tunnel in Bowbazar had hit a giant aquifer on August 31, triggering large-scale subsidence and damaging many houses.
Officials of Kolkata Metro Rail Corporation (KMRC), the implementing agency of the Metro project, said 688 people had to be evacuated from 68 buildings in Bowbazar.
Many of the displaced are traders who had their workshops in the two lanes.
The 16.5km East-West Metro will connect Sector V with Howrah Maidan and run under the Hooghly.
At a meeting on Sunday, the traders —who have applied for compensation — said they would not accept the Rs 50,000 that is being offered as advance before Puja, KMRC officials said.
They pointed out that chief minister Mamata Banerjee had asked KMRC to give the displaced a compensation of Rs 5 lakh.
KMRC officials said they would have to return to the boardroom to decide their next step.
This was the first move by KMRC to offer an advance payment to traders since September 7, when the agency started disbursing compensation to displaced house-owners.
"If house-owners can qualify for Rs 5 lakh as compensation, why won't we?" asked Bharat Kumar Soni, who owned a workshop at 10/2 Syakrapara Lane. "I told the KMRC officials that chief minister Mamata Banerjee has said those who have lost their business would be eligible for compensation. Why will we settle for an advance?"
The meeting on Sunday was called apparently to find a way to persuade the traders to collect an advance payment till the Metro authorities decide on the final compensation.
The traders were told that since they did not own the buildings from where they were displaced, their compensation could be proportionate to their floor areas.
"We told them we will not move to the building at Poddar Court (earmarked for traders' relocation). Our customers won't go there," said Gopal Modak, one of the traders. "We have not done any business for over three weeks. Isn't our livelihood affected by the disaster? How can KMRC discriminate between house-owners, and tenants and shop-owners?"
A KMRC official said: "We have heard out the traders. It is too early to arrive at a decision."