Border Security Force vigil push for unfenced areas and prevent illegal activities
The NB frontier of the force covers 936.415km of the international boundary with Bangladesh in twin Dinajpurs, Darjeeling, Jalpaiguri and Cooch Behar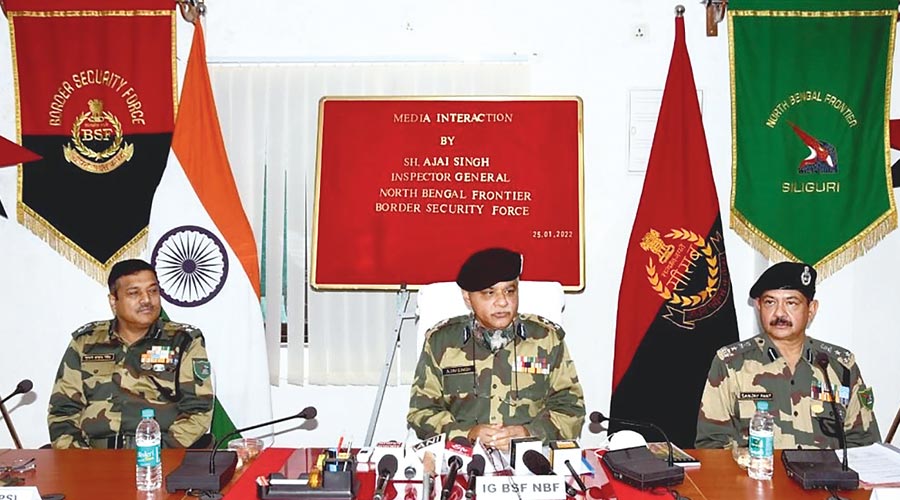 Inspector-general of the NB frontier of the BSF Ajai Singh (centre) speaks to the media on Tuesday
Telegraph Picture
---
Siliguri
|
Published 26.01.22, 02:38 AM
|
---
The north Bengal frontier of the Border Security Force (BSF) has drawn up plans to plug unfenced areas along the India-Bangladesh border, install anti-climb and anti-cut wires and other gadgets to beef up vigil and prevent illegal activities at the border.
"The central government has recently sanctioned Rs 18 crore for the installation of equipment to intensify (vigil at the) unfenced areas of the Indo-Bangla border in north Bengal. We have initiated necessary work in these regard," said Ajai Singh, inspector general of NB frontier at the frontier headquarters in Kadamtala on the outskirts of Siliguri on Tuesday.
The NB frontier of the force covers 936.415km of the international boundary with Bangladesh in twin Dinajpurs, Darjeeling, Jalpaiguri and Cooch Behar. Around 100km  still lack fences.
"We will install 'anti-climb and anti-cut' wires in these areas. These specially built wires are the latest of its kind and cannot be cut easily. Also, gaps between the wires are lesser. We also have plans to use these special wires in areas where the existing fencing is damaged," said Singh. 
Other equipment like night vision cameras and infrared cameras — variants of CCTV cameras — would be installed in these stretches, coupled with high-mast light towers so that the areas remain illuminated after sundown.
"Fences could not be installed in these stretches owing to a number of issues such as dispute over acquisition of land from locals, objection from the Border Guards Bangladesh and riverine patches," said a source.
Over the past few years, the BSF has engaged in talks with the Bengal government as it needs land to erect fences on the border.
"Some areas have been demarcated in specific stretches by the administrations of districts in north Bengal. We hope the issues will be resolved soon and fences can be raised on stretches where there is no water body," the source added.  
According to BSF officers, criminals and smugglers use modern gadgets for trans-border criminal activities, especially information sharing. "We too are using modern technologies and gadgets for effective border management," an official said.
Singh told the media that last year the BSF seized contraband, ranging from cattle to narcotics and snake venom, worth over Rs 105 crore. Also, 152 smugglers (including 41 Bangladeshi nationals) and 137 illegal migrants (including 89 Bangladeshis and three Nepalese) were nabbed from the India-Bangladesh border areas in north Bengal districts.
The senior BSF official said they have engaged 757 women personnel in round-the-clock duties at the border. "Frisking of women is being carried out by them (women personnel) at the border. Also, another 919 women personnel are under training at the subsidiary training centre that we have at Baikunthapur (on the northwest end of Siliguri)," he said.