Books take tribal kids back to school
Churki Hansda remembers standing on the road instead of going to school on most days of the week because she was too scared.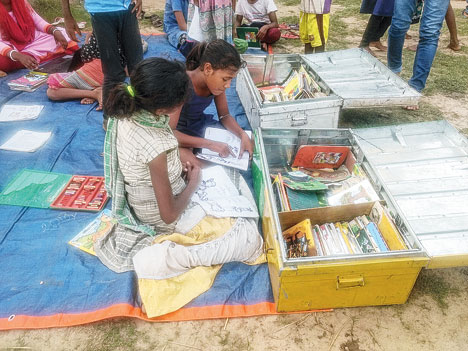 ---
Calcutta
|
Published 21.06.18, 12:00 AM
|
---
Calcutta: Churki Hansda remembers standing on the road instead of going to school on most days of the week because she was too scared.
"I wouldn't understand anything. The lessons were all in Bengali and I knew only Santhali," she said.
Now 28, Churki translates stories from Bengali to Santhali for tribal children as part of an initiative by Suchana, an NGO based five kilometres from Santiniketan.
Started in 2005 as an education support group for children from Santhali and Kora villages around Santiniketan, Suchana now has 12 translators. "We realised that a lot of the difficulties the children were facing were because they went to schools where they were learning in an unfamiliar language," said Kirsty Milward from the UK, who along with husband Rahul Bose started the NGO.
The couple met in Calcutta, where Milward was doing independent research, and moved to Santiniketan in 1997. "I come from a rural background and did not want to bring up children in the city. Rahul had a Santiniketan connection, so we moved there and then bought land and built a house out of town," Milward said.
Soon it became apparent to the couple that the children of the area were having trouble learning though they went to school. "I had done a master's in gender and development, so I thought of applying that theoretical learning to real issues right at our doorstep," Milward said.
Suchana has published close to 40 storybooks in Santhali and Kora, all in the Bengali script. Some are translations and the rest original stories written by the NGO's translators or older children.
The NGO also makes alphabet and number flashcards in Santhali and Kora for primary schoolchildren enrolled in its literacy programme. Older children have access to translated books.
The translated storybooks travel to 25 neighbouring villages in two mobile libraries. Each library goes to two villages a day on a designated day of the week after 3pm, by when schools usually give over. The libraries - a cycle rickshaw and a Maruti van - transport the books in two trunks.
In the hour and a half that the libraries are parked in each village, the librarian and a few others engage the children in drawing, craftwork and storytelling with puppets. They are also shown stories on laptops with the help of StoryWeaver, an online platform by education NGO Pratham Books.
Suchana tied up with StoryWeaver three years ago. The platform, designed so that children can read in their mother tongue, has made the the translation and printing process easier and quicker. What took nearly a year earlier now takes about a month. A 100-odd titles have been translated into the two tribal languages and some have been printed into books.
Suchana tries to integrate aspects of tribal culture into its activities.
Shanto Kora, in his 30s, translates stories from Bengali to Kora, writes stories and teaches the children music and dance. "Our language, music, dance are slowly getting lost. The children are not even speaking Kora anymore. So I teach them our music and dance," he said.
Most of the children are first-generation learners. "Earlier, a lot of girls would drop out by Class VII, now they want to finish school," Bose said.