Bomb scare on train at Siliguri station
After all passengers got down, the briefcase was spotted in the D-III compartment underneath the seat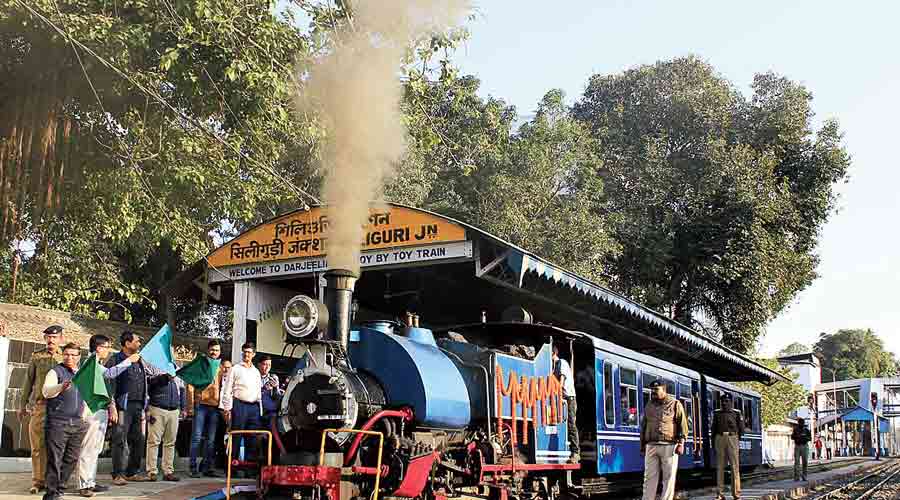 Siliguri Junction station.
Telegraph photo
---
Siliguri/Malda
|
Published 24.01.22, 02:25 AM
|
---
A bomb scare was reported at the Siliguri Junction station on Sunday morning after an abandoned briefcase was recovered from one of the coaches of the Katihar-bound Intercity Express that had arrived from Alipurduar.
Around 10am the train reached Siliguri Junction. After all passengers got down, the briefcase was spotted in the D-III compartment underneath the seat. The Railway Protection Force (RPF) raised an alert and vacated the platform.
"The train was stationed on platform one at the Siliguri Junction. As the briefcase was spotted, the platform was evacuated," said a railway source.
Soon, a fire engine from Siliguri fire station reached the spot and scanned the area. Sandbags were placed around the briefcase and the bomb disposal squad was informed.
Later, a team from the CID reached the spot.
"Around 4.30pm, the coach in which the baggage was spotted was detached from the train. It was then hauled near the Gulma railway station located around 12 kilometres from here," said a source.
Members of the squad also went there and are examining the luggage, said sources. The train, on the other hand, left for Katihar.
Meanwhile in Gazole of Malda district, two parcel bags were spotted in the Dharmatala area on Sunday morning.
The bags were spotted in a patch of vegetation next to a timber godown.  Police and a team of bomb squad reached the spot. They scanned the bags and found certain items.
The police suspect that some miscreants might have stolen these items and kept those in the bags at the site.
The police said a probe was on.  Earlier on Saturday, 10 crude bombs were recovered from Ramnagar area of Kaliachak police station in Malda.
Some locals spotted a bag in a deserted place and informed the police who went to the spot and found crude bombs in the bag.
Later, the bomb disposal squad defused the bombs in a nearby location.
Also, another 100-odd crude bombs were recovered from Kumbhira-Mohanpur area, which is under Baishnabnagar police station of Malda district, on Saturday.
The bombs were kept in a drum near a local graveyard, the police sources said.